Larrikin Puppets can perform for folks of the older generation at aged care facilities and nursing homes, and have recently been invited to perform at the Probus Clubs of The Gap and Indooroopilly, The Gap Uniting Church Seniors Group, St Paul's Villa Nursing Home and Jubilee Community Care in Indooroopilly. Everyone agrees that puppets are not only for children. Especially if you're young at heart.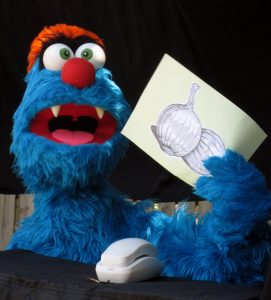 "My wife's 96 year old grandmother absolutely loves Troggg", says puppeteer Brett Hansen of his loveable blue monster character. "My puppet shows for adults are clean, a little bit too cheeky for children, but never blue or crass. And older people do tend to love Troggg and his puppet friends from all accounts so far".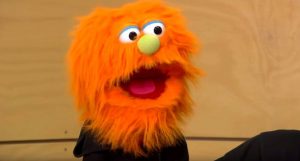 Brett has also performed for a 60th birthday party.
"Hi Brett! Just want to thank you for a great puppet show at my 60th birthday lunch last Sunday. Heaps of fun. Big surprise for my friends! They are still laughing and talking about it. We got some great pics of Troggg and Frizzby. Regards, Sue".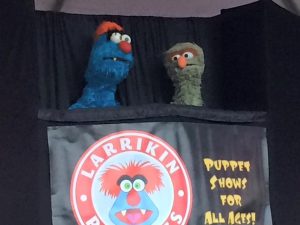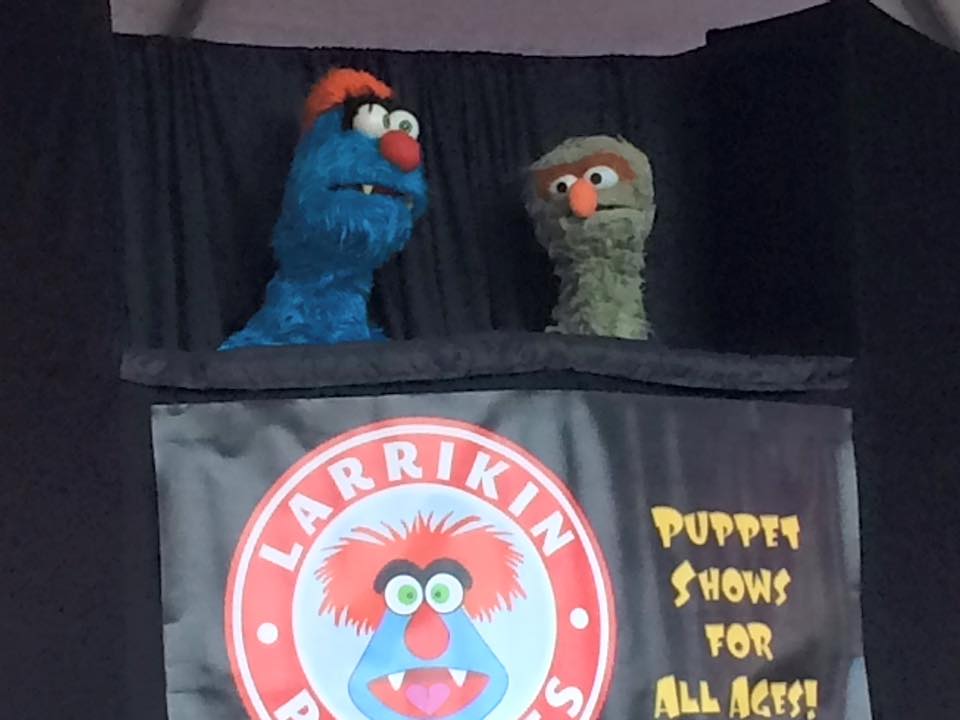 The puppet show itself is 30 minutes of songs, jokes/puns, skits and comical interaction with the audience. Our style of puppetry is inspired by The Muppets and Sesame Street. In fact, it's rather like the variety show format that 'The Muppet Show' was in the 1970s. The show is followed by an additional speaking presentation and Q&A session lasting up to 20 minutes. During this part of the presentation, Brett talks to the audience about how all of the puppets work, his life of puppetry, and how he came to start Larrikin Puppets as a business. People can also meet Troggg and get their photo taken with him afterwards.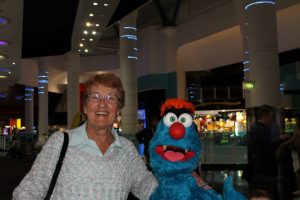 Cost:
Non-Profit – $280 (e.g. Clubs, Churches, Aged Care Facilities).
Corporate – $350 (e.g. Retirement Villages, Aged Care Facilities).
We charge an initial 50% deposit to secure the booking (in this case it would be $140 for non-profits or $175 for corporates). This ensures that the agreed date/time is set aside for your event exclusively. Larrikin Puppets will turn away other work wanting the same date and time. And then the remaining 50% can be paid in cash on the day of the event, or via direct deposit afterwards. More on Payment Methods here:
http://www.larrikinpuppets.com.au/faqs/what-are-your-payment-methods/
Inclusions:
– 30 minute puppet show.
– Speaking presentation + Q&A + meet-and-greet + photos (up to 20 minutes).
– Time allowance for travel to and from, set-up and pack-up of the puppet stage, sound equipment, props, puppets, etc.
– Rehearsal time in the lead up to the event.
Ask us about a puppet presentation for your nursing home or retirement village today!