Larrikin Puppets in The Bribie Islander:
Towards the end of our stay in New York, Elissa and I decided to base ourselves on Bribie Island upon our return to Australia. I wrote a post on a Bribie Island community Facebook page about our decision, and was approached via that page by a journalist in The Bribie Islander who was interested in writing a story about Larrikin Puppets and the puppet adventures we had in the USA. This is the article that was printed in the September 2016 edition of The Bribie Islander – Issue 26. Click on the article below to zoom in and read it: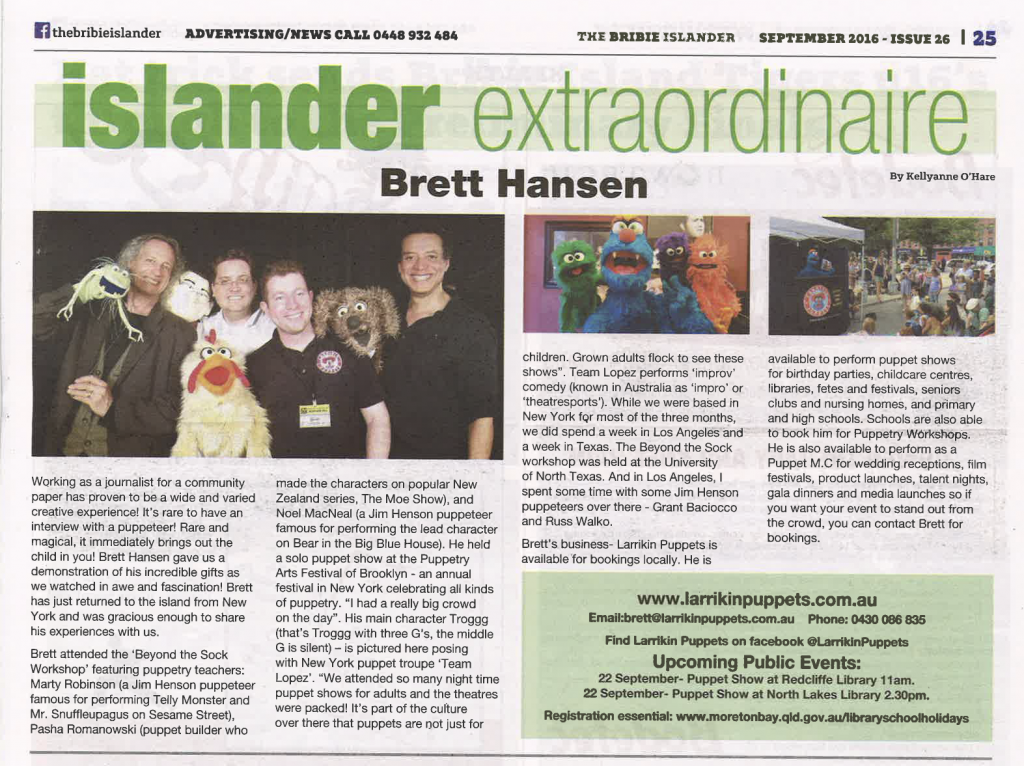 Working as a journalist for a community paper has proven to be a wide and varied creative experience! It's rare to have an interview with a puppeteer! Rare and magical, it immediately brings out the child in you! Brett Hansen gave us a demonstration of his incredible gifts as we watched in awe and fascination! Brett has just returned to the island from New York and was gracious enough to share his experiences with us.
Brett attended the 'Beyond the Sock Workshop' featuring puppetry teachers: Marty Robinson (a Jim Henson puppeteer famous for performing Telly Monster and Mr. Snuffleupagus on Sesame Street), Pasha Romanowski (puppet builder who made the characters on popular New Zealand show, The Moe Show), and Noel MacNeal (a Jim Henson puppeteer famous for performing the lead character on Bear in the Big Blue House). He held a solo puppet show at the Puppetry Arts Festival of Brooklyn – an annual festival in New York celebrating all kinds of puppetry. "I had a really big crowd on the day". His main character Troggg (that's Troggg with three Gs, the middle G is silent) – is pictured here posing with New York puppet troupe 'Team Lopez'. "We attended so many night time puppet shows for adults and the theatres were packed! It's part of the culture over there that puppets are not just for children. Grown adults flock to see these shows". Team Lopez performs 'improv' comedy (known in Australia as 'impro' or 'theatresports'). While we were based in New York for most of the three months, we did spend a week in Los Angeles and a week in Texas. The Beyond the Sock workshop was held at the University of North Texas. And in Los Angeles, I spent some time with some Jim Henson puppeteers over there – Grant Baciocco and Russ Walko.
Brett's business Larrikin Puppets is available for bookings locally. He is available to perform puppet shows for birthday parties, childcare centres, libraries, fetes and festivals, seniors clubs and nursing homes, and primary and high schools. Schools are also able to book him for Puppetry Workshops. He is also available to perform as a Puppet M.C. for wedding receptions, film festivals, product launches, talent nights, gala dinners and media launches. So if you want your event to stand out from the crowd, you can contact Brett for bookings.
Article by Kellyanne O'Hare in The Bribie Islander. Issue 26, September 2016.
The Bribie Islander website – https://issuu.com/thebribieislander
The Bribie Islander Facebook page – https://www.facebook.com/thebribieislander/