Corporate – Puppet Show
Description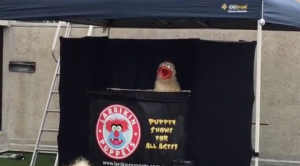 Suitable for everyone, but with humour and references that might appeal more to those over 18. We specialise in tailoring the show to incorporate specific references to your staff, funny stories and in jokes provided in a brief by the person booking the show. The puppet show is 30 minutes of songs, games, jokes, skits and comical interaction with the audience – performed in the puppetry style of Sesame Street and The Muppets.
This is followed by an additional meet-and-greet lasting up to 15 minutes, where people have an opportunity to have their photo (or selfie) taken with Troggg, our wise cracking blue monster star. Some people might opt for a Q&A session about the puppets and how they work.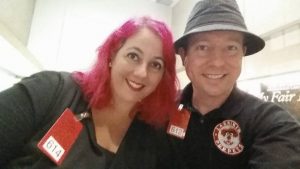 In April 2017, Larrikin Puppets had the great honour and privilege to perform a corporate puppet show at the Queensland Performing Arts Centre (QPAC) – for the cast and company of Opera Australia's "My Fair Lady", directed by Dame Julie Andrews. Great talent such as Charles Edwards (Downton Abbey), Anna O'Byrne, Reg Livermore, Robyn Nevin, Mark Vincent, Tony Llewellyn-Jones, Deidre Rubenstein, Josh Gates and Don Winsor were among the members of our very special audience.
Inclusions
30 minute puppet show.
15 minute puppet meet-and-greet / Photo opportunity with Troggg.
Time allowance for travel, set-up and pack-up of the puppet stage and sound equipment.
Rehearsal time prior to the event
Cost
$350.
The initial 50% deposit to lock in the booking is $175.
And then the remaining $175 can be paid in cash on the day of the party, or via direct deposit. Details of Payment Methods here.