No, I do not build my own puppets. But I do design some on paper, and have them made by professional puppet builders. However, I did make one chicken puppet in 2016, under the supervision of puppet builder Pasha Romanowski at the 'Beyond the Sock' puppetry workshop's construction component at the University of North Texas, USA. My strong point is in the performance of puppets, rather than the construction. Here's a list of some of our puppet characters and who built them: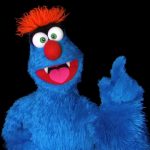 While Troggg (blue monster) was my own design, I had him professionally built in the USA by Mike Lisa at "Creature Clones".
Frizzby (orange monster) wes purchased from "Silly Puppets" in the USA, but altered by myself to personalise him a bit. I trimmed the fur, made my own tongue out of felt, and dressed him in baby clothes. Frizzby has a few outfits.
Flossy (pink monster) and the Singing Cheesecake were both made in Adelaide, South Australia by Shannon Cooke at "The Puppet Workshop".
Moss (green monster) was made by Michael Harris at "Nutty Puppets", also in the USA.
 Frazzamatazz (green monster with wild purple hair) was made by Jarrod Boutcher at "Jarrod Boutcher Puppets" here in Queensland, Australia.
Freerange the Chicken is the one puppet that I built myself, under the supervision of Pasha Romanowski from "Project Puppet" in Denton, North Texas.