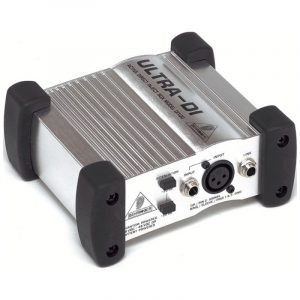 D.I. stands for Direct Input or Direct Injection. For the music and sound effects used in our puppet show, we use an iPod device that we start and stop regularly throughout the show from behind the puppet stage. At large festival events, school fetes and school halls, a DI Box is what the sound engineer lets us plug our iPod device into, so our music/sound effects can be transmitted over the event's main P.A. speaker.
The small speaker we use for puppet shows at small birthday parties and childcare centres does not project loud enough at large outdoor festivals and in large halls and theatres.
A DI Box converts unbalanced signals to balanced signals. Unbalanced connections (such as iPods, iPhones, keyboards and synthesisers) transmit a signal via a single connection, with a ground. These are susceptible to background noise and interference, particularly when run over long distances. Many larger festivals have their sound engineer and mixing desk set up all the way at the back, behind the audience. The DI Box has super dooper long cables that stretch all the way back this far. It also has an input slot for us to plug our iPod into.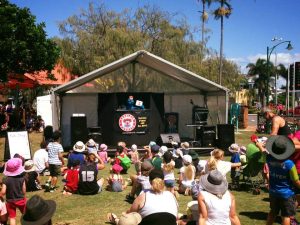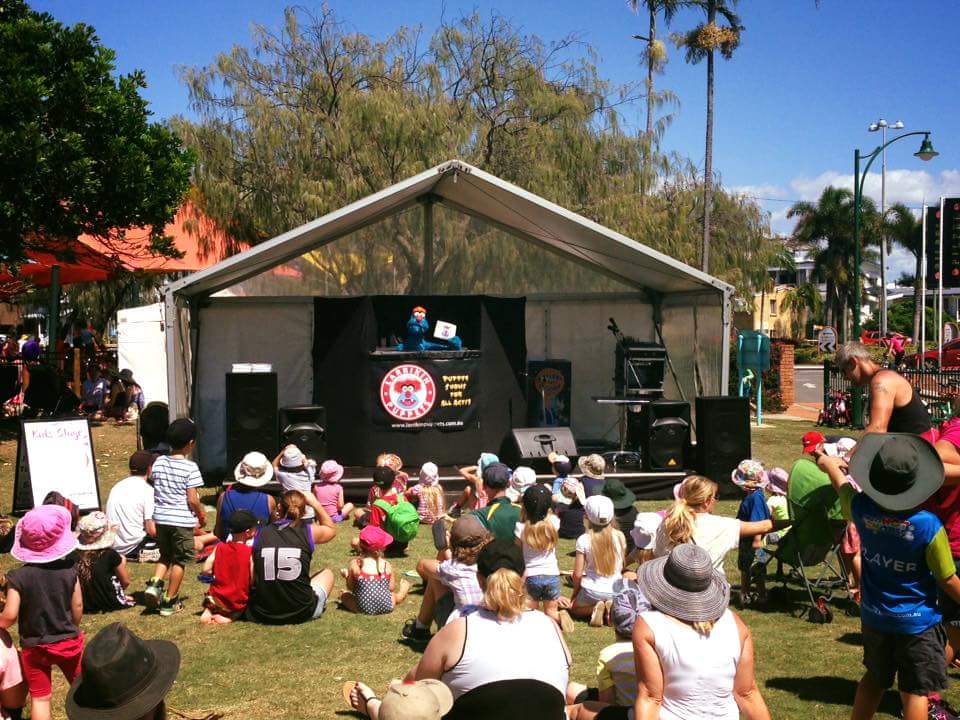 In summary: The DI Box sits up on stage behind our puppet theatre with us. Our iPod is plugged in, and we operate our music and sound effects ourselves – on and off throughout the performance. Our puppet dialogue and vocals are live and interactive (we wear headset microphones too, also connected to the mixing desk), so it is impossible to arrange a pre-recorded CD or USB with prompts and hand signals to the sound engineer – particularly if he's far away – and also because we're hidden behind a puppet theatre.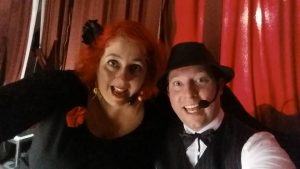 The cables from the DI Box are long enough to stretch all the way to the mixing desk so that we can operate our own music/sound effects. The DI Box helps to eliminate interference and background noise, and broadcasts our music and sound effects in stereo sound through the event's own P.A. speakers, along with the headset microphones we wear whilst performing our live puppet vocals.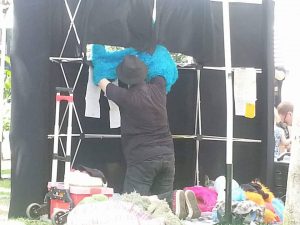 For the technologically minded, Wikipedia describes everything one could wish to know about DI Boxes. Those who work as sound engineers but still haven't used or been taught about how to use a DI Box may find this very informative: https://en.wikipedia.org/wiki/DI_unit
And here's a video of someone showing us how a DI Box works: https://www.youtube.com/watch?v=lCXHsLf2urI