We provide puppetry for Film and TV projects – Short films, TV shows, commercials and music videos. Our blue monster star Troggg will appear in any production, or Brett Hansen can puppeteer characters that you have created.
If you have a cast of performers without puppetry experience, Brett can provide training and supervision on set.

Examples of our Film and TV puppetry (both as performer and trainer/supervisor):
Juiced TV – Kids' TV series created by Juiced Enterprises. Produced by Pip Russell, in partnership with Children's Hospital Foundation. Brett puppeteered Troggg throughout the show as host, and was interviewed about puppetry during the show's final segment:

Tia Gostelow: That's What You Get – Music video produced by Emma Giddins, and directed by Branden Wittchen & Luke Angelo-Roberts at Why Not? Films. Larrikin Puppets' Brett Hansen and Elissa Jenkins puppeteered Rick and Louisa – two puppets built for the project by Scott Richards at Maxx Puppets. As well as Tia Gostelow and the puppets, the video also stars actor Ryan Hance:

5 for 35 – Short film written and produced by Richard Bell. Co-Produced by Josh Milani. Directed by Brad Lindenmayer. Brett puppeteered Lil Gary Foley Psychiatrist, Lil Death (Moss) and others throughout the film. Screened in 2015/2016 at the 8th Asia Pacific Triennial of Contemporary Art (APT8) – Queensland Art Gallery/Gallery of Modern Art. 
Kev – Short film written by Branden J Wittchen, directed Luke Angelo-Roberts & Branden J Wittchen, and produced by Emma Giddins of Why Not? Films. Brett performed the puppetry for two characters in the film – Kev (a bigoted Aussie orange monster played by Frizzby) and a bumbling puppet Police officer who has his priorities all wrong: 
Heart of a Thousand Souls – Short film written and directed by Luke Walker, and produced by Jessica Magro. Brett puppeteered Troggg in a few scenes:

Vox Poppin' – Troggg's street interviews video by Greg Kelly at Creative Clones:

The Late Nite Show – TV show on 31 Digital, created by Scott Black. Troggg appeared as a guest a few times: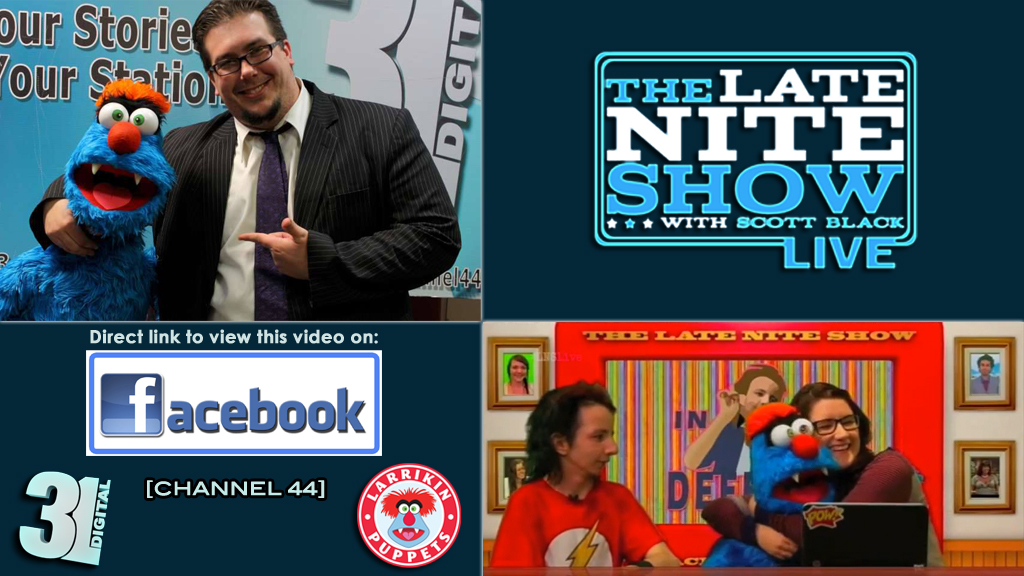 Showreel – TV show on 31 Digital, written by Matt Clayton, Clare Abbotts, Dani Bachinger, John Ryan, Catherine Tucker, Kristy Walker, and produced by Dan Randall. Production coordinator Brooke Matthews. Interview with Brett and Troggg:
CLUCK! Episode 1: The Cockblock of the Century – Web Series written by Lucy Nicklan, produced by Stephanie Walsh, and directed by Vincent Chen. Brett provided puppetry training, assistance and supervision on set for the two puppet characters (played by Jake Ashton and Kitty Gatling), puppeteered the main character in one scene, and puppeteered a tie being pulled into a paper shredder:

CLUCK! Episode 2: Fowl Behavior – Web Series written by Lucy Nicklan, produced by Stephanie Walsh, and directed by Vincent Chen. Brett provided puppetry training, assistance and supervision on set for the two puppet characters (played by Jake Ashton and Kitty Gatling), puppeteered the main character in one scene, and puppeteered a tie being pulled into a paper shredder:

CLUCK! Episode 3: Poultry in Motion – Web Series written by Lucy Nicklan, produced by Stephanie Walsh, and directed by Vincent Chen. Brett provided puppetry training, assistance and supervision on set for the two puppet characters (played by Jake Ashton and Kitty Gatling), puppeteered the main character in one scene, and puppeteered a tie being pulled into a paper shredder:

CLUCK! Behind The Scenes: The Puppets – Footage of Brett Hansen and Jake Ashton working with the puppets made by Lierre Beutel and Gemma Keliher: