Larrikin Puppets will run three puppetry performance workshops at FUNdurba Kids Club (OSHC), which is the vacation care program run at Undurba State School in Murrumba Downs.
We've started taking Vacation Care / OSHC bookings for 2019.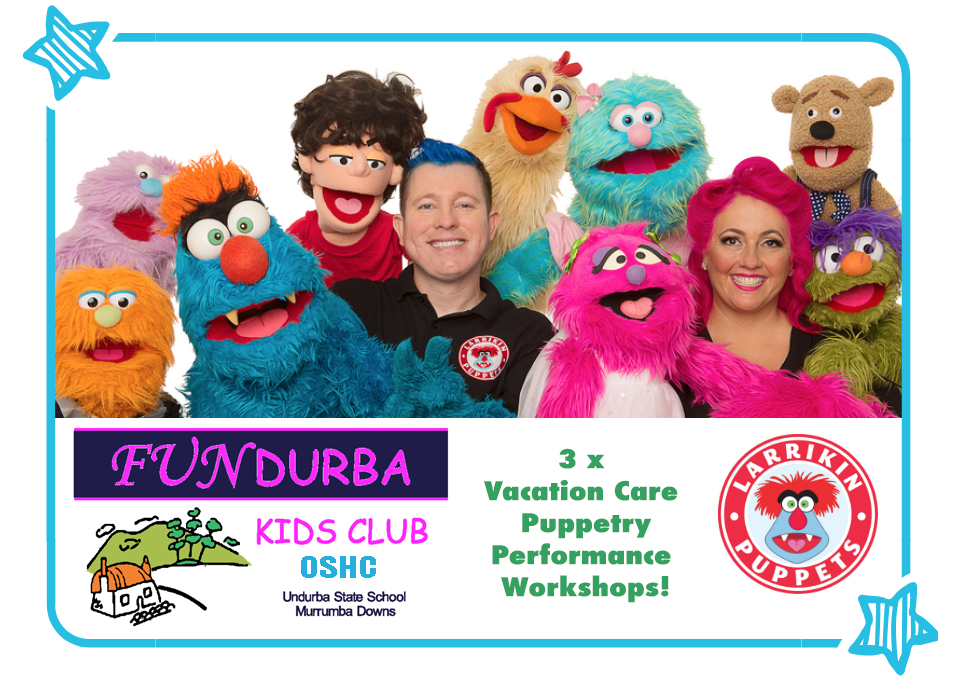 We perform our puppet shows and run our puppetry workshops at vacation care and OSHC all over Queensland. In addition to FUNdurba Kids Club OSHC at Undurba State School, we've also visited Gumnut House OSHC at Greenbank State School, Grand Avenue State School OSHC in Forest Lake, Redbank Plains State School OSHC, Wavell Heights Centacare OSHC at Our Lady of the Angels School, Centacare St Francis Xavier OSHC in Goodna, Middle Park State School OSHC, Centacare St Ita's OSHC in Dutton Park, St. Peter's Rochedale OSHC, Wynnum Family Daycare, PCYC Pallara School Age Care at Pallara State School, St John's Anglican College ABCC in Forest Lake, YMCA of Brisbane in Bowen Hills, Little Genesis Outside School Hours Care in Bray Park, PCYC Vacation Care at Norfolk Village State School in Ormeau, PCYC Vacation Care in Beenleigh, Mother Teresa School Age Care in Ormeau, Forest Lake State School Outside School Hours Care and The Lakes College in North Lakes.
Book us for your school OSHC, PCYC or YMCA Vacation Care today!
Larrikin Puppets perform a puppet show for schools and vacation care that can be both educational and very entertaining for students and teachers alike!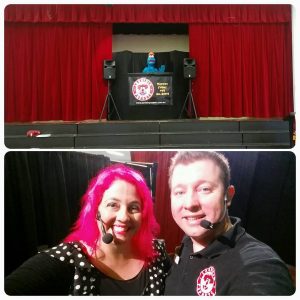 Puppeteers Brett Hansen and Elissa Jenkins and their funny characters provide top quality entertainment and fun for OSHC in and around Brisbane, the Gold Coast and Sunshine Coast.
See below for full details on how you can treat the students to a special session of puppetry at school!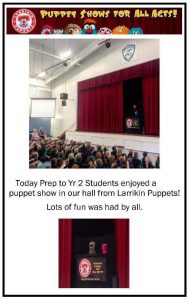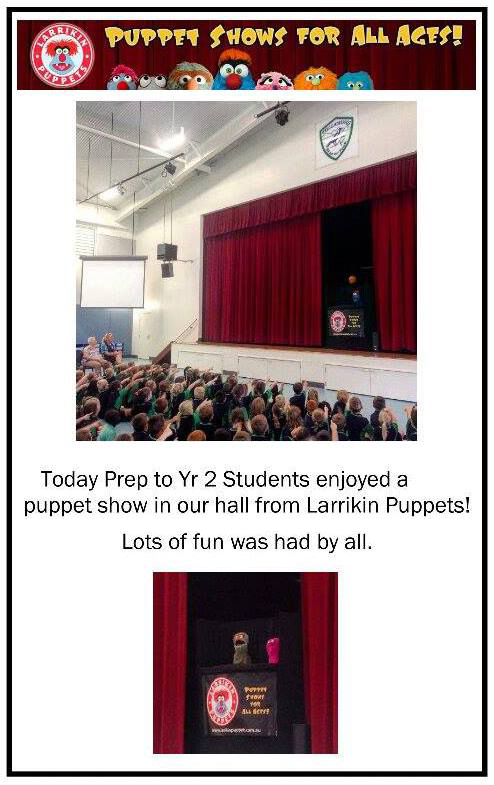 We offer two types of sessions for Vacation Care. The younger students in Prep and Grade 1 enjoy the puppet show, while the older students from Grade 2 onwards tend to prefer our hands-on (or hands-in) puppetry performance workshop. Here are details about both:
Option 1 – Puppet Show:  
Our puppet show is a colourful and fun 30 minute variety show of songs, skits, jokes and games. The style of puppetry is like The Muppets and Sesame Street. It's all interactive and live (rather than pre-recorded). Kids are encouraged to sing, dance and play along.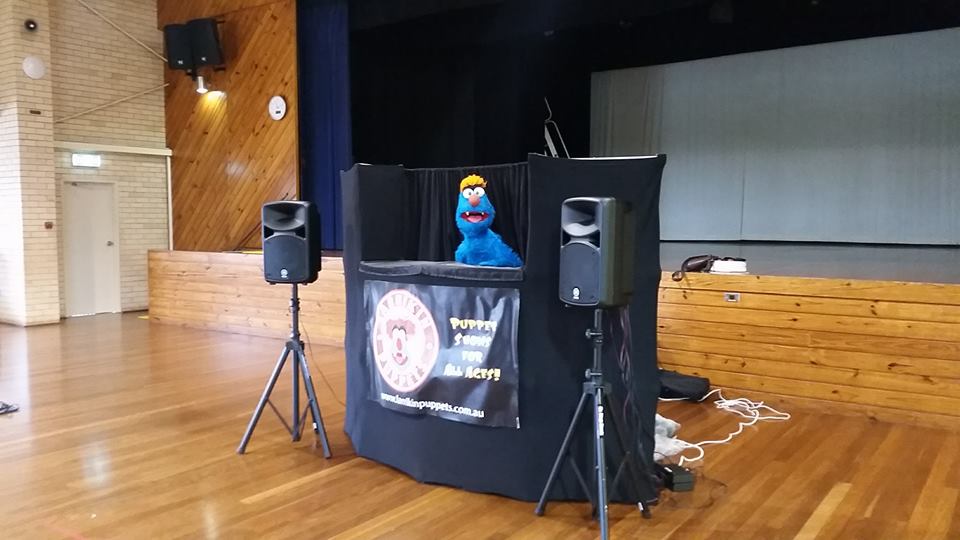 The show is followed by an additional 5 minute presentation where we demonstrate to the audience how all the different puppets in our show work. Then there's a bit of a meet-and-greet and photo opportunity where the kids can then get their photo taken with "Troggg" the friendly blue monster and his little sister "Marina". These shows can be performed either in the school hall, in a classroom or in the library.
Total Duration: 45 minutes.
Cost: $450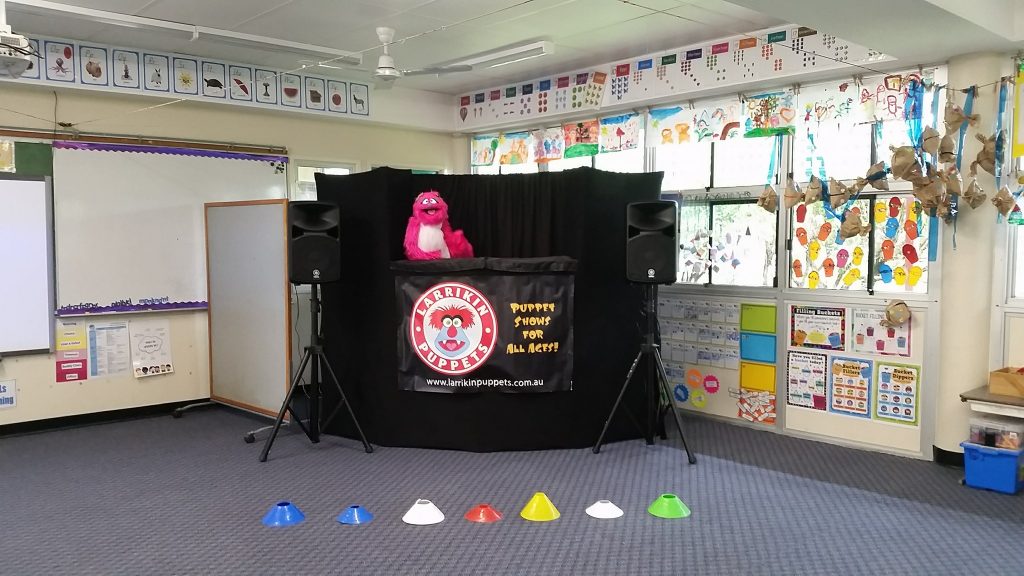 Cost Covers:
Two Puppeteers.
30 minute puppet show of songs, games, jokes and comical interaction with the audience.
5 minute "How the puppets work" demonstration.
10 minute puppet meet-and-greet / Photo opportunity.
Time allowance for travel to and from, set-up and pack-up of the puppet stage, props, puppets and sound equipment.
Rehearsal time prior to the event.
Quality characters.
Quality puppetry.
Option 2 – Puppetry Performance Workshop:
We also offer a 1 hour workshop where Elissa and Brett teach Muppet-style puppetry performance for beginners. We don't teach the building/craft side. Just the performance side. We bring along 40 workshop puppets for students to practice with in the class. We teach lip sync, eye focus, walking, arm movement, character voices, etc. Puppetry is great for building confidence, improving communication and making people laugh. Students get an opportunity to come up on stage and demonstrate what they've learnt in the class.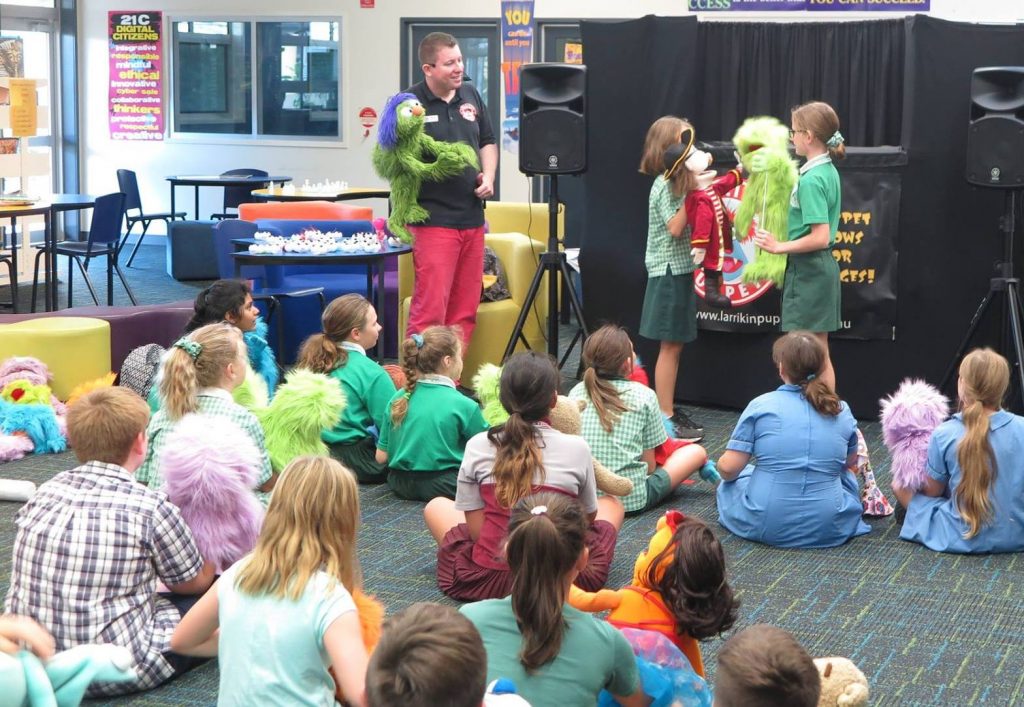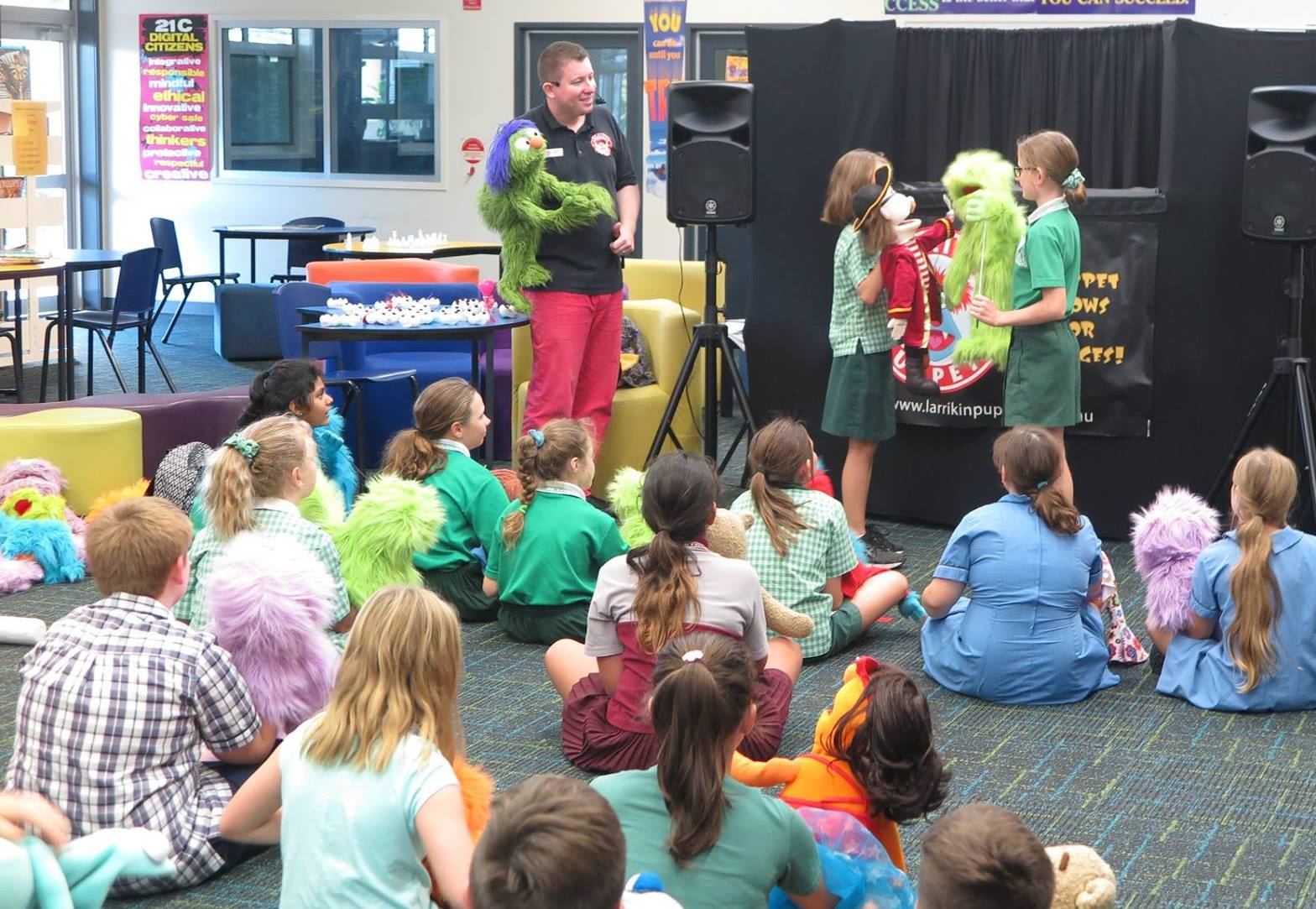 The workshops usually begin with a short puppet show to demonstrate how the puppets look when performed.
Total Workshop Duration: 1 hour.
Workshop Cost: $500.
Brett and Elissa have current blue cards, are fully insured, professional, and punctual.



Content on healthy eating and food allergies has been sourced from consultations with expert naturopath and nutritionist Lauren Stark BHSc from Naturally For You Health & Wellness.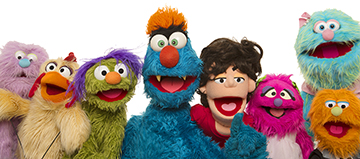 You can find more information about Larrikin Puppets on Facebook, Twitter, LinkedIn, Instagram, Pinterest and Google Plus.
See the article that 612 ABC Brisbane's Spencer Howson wrote for Bmag about Brett Hansen and Larrikin Puppets here.