Popular children's entertainers Larrikin Puppets perform fun and exciting live entertainment at shopping centres! Customers and families will be captivated by this colourful and interactive puppet show starring Troggg and friends!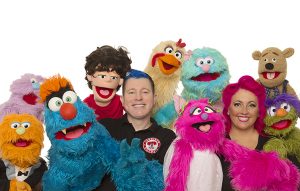 Larrikin Puppets brings high quality Australian live theatre puppet shows to children and families. Brett Hansen and Elissa Jenkins, along with their zany troop of funny puppet characters provide top quality live entertainment at shopping centres around South East Queensland and Central Queensland.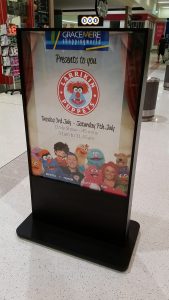 Our shopping centre appearances have included Toowoomba Plaza, Gracemere Shoppingworld (Rockhampton), Station Square Shopping Centre (Maryborough), Blue Water Square (Redcliffe) and Jimboomba Shopping Centre (Logan).
The girls had so much fun meeting Troggg and his friends. We laughed, danced and learnt what it takes to become a master puppeteer! The icing on the cake was the meet and greet at the end! Thank you Larrikin Puppets for entertaining us! — at Toowoomba Plaza.
We know shopping centres like to give back to the community and so do we.
For every full week of shopping centre puppet shows (at least 1 show per day for at least 5 days) Larrikin Puppets will donate a free puppet show to a children's charity in South East Queensland.
The children's charity show would then be presented/sponsored by (for example) 'Sunnyside Shopping Plaza' and Larrikin Puppets. Charities are always very grateful for these sorts of visits, so a thank you to us for our free puppet show would also be a thank you to the shopping centre.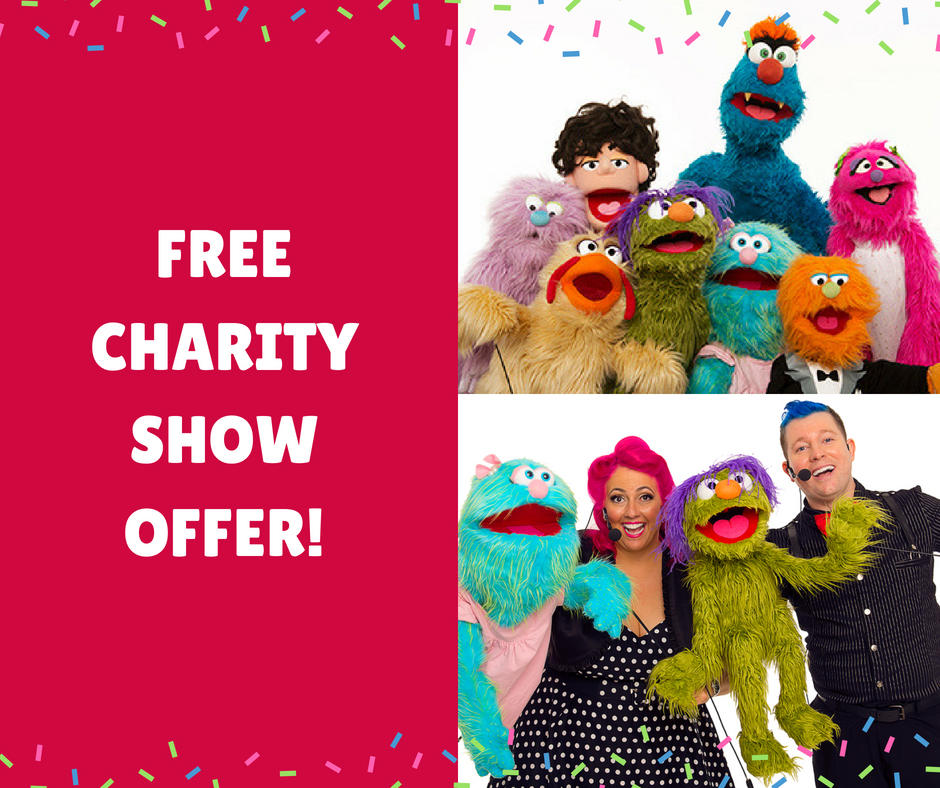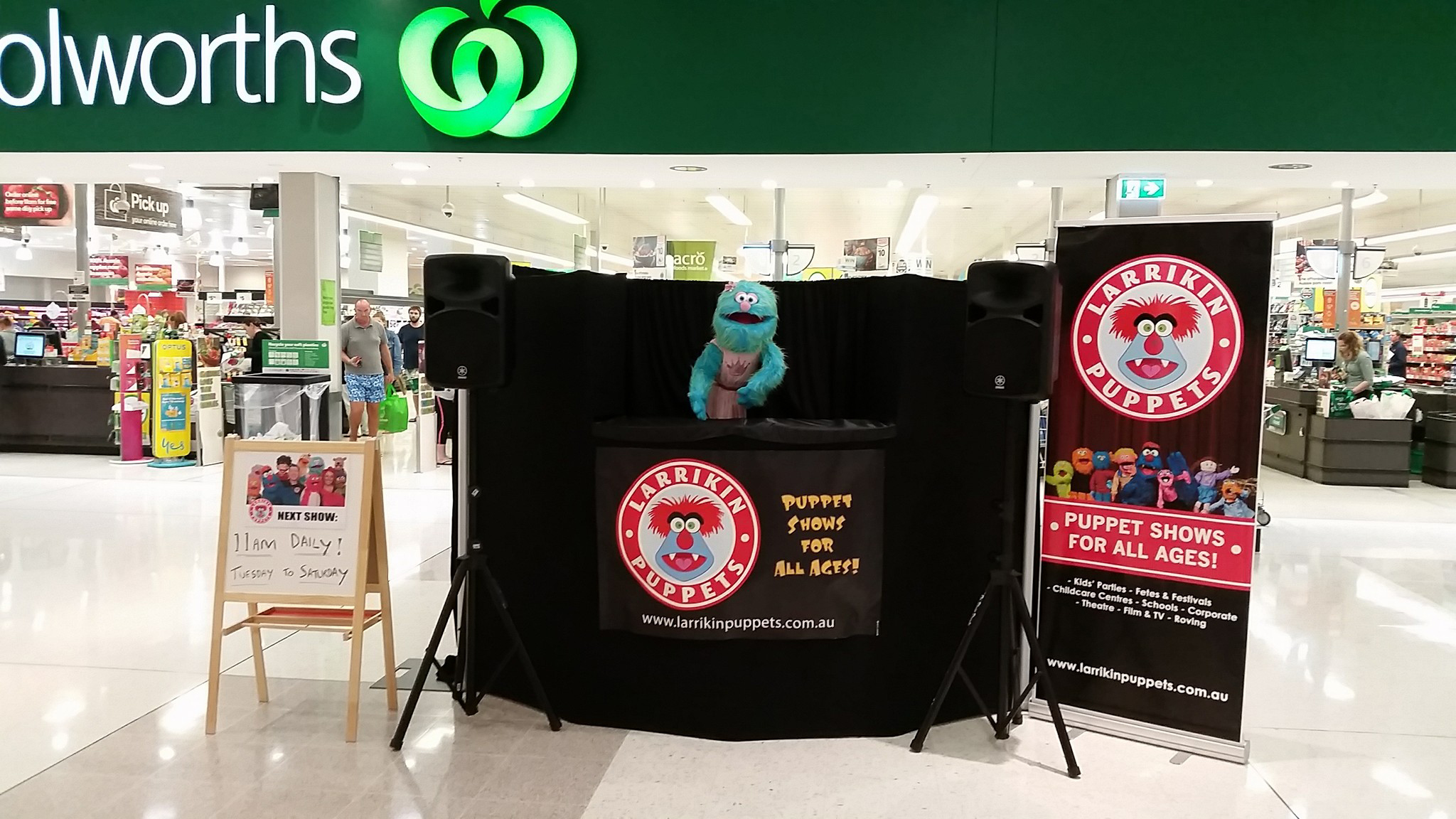 See below for full details on how you can include a puppet show as part of the live entertainment lineup at your shopping centre!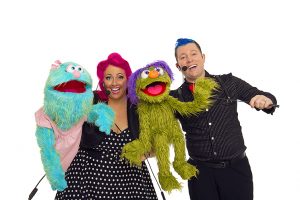 Larrikin Puppets shopping centre puppet shows are $550 per show. For more than one performance (for example – one or two full weeks of daily performances), we can do a deal for you. CONTACT US HERE to discuss.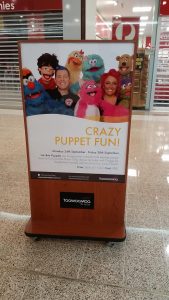 Puppet Show details –
Larrikin Puppets performs exciting, colourful and interactive live entertainment at shopping centres. The puppet show has lots of fun characters, props and plenty of audience engagement. The show is 30 minutes of skits, songs, jokes and comical interaction with the audience. It is all performed live (as opposed to pre-recorded) and we incorporate segments where audience volunteers are called up to assist with some puppetry.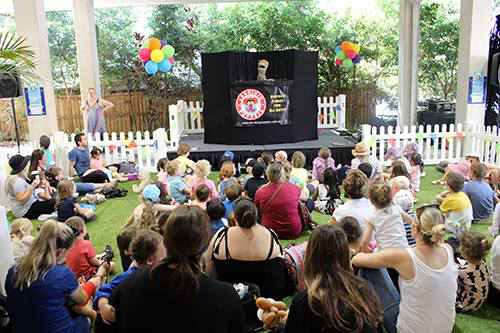 The style of puppetry is like The Muppets and Sesame Street, and we (two puppeteers) mostly perform from behind a puppet stage, but we do emerge as 'humans' during some of the interactive audience volunteer segments.
The show is followed by a 5 minute demonstration about how all the puppets work. Elissa and Brett once again invite volunteers up to assist with a couple of the puppets.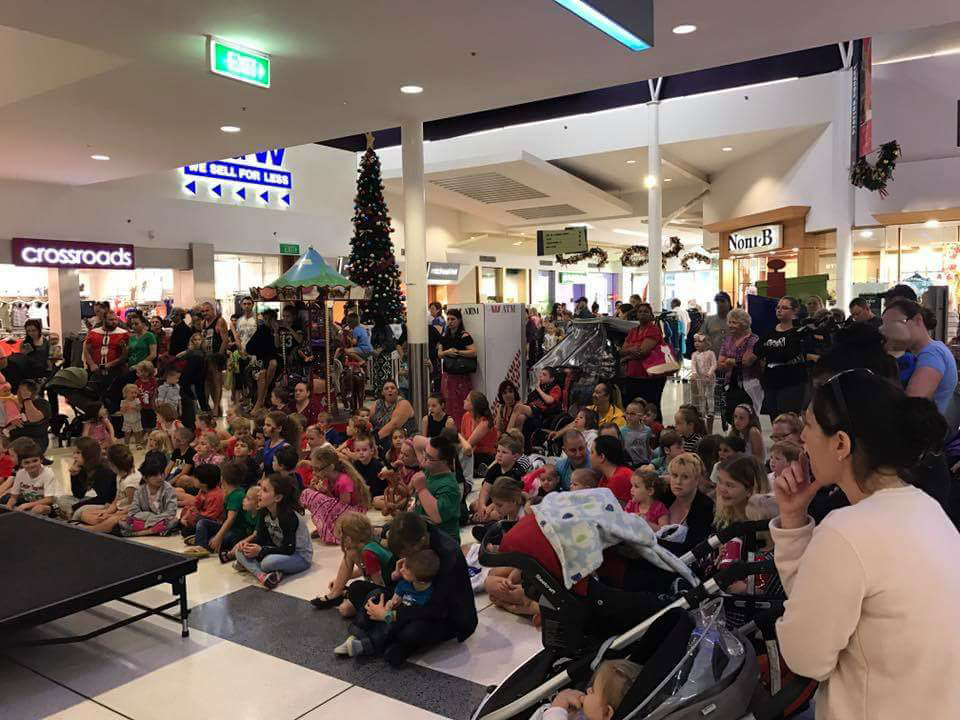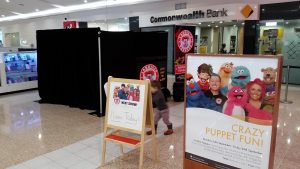 We then have a 5-10 minute meet-and-greet and photo opportunity with the puppets. Parents love getting photos of their kids with the puppets, and sometimes even selfies of themselves with the puppets too!
All up it's a 45 minute presentation including the "how the puppets work" demo and the meet-and-greet.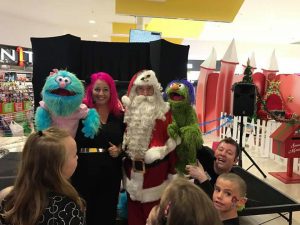 We also perform a Christmas-themed show which is perfect for the lead up to Christmas, as well as Santa's Arrival events in shopping centres, introducing Santa and creating excitement prior to his arrival. All up it's a very exciting and engaging live entertainment option for shopping centres!
Cost: $550.
Total duration: 45 minutes.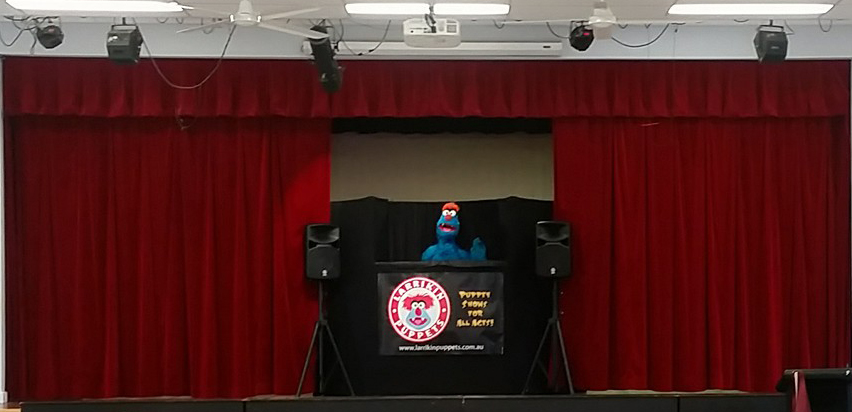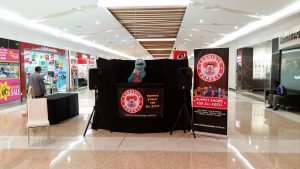 Cost Covers:
– 30 minute puppet show of songs, games, jokes and comical interaction with the audience, including six audience volunteers to perform with puppets in the show's finale.
– 5-10 minute Puppet meet-and-greet / Photo opportunity with Troggg and Marina.
– Time allowance for travel to and from, set-up and pack-down of the puppet stage, props, puppets and sound equipment.
– Rehearsal time prior to the event.
– Quality characters.
– Quality puppetry.

PLEASE NOTE: Events that require us to travel long distances (ie. flights from Brisbane or drives longer than three hours from Brisbane) will incur additional costs such as flights, excess baggage, fuel and accomodation for two. If your budget allows for this, please contact us to make arrangements.
Professional Development and Formal Training:
We've completed three months of professional development in the USA, which included advanced, formal training with Jim Henson puppeteers from The Muppets and Sesame Street.
Blue Card and Insurance:
We have current Blue Cards (Brett's number is 1161011/3, Elissa's is 690261/3) and are fully insured with Public Liability insurance through "Duck For Cover" entertainers insurance. These documents can be attached to an email, should you need them.
Stage Set-Up:
For shopping centres where we are set up for a full day, week or fortnight of live entertainment, it usually takes a bit over an hour to set up the puppet stage, props, puppets, sound equipment, and our pipe and drape backstage area. It's a portable puppet stage with an overall height of 1.8 metres, and an overall length of 2.4 metres. The puppet stage is only a front-on facade. Behind it is our pipe and drape system which measures about 2.5 metres behind the puppet stage. This is where the puppets, props, and puppeteers go for performing.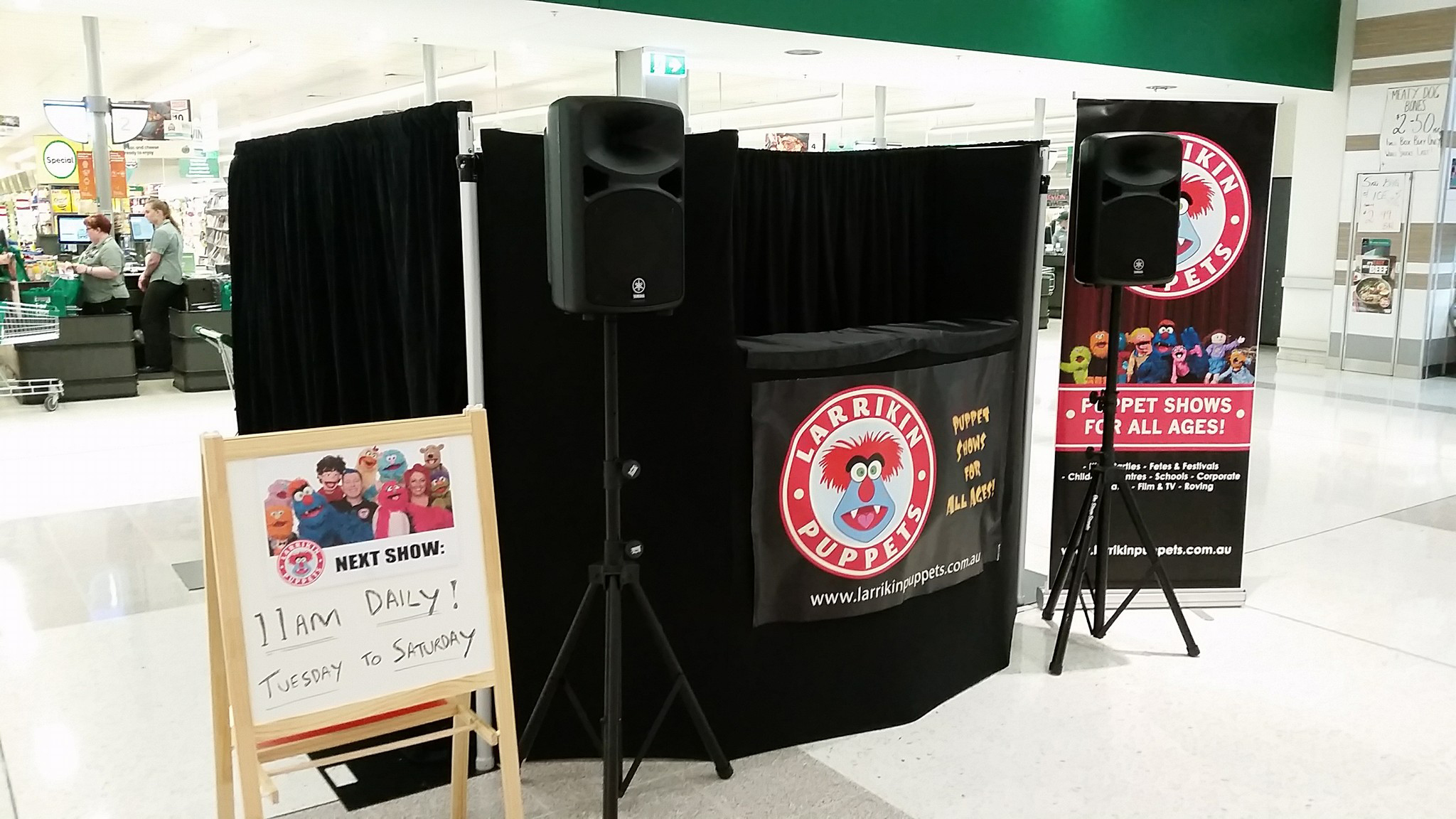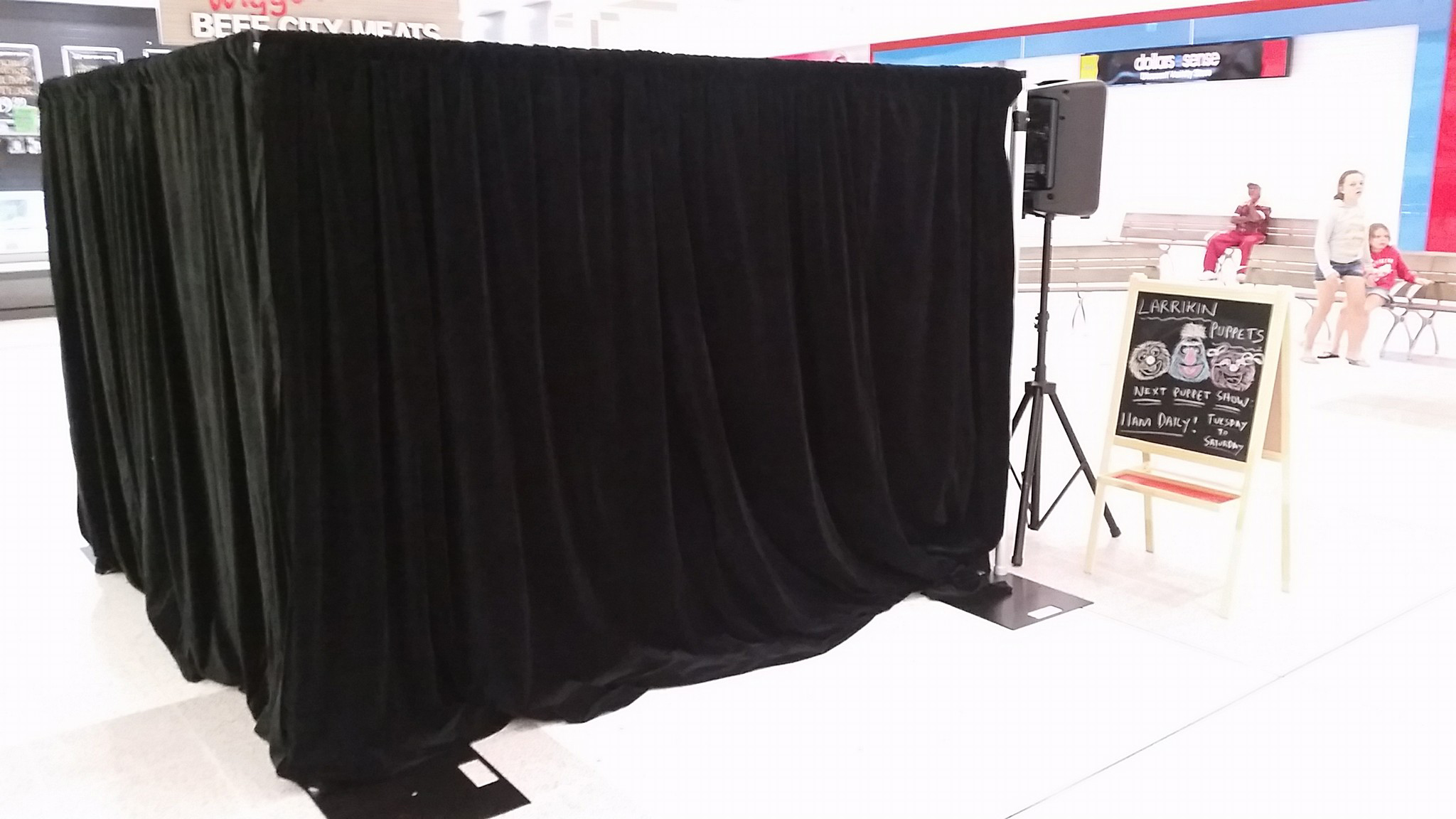 Music and Sound Effects:
For music and sound effects, we use our own set of large PA speakers which we plug in an iPod and our wireless headset mics. These large PA speakers are great for shopping centres where we are set up in one spot for a whole day or a while week or two of live entertainment. Access to power is required for this.
If there are any other queries, please feel free to have a look at the FAQ page, outlining everything anybody could wish to know.
And our Terms & Conditions, including a bit of information on adult supervision (or crowd control) during the performance.

On the day of arrival:
Puppeteers arrive about 1 hour and a half before the puppet show's starting time to park the vehicle, load in all of the equipment to the performance space, set up the stage, sound equipment, props and puppets. If it is a week or two of live entertainment in the same shopping centre, the puppeteers will arrive the day before to get everything all set up ready for a fresh start on Day 1 of live entertainment in the centre. The show (as described above) is performed for 30 minutes, followed by a "How the puppets work" demo and a meet-and-greet/photo opportunity. The puppeteers then pack up all the equipment after the final performance.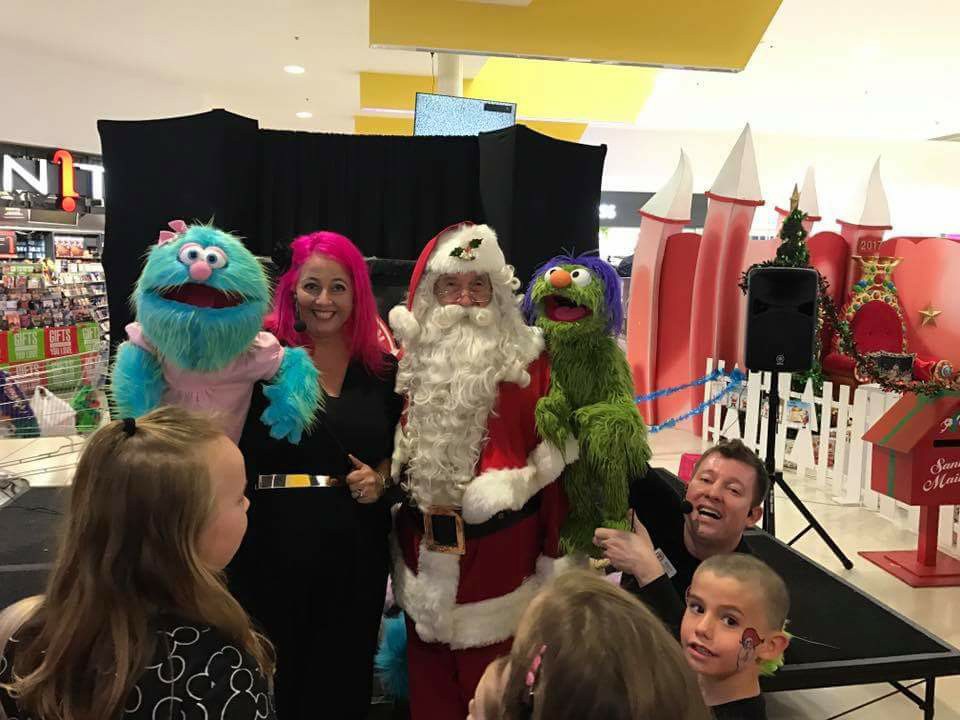 You can find more information about Larrikin Puppets on Facebook, Twitter, LinkedIn, Instagram, Pinterest and Google Plus.