Imagine how novel it would be to see a Muppet-style puppet as Master of Ceremonies or compère, humourously guiding guests through a corporate event, product launch, wedding reception, film festival or awards ceremony!
If you can remember the furry puppet alien ALF from the 1980s sitcom, or characters from various movies starring The Muppets, you might start to get an idea of how a puppet MC / Compère could work in a real life situation.
In the world of film and TV, characters like ALF, Fozzie Bear and Cookie Monster live their lives in a world where humans and puppets live together in harmony. Where it's quite common to be served at a store by a puppet, or to attend an event where characters like these are the hosts. Nobody bats an eyelid in that world, but you will! Because we'd like to bring this whimsical concept to the real world – just for a night!
You can have a witty, wise cracking furry monster (your choice of Troggg, Moss or Flossy ) hosting your event, introducing performers and speakers, and generally keeping things moving, just as a human emcee would do. What a unique host! Below are the details:
Cost:
$450.
The initial 50% deposit to lock in the booking is $225.
And then the remaining $225 can be paid in cash on the day of the event, or via direct deposit. Details of Payment Methods here.
Description:
As MC, blue monster Troggg or green monster Moss (with the help of handler, Brett Hansen), or pink monster Flossy (with the help of handler, Elissa Jenkins) will keep everything at your event flowing smoothly, making sure they know exactly what is to happen when, where and with whom.
Like any human emcee, we'll keep everything and everyone to time. We don't want the event or the speakers to drag on and run overtime.
We'll make sure we have sufficient information from you on all the relevant people, what they're meant to be doing and when. We ensure that titles and protocol are correct for all the duties including the introductions, making a toast, etc.
That same sense of whimsy and happiness created at our birthday party puppet shows can make your corporate event or function a delightfully memorable one.
On the day:
Puppeteer arrives about 40 minutes before the event's starting time (or earlier as per your specific request) to set up the lectern or table, sound equipment, scripting, run sheet, and the puppet host. The puppeteer will perform up to 4 hours of MC duties followed by an opportunity for guests to meet, mingle and grab a photo opportunity (or selfie) with Troggg, Moss or Flossy. The puppeteer then packs up all the equipment.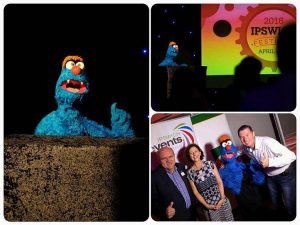 As MC, Troggg has hosted the 2016 Ipswich Festival Media Launch (which included introducing Mayor Paul Pisasale to the stage), the premiere screening of "I Am Big Bird" at Event Cinemas Myer Centre, The Hills Carnivale, the Brisbane Backyard Film Festival, the Griffin Community Christmas Carnival, a screening of "The Muppet Movie" at New Globe Theatre, various launches, parties and other special events.
Inclusions:
Up to 4 hours of function/reception time.
Time allowance for travel and set up of lectern/table, audio equipment/mic, scripting and run sheet, and puppet host.
Time for preparations and rehearsals in the lead up to the event.
We are fully insured, professional, and punctual.


Other Puppet MC / Compère Possibilities:
★ Stand up Comedy shows
★ Trivia nights
★ Karaoke nights
★

Awards nights


★ Film Festivals/Screenings
★ Product Launches
★ Christmas/New Year/Break Up Functions
★ Music Festivals
★ Impro/Theatresports events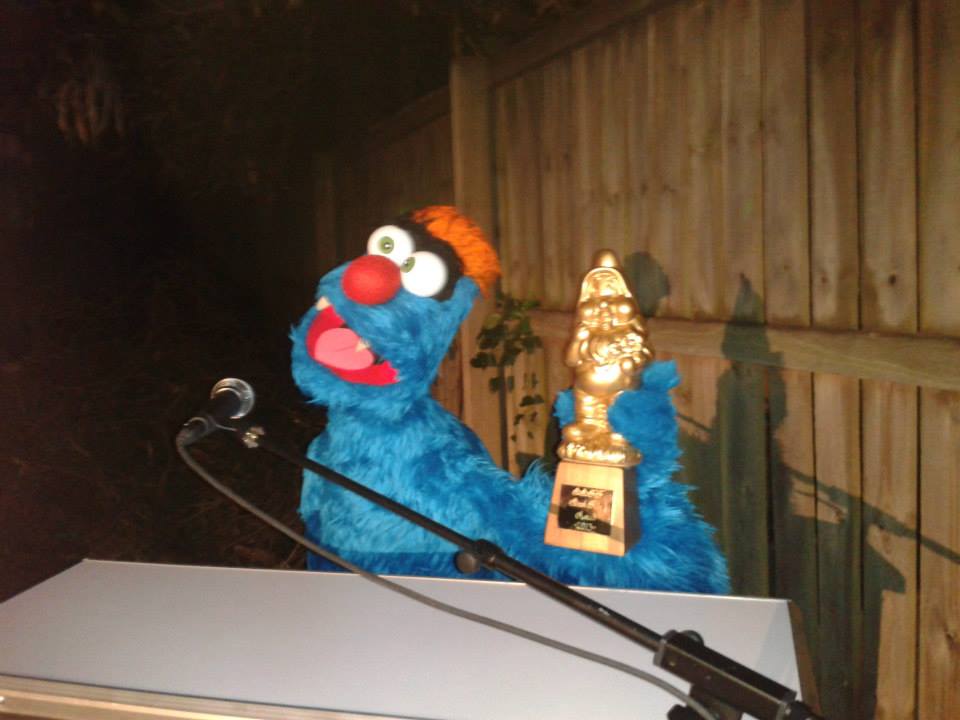 "How good was Troggg? Big thanks to Brett Hansen from Larrikin Puppets for being our very entertaining MC for the night. Having a puppet MC made our unique festival even uniquer!" – Gregory Kelly, 2013 Brisbane Backyard Film Festival.
For more information on grown up puppetry performances Brett has been involved in, please refer to the drop down menu items about corporate events, party puppet shows for grown ups and our comedy theatre production, Thank Troggg You're Here: A Puppet Impro Spectacular! Brett was also a puppeteer cast member, and puppetry consultant with Brisbane Arts Theatre's production of Broadway's Avenue Q (trailer here), and worked on film projects Cluck: The Web Series and Heart of a Thousand Souls.