Larrikin Puppets are children's entertainers who perform a fun and exciting Vacation Care / OSHC Puppet Show and/or a hands-on Puppetry Performance Workshop that will keep the children and staff happy on school holidays!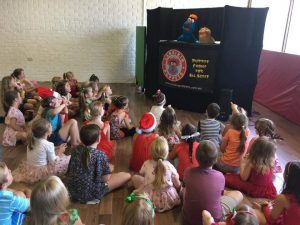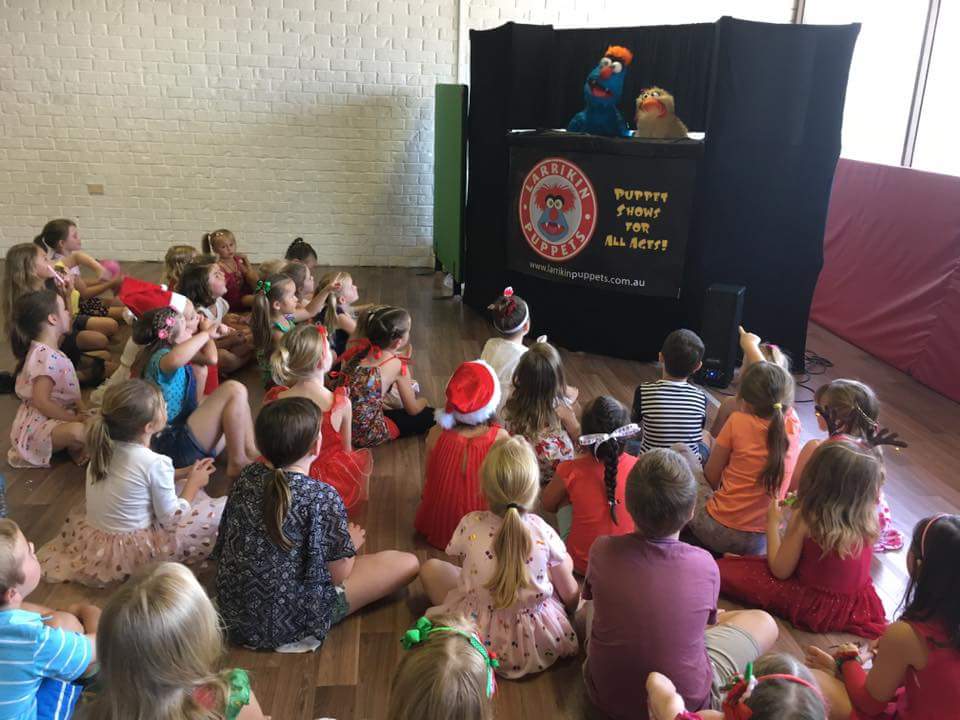 Brett Hansen, Elissa Jenkins and their funny puppet characters provide quality entertainment and fun for the school holidays at vacation care and OSHC in and around Brisbane, the Moreton Bay Region, Ipswich, the Sunshine Coast and Gold Coast.
We've brought our puppet shows and puppetry workshops to St John's Anglican College ABCC in Forest Lake, YMCA Bowen Hills, Little Genesis Outside School Hours Care in Bray Park, PCYC Vacation Care in Beenleigh, Mother Teresa PCYC in Ormeau, PCYC Pallara School Aged Care, Forest Lake State School Outside School Hours Care, Middle Park State School OSHC, Centacare St. Ita's OSHC in Dutton Park, Centacare St. Francis Xavier OSHC in Goodna, Centacare St. Matthew's OSHC in Cornubia, Redbank Plains State School OSHC, Wavell Heights OSHC (Our Lady of the Angels School), Wynnum Family Day Care (Wynnum Baptist Church), Gumnut House – Greenbank State School OSHC and The Lakes College Vacation Care in North Lakes.
See below for full details on how you can create a special and memorable day of puppetry as part of your vacation care programme!

Puppet Show Description:
Suitable for early childhood to primary school level, with plenty of humour for the staff and
teachers to enjoy too, the puppets perform a zany variety show of songs, skits, jokes, games and comical interaction with the audience. It's interactive and live (rather than pre-recorded). Kids are encouraged to sing, dance and play along. The finale of the show has us inviting eight volunteers up onto stage from the audience, and showing them how to operate some backup singer/dancer puppets for the final song. The style of puppetry is a like The Muppets and Sesame Street. The show is followed by an additional presentation (lasting about 5 minutes) where Brett and Elissa demonstrate to the audience how all the puppets work. Then a 5-10 minute meet-and-greet were the kids can get their photo taken with "Troggg" the blue monster and his sister "Marina". All up it's about a 45 minute performance.
Puppetry Workshop Description: 
Learn the basic techniques that bring Muppet-style puppet characters to life in an interactive 1 hour puppetry performance workshop led by Brett Hansen and Elissa Jenkins. Students will get a chance to practice puppetry techniques using real puppets. After a brief demonstration puppet show, we talk about different types of puppetry, then teach a hands-on class about puppet lip sync, walking, arm rod movements, emotions, voices, singing and dancing.
Minimum 5 students. Better value to have 10 or more. 30-40 is the ideal class number.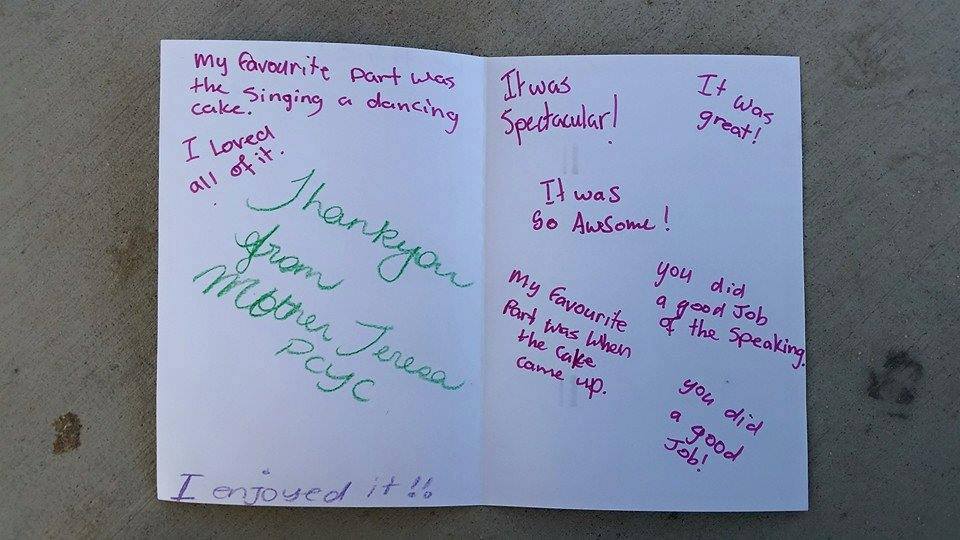 Cost:
Puppet Show – $450.
Puppetry Workshop – $500.
We charge an initial 50% deposit to lock in the booking. This ensures that the chosen booking time is yours, and we'll knock back others wanting the same date and time. And then the remaining balance can be paid in cash on the day of the event, or via direct deposit afterwards.
On the day:
Puppet Show – Puppeteers Brett Hansen and Elissa Jenkins arrive about an hour before the puppet show's starting time to set up the stage, sound equipment, props and puppets. The show (as described above) is performed for 30 minutes, followed by the 5 minute "how the puppets work" demo, and the 5-10 minute meet-and-greet and photo opportunity with Troggg. The puppeteers then pack up.
1 Hour Puppetry Workshop – 
Puppeteers Brett Hansen and Elissa Jenkins arrive about 1 hour before the puppetry workshop's starting time to set up the stage, sound equipment, performance puppets and workshop puppets for the students to use during the class. Students and teachers/leaders join in to learn all the different Muppet-style puppetry techniques for one hour. Students and teachers can ask questions during a brief Q&A session at the end. Then Elissa and Brett pack everything away.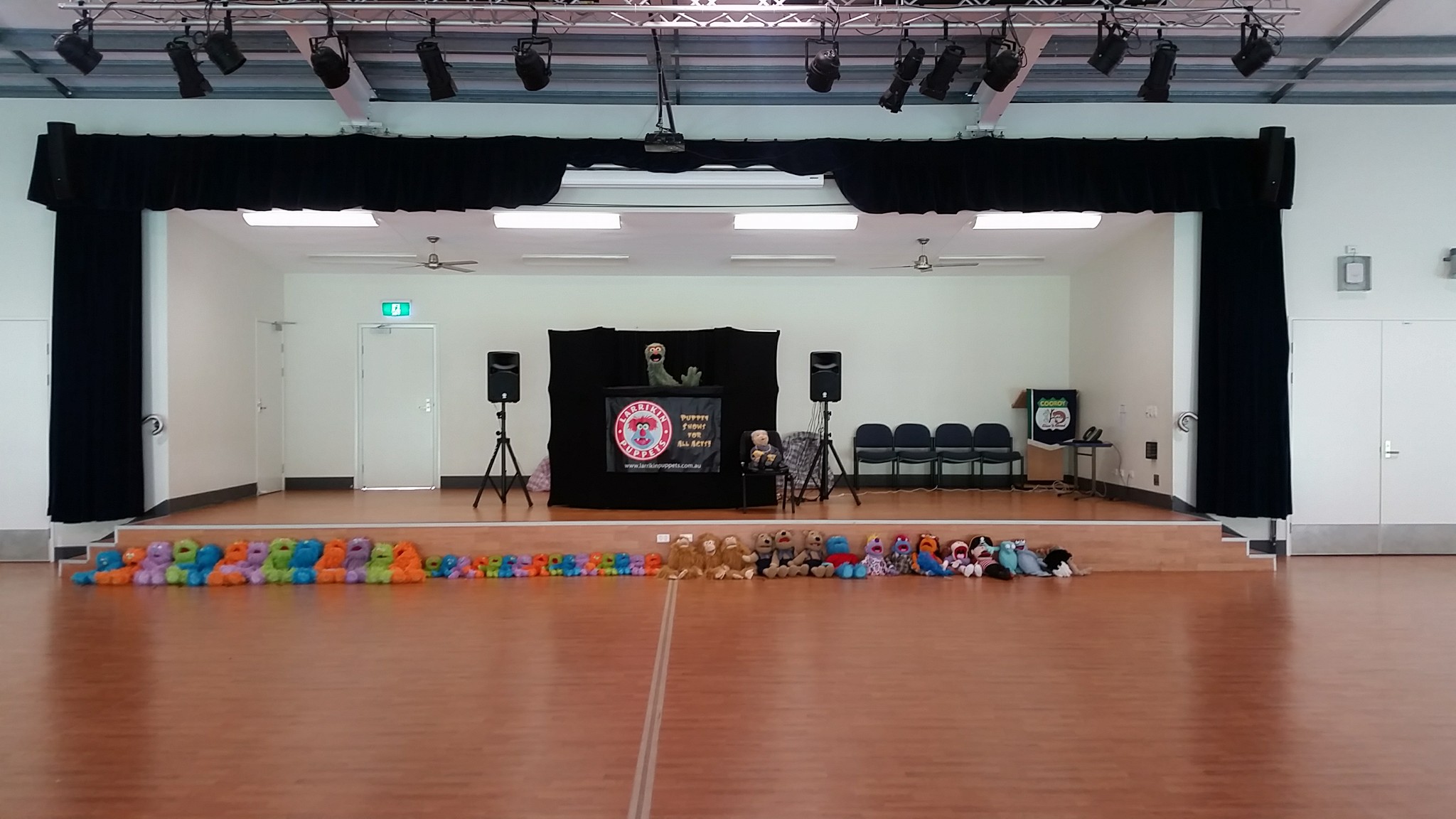 Inclusions for the Cost:
30 minute puppet show of songs, games, jokes and comical interaction with the audience OR 1 hour hands-on puppetry performance workshop.
5 minute "How the puppets work" demonstration.
5-10 minute puppet meet-and-greet / Photo opportunity with Troggg the blue monster.
Time allowance for travel to and from, set-up and pack-up of the puppet stage, props, puppets and sound equipment.
Rehearsal time prior to the event.
Quality characters.
Quality puppetry.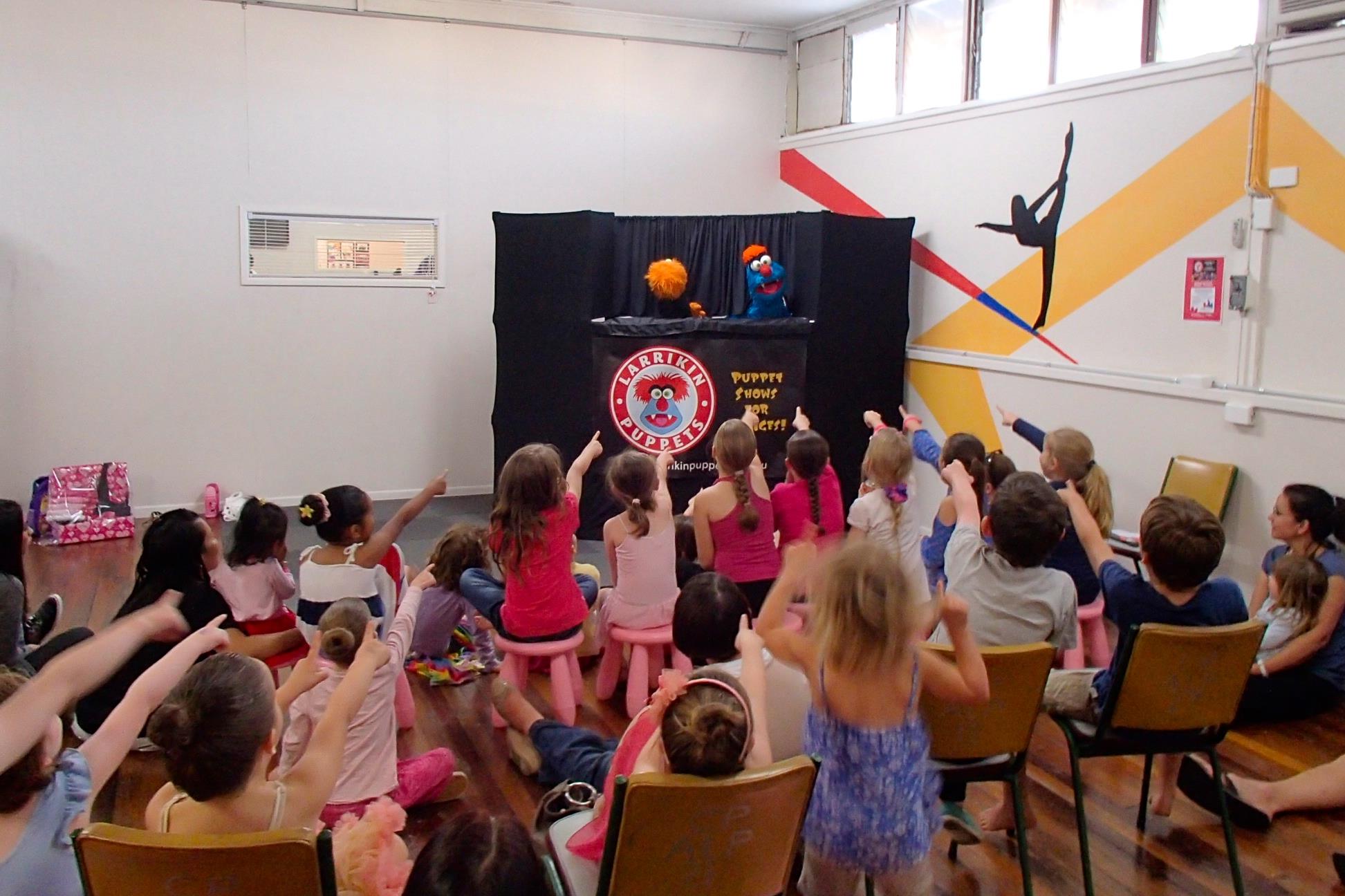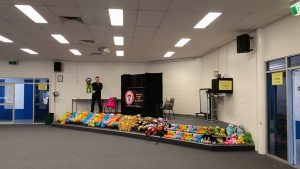 Particularly given that there are a lot of older kids in Vacation Care, the 
puppetry workshop
 is quite engaging and fun for the over 8s instead of a puppet show.
Professional Development and Formal Training:
We had three months of professional development in the USA, training and performing with puppeteers from Sesame Street and The Muppets.
Blue Card and Insurance: 
We have current Blue Cards and Public Liability Insurance (through Duck For Cover). Details of these can be provided on request.

 
Vacation Care at The Lakes College in North Lakes said, "Thank you so much for coming! They loved it! All afternoon they made puppet shows and were talking about Troggg. Haha! So cute!"

612 ABC Brisbane's Spencer Howson wrote a Bmag article about Brett Hansen and Larrikin Puppets. See it here.