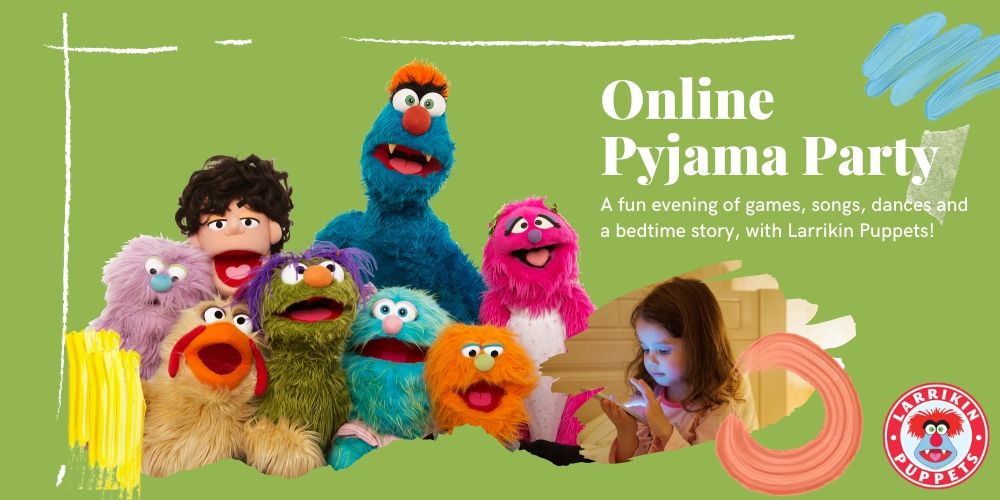 NO LONGER RUNNING due to Queensland being out of lockdown and Larrikin Puppets being back to performing live shows. We are still offering online incursions for childcare centres, schools, libraries, corporates and non-profits. Discover those options here.
Wed 3rd Jun 2020, 6:30 pm – 7:30 pm AEST
REGISTER NOW FOR THIS FREE FAMILY EVENT!
Join Larrikin Puppets for a FREE Online Pyjama Party via Zoom! Get the whole family together for an evening of games, songs and dancing PLUS a special bedtime story at the end.
This super fun Pyjama Party is ideal for kids aged 3-9 and their families. A supervising adult must be present. We'll send you the Zoom link the day before the show. Only one ticket per household required!
Get into your jimmy jammies and get ready for an evening of fun and laughter!
REGISTER FOR YOUR FREE EVENT TICKET!
We'll be inviting you to dance to our new zany dance song Dance Like A Unicorn, so feel free to wear your favourite unicorn horns or rainbow colours.
Listen to NEW MUSIC by Larrikin Puppets!
We look forward to partying with you soon! Register now.