Larrikin Puppets is staging an exciting HERVEY BAY TO MACKAY TOUR for six weeks in October/November 2021, bringing our popular puppet shows and puppetry performance workshops to regional Queensland.

BOOK NOW if you're a childcare centre/kindy, school, library, shopping centre, pub/club/RSL, theatre group or festival in Hervey Bay, Maryborough, Rockhampton, Mackay, Clairview, Gladstone, Seventeen Seventy, Bundaberg and Childers!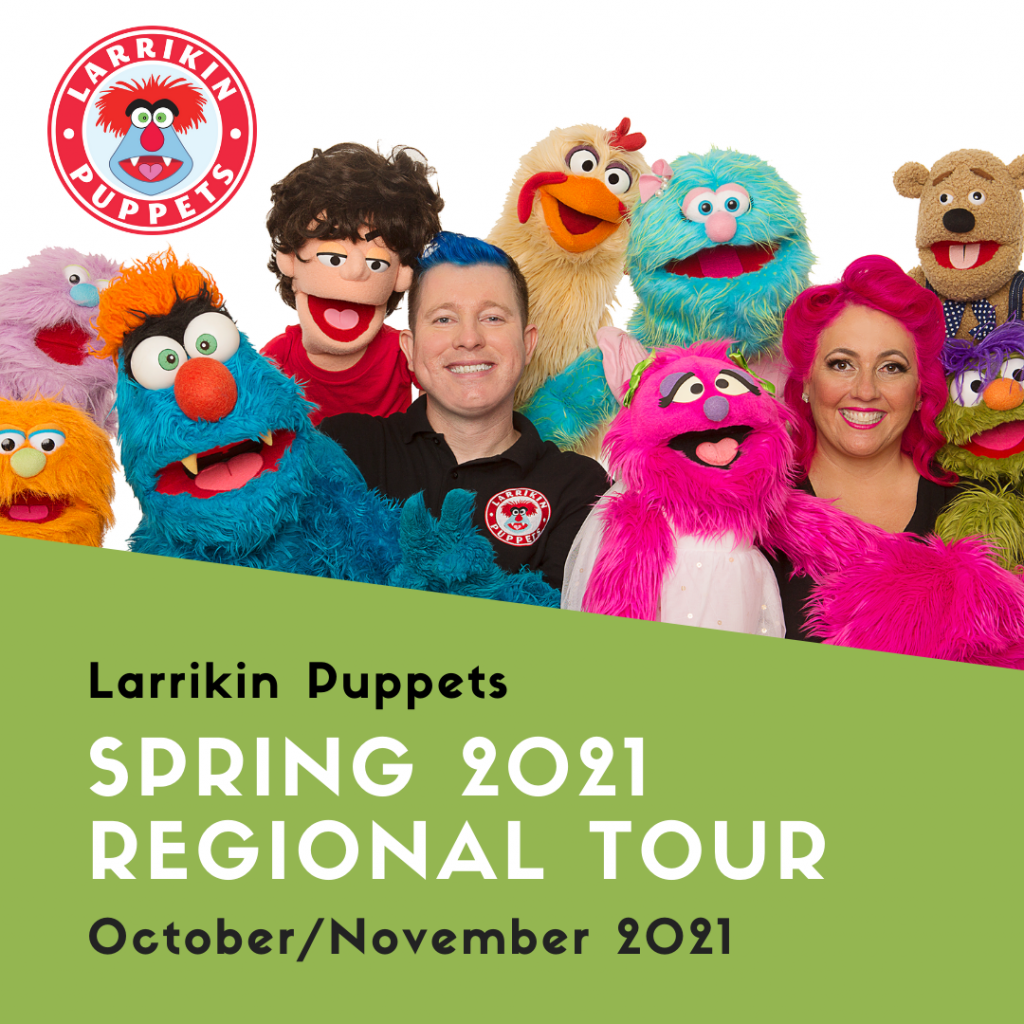 We'll be covering our travel costs (e.g. fuel and accommodation) so this is a wonderful opportunity for regional communities to take advantage of our AFFORDABLE South East Queensland rates rather than higher regional rates. Our gift of puppetry to you!
Choose now from the following options: 
Note: Any of our puppet show options are perfect for kindy/childcare ages 2-5 and school grades Prep-Year 2.
The workshop is perfect for ages 5-Adult, so students in grade 6, high school, after school drama classes and adult community theatre groups can participate in our workshop as well. Workshop not offered to childcare/kindy.
We offer discount packages for multiple sessions in the same location (eg. 2-3 sessions in one day). Contact us to discuss.
Here's a list of our dates currently AVAILABLE, as well as which dates and times are already BOOKED. This tour schedule is being updated as bookings are secured. Book a date from the list below:
FRASER COAST REGION (Maryborough, Hervey Bay, etc.)
Thursday October 7 – Available
Friday October 8 – Available
Saturday October 9 – Available
ROCKHAMPTON REGION/SHIRE OF LIVINGSTON (Rockhampton, Yeppoon, etc.)
Wednesday October 13 – Available
Thursday October 14 – Available
Friday October 15 – Available
Saturday October 16 – Available
MACKAY REGION
Wednesday October 20 – Available
Thursday October 21 – Available
Friday October 22 – Available
Saturday October 23 – Available
ISAAC REGION (Clairview, Collaroy, etc.)
Wednesday October 27 (one date only!) – Available
GLADSTONE REGION
Sunday October 31 – Available
Monday November 1 – Available
Tuesday November 2 – Available
SEVENTEEN SEVENTY
Saturday November 6 (one date only!) – Available
BUNDABERG REGION (Bargara, Childers, Gin Gin, etc.)
Wednesday November 10 – Available
Thursday November 11 – Available
Friday November 12 – Available
Book a date and time from the list now!
More about Larrikin Puppets at What's On 4 Kids and Brisbane Kids.
Listen to our catchy, original songs for kids on Spotify.