Activity coordinators in aged care facilities can also include Larrikin Puppets as an entertainment option for folks of the older generation. Various Probus Clubs, seniors groups, retirement villages and nursing homes around Brisbane who have booked Larrikin Puppets will agree that puppets are not only for children. They are also for the young at heart.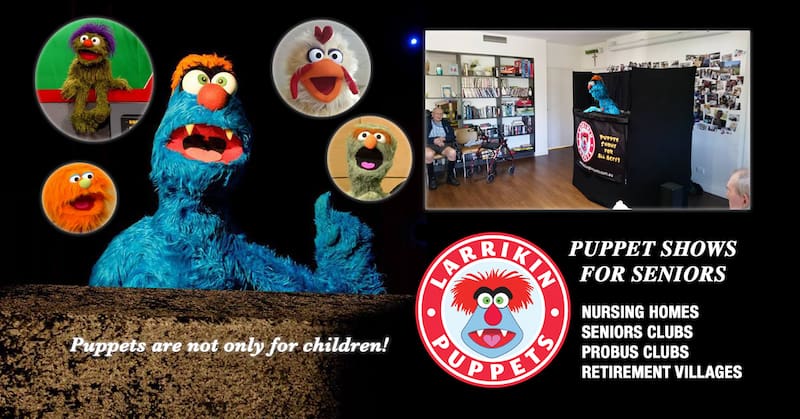 "We were blessed by a special performance by Brett which was clever, warm & utterly delightful. His story was also most inspirational & impressive & we felt that Brett is a dedicated & talented person, thoroughly in tune with his audience, even the over 60s."
We love performing for older audiences in aged care and have a great interactive puppet show that we can present.
Our seniors puppet show is a colourful and fun 30 minute variety show of songs, skits, and jokes geared to an adult audience. The style of puppetry is like The Muppets and Sesame Street. It's all interactive and live (rather than pre-recorded).
The show is followed by an additional 5 minute presentation where we demonstrate to the audience how all the different puppets in our show work. This segment involves a bit of audience volunteer assistance which is always good for a laugh.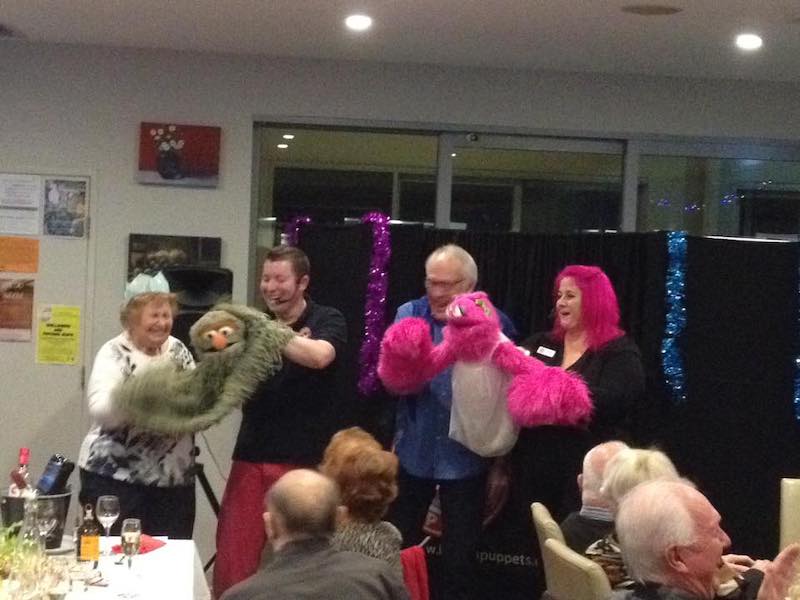 At the end of all this, seniors always enjoy hearing the story of how Brett came to start and grow a puppetry business. 10-15 minutes.
Then there's the opportunity for a bit of a meet-and-greet and photo opportunity where some people or groups might like to get a photo taken with a couple of our puppets.
All up it's a total duration of 50-60 minutes including the puppet show, "how the puppets work" demo, Brett's story and a meet-and-greet.
Show Options:
We have the solo performance by Brett Hansen, where he performs a puppet show, demonstrates how the puppets work and tells his inspirational story.
We also have a duo performance starring Brett and his wife Elissa Jenkins – where there are female characters and more audience interaction in the show. They both demonstrate how the puppets work, and they both talk about Brett's story, and their story together – how Elissa came to join the company and the puppetry training she received in New York with Brett.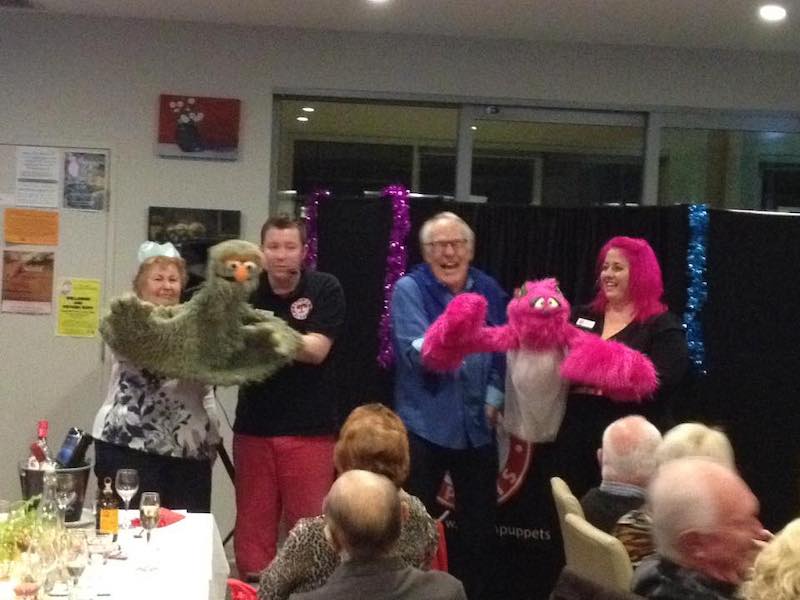 In addition to this, we can also perform our children's puppet show for a combined audience of seniors and visiting pre-school children. This is inspired by the ABC TV program Old People's Home For 4 Year Olds, in which a group of aged care residents are brought together with a group of pre-schoolers, to see if this inter-generational contact can improve the health and wellbeing of the older people, thus helping them to lead happier, and healthier lives.
We find that when surrounded by laughing, cheering, dancing children at our puppet shows, adults in the audience find the children's joy contagious and can't help but laugh and play along too. Intergenerational play is a wonderful concept, and has been proven to work! Have a look at the great research and work being done by Ageless Play and see the TV show trailer below:
Costs:
Visit our Rate Card for Seniors & Aged Care.
This covers:
One puppeteer or Two puppeteers (depending on which option you choose).
30 minute puppet show of songs, games, jokes and comical interaction with the audience.
5 minute "How the puppets work" demonstration.
10-15 minute "How I became a puppeteer / How we got here" talk / Q&A.
5-10 minute puppet meet-and-greet / Photo opportunity.
Time allowance for travel to and from and venue.
Time allowance for load in, set-up and pack-down of the puppet stage, props, puppets and sound equipment.
Rehearsal time prior to the event.
Quality characters.
Quality puppetry.
We charge an initial 50% deposit to secure the booking. This ensures that the agreed date/time is set aside for your event exclusively. Larrikin Puppets will turn away other work wanting the same date and time. And then the remaining balance can be paid in cash on the day of the event, or via direct deposit afterwards.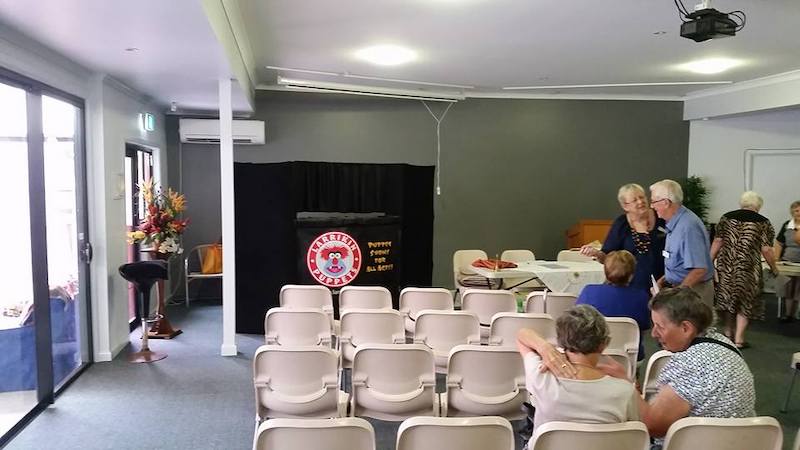 Public Liability and Blue Cards:
We have public liability insurance through Duck For Cover Entertainers Insurance, and we both carry current Blue Cards for working with children.
Professional Development Overseas:
We have completed three months of professional development in the USA, which included performances and advanced training with Jim Henson puppeteers from The Muppets and Sesame Street.
Contact us here to book a puppet presentation at your aged care facility or seniors club.