Talk, Play, Sing, Dance and Interact with fast paced puppet fun!
Book Larrikin Puppets for your event, venue or special occasion! Be entertained and captivated by a variety of colourful and exciting puppet shows and workshops!
Our puppeteers have received advanced training in the USA under Jim Henson puppeteers from The Muppets and Sesame Street!
Todd Sampson Meets Larrikin Puppets While Filming New Documentary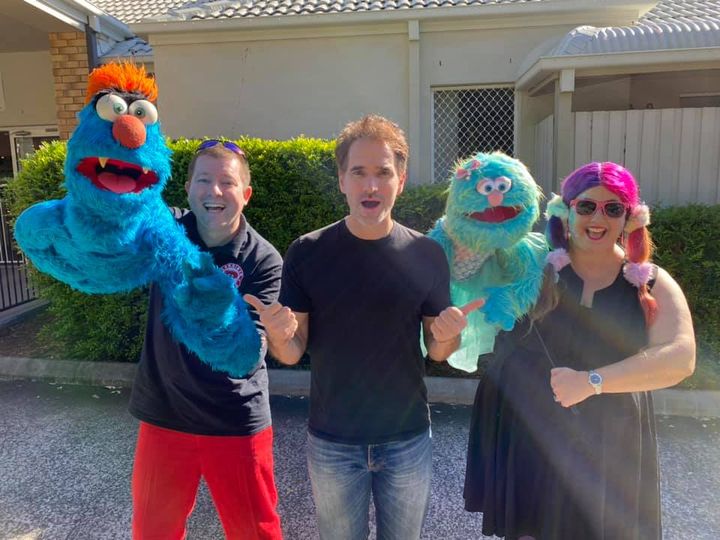 Todd Sampson (Gruen, Body Hack) and his film crew interviewed Elissa for a new documentary series and dropped in to watch and film a Larrikin Puppets puppet show at a Gold Coast childcare centre! Todd told us he loved our puppet show. It was fun watching him getting silly with the puppets behind the scenes.
Vote For Larrikin Puppets In The What's On 4 Kids Awards
VOTE NOW. Vote for Larrikin Puppets in the What's On 4 Kids Awards in two categories: Best Local Kids Live Show AND Best Local School Aged Activity (5-12 years).

Larrikin Puppets Feature On Illy & Waax's Cheap Seats Music Video!
"Honestly one of my favorite film clips of the year. Killed it." – Hilltop Hoods
Dance Like A Unicorn: DIY COVID Isolation Music Video
Presenting our 'Dance Like A Unicorn' music video, created at home by us in isolation featuring dance footage submitted by wonderful fans, friends and families from Australia to America.
Learn the dance or just dance along because ANYONE can dance like a unicorn! 🌈🦄💜
We are BACK performing Dance Like A Unicorn together with kids and families at our live shows! Book Larrikin Puppets now for your Queensland festival, shopping centre or Christmas Carols event.
Find out how to listen to more songs by Larrikin Puppets or listen and follow us on Spotify now!
Online Puppet Shows During COVID Restrictions – from Brisbane To LA!
Larrikin Puppets is committed to continuing our goal to bring joy, laughter, fun and play to kids during COVID-19 lockdowns and restrictions. Join us as we present super fun online puppet shows, puppetry workshops, story times, poetry with puppets and puppet play dates.
Discover our online puppet shows and activities including interactive Zoom opportunities for children, families and even adults! No matter where you are around the world, you can book Larrikin Puppets for your next virtual event.
Our Services
We provide our zany and always crowd pleasing comedy-variety puppet show, a story time puppet show, a puppet MC service, puppetry for film and TV, a sock puppet making craft workshop and a hands on puppetry performance training workshop!