If you're looking for Australia Day entertainment, Larrikin Puppets has a puppet show that celebrates and embraces all the things that make Australia a great and diverse country. From songs and stories about Aussie animals to the different flags representing Aboriginal Australians, Torres Strait Islander people and the Commonwealth.
Throughout January, Larrikin Puppets is booked at several childcare centres, vacation care, libraries and a few pubs, clubs and RSLS to perform our Australia-themed puppet show as part of a month of Australia Day entertainment celebrating this country, it's animals, it's diversity, and how we can look after the land and keep it clean and tidy.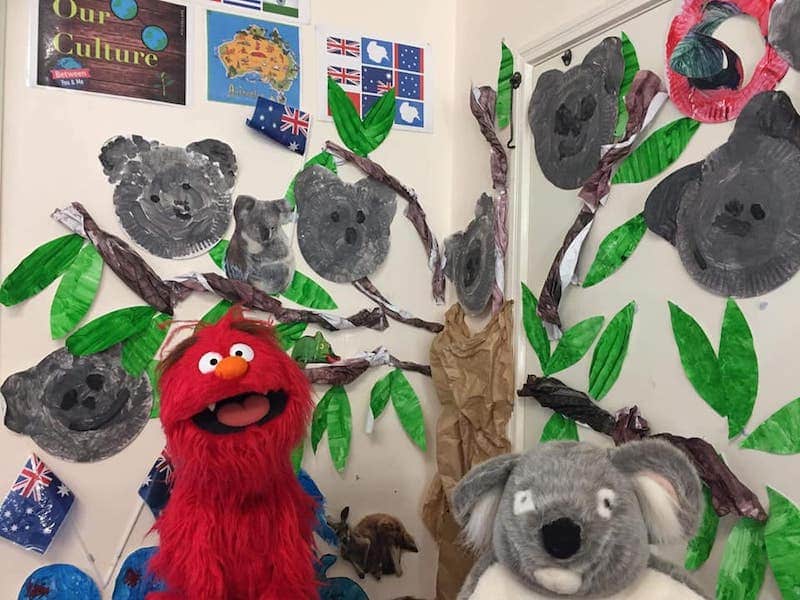 Our puppet show is a colourful and fun 30 minute variety show of songs, skits, jokes and games. The style of puppetry is like The Muppets and Sesame Street. It's all interactive and live. Kids are encouraged to sing, dance and play along. For the childcare centre version of the show there's also a storytime segment in which Elissa reads a lovely Australian story while puppet character Frazzamatazz interacts, role modelling active listening and supporting comprehension through questions and comments.
The puppet show is followed by an additional 5 minute presentation where we demonstrate to the audience how all the different puppets in our show work. Then there's a bit of a meet-and-greet and photo opportunity where the kids can then get their photo taken with "Troggg" the friendly blue monster and his little sister "Marina". At the public shows (in libraries, pubs/clubs) and at vacation care, there is a segment in which we choose volunteers from the audience to come up and perform with a few puppets.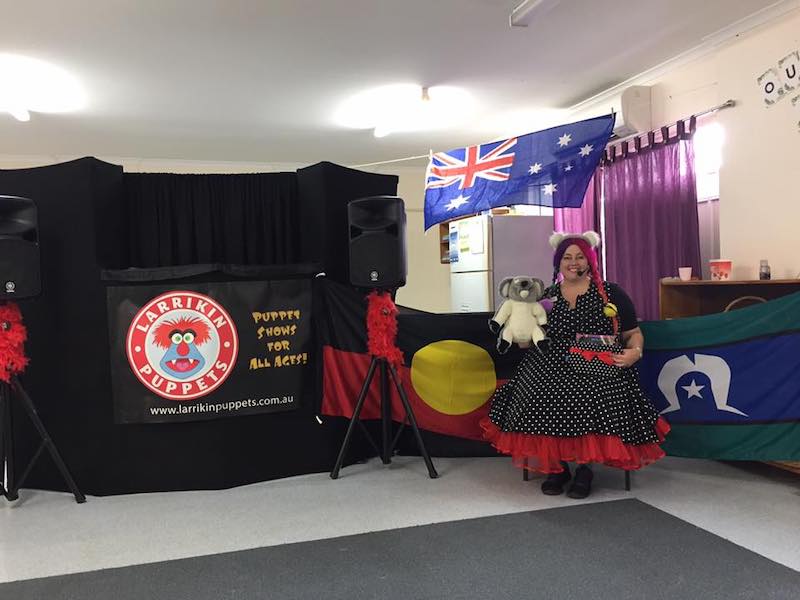 Here's a fun 30 second video showing all the excitement of our puppet shows!
Total Duration: 45 minutes.
Cost: For prices and packages visit our Rate Cards.
Cost Covers:
– Two Puppeteers.
– 30 minute puppet show of songs, games, jokes and comical interaction with the audience.
– 5 minute "How the puppets work" demonstration.
– 10 minute puppet meet-and-greet / Photo opportunity.
– Time allowance for travel to and from, set-up and pack-down of the puppet stage, props, puppets and sound equipment.
– Rehearsal time prior to the event.
– Quality characters.
– Quality puppetry.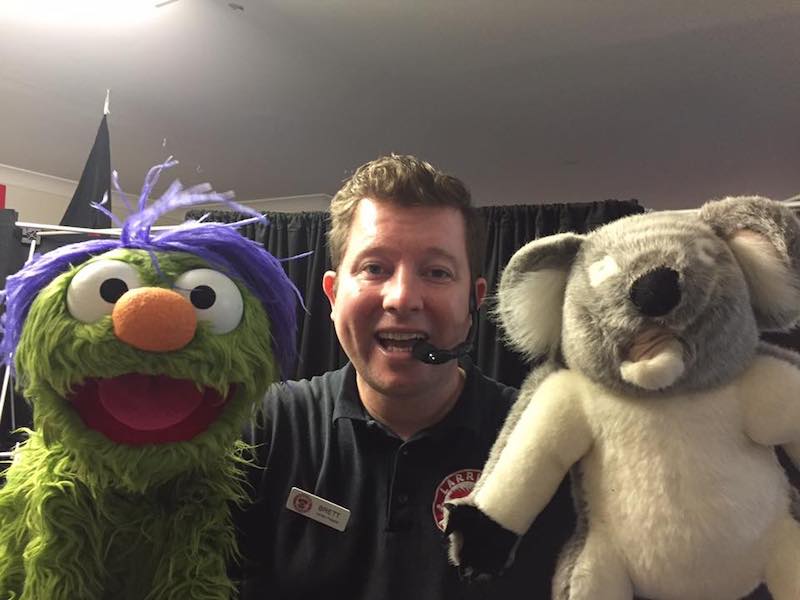 Blue Card and Insurance: Brett's Blue Card number is 1161011/3, Elissa's is 690261/3. We have public liability insurance through Duck For Cover Entertainers Insurance.
Professional Development Overseas: We have completed three months of professional development in the USA, which included performances and advanced training with Jim Henson puppeteers from The Muppets and Sesame Street.
TV Work: For Australian television we performed the puppetry in the "Best Friends Forever" music video for Regurgitator's Pogogo Show (on ABC Kids) and worked on a TV show pilot in Sydney. Previous television appearances have included Totally Wild (Network Ten) and The Bureau of Magical Things (Network Ten/Jonathan M. Shiff Productions).
The great thing about this show is it doesn't need to be restricted to Australia Day entertainment. This show can be performed any time of year for other celebrations of Australia as well.
We look forward to hearing from you about whether you'd like our Australia themed puppet show at your venue or event soon!