What A Wonderful World is a musical puppet stage show that introduces students aged 5-6 to social science education, and expands the horizons of students aged 7-9. Troggg the friendly blue alien monster crash lands on Earth and together, with the help of social science communicator Elissa and her colourful, zany friends, Troggg and the audience learn about emotions, identity, belonging and the environment through fun songs, skits, games and dance.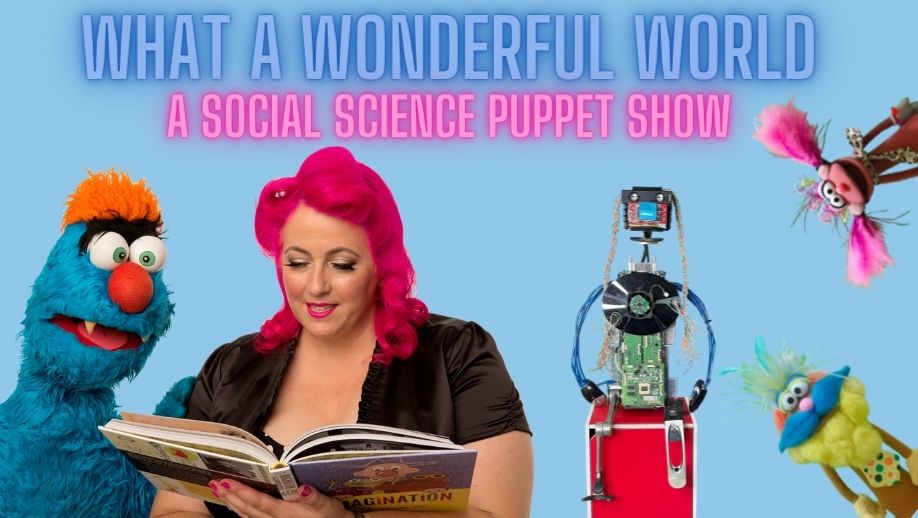 Introduce early primary students to social science education in a super fun way with 'What A Wonderful World', a musical puppet show by Larrikin Puppets. This is a fast-paced, feel-good puppet show that explores the world from a social science perspective and encourages audiences to talk, play, sing, and dance along.
Social science communication is the practice of informing, educating, and raising awareness of the social sciences in our everyday lives from early learning through to university and beyond – and how crucial these fields are in helping us better understand connections and complexities in ourselves, in others, and in the world around us.
Social Science includes topics such as:
Sociology
Psychology
Anthropology
Geography
History
Sustainability
Economics
Politics
Law
Education
Ethics
Communication
Linguistics
What A Wonderful World: A Social Science Puppet Show is ideal for children in early primary school classes (Prep to Year 4). Please note this show can only be performed in a performing arts theatre stage, community hall stage or school hall stage only. Sound and lighting is welcome, but not essential. It can be booked by schools directly or by theatres who wish to invite school groups.
The show introduces children to very basic principles of social science with a focus on emotions, kindness, empathy, identity, difference/togetherness, friendship/belonging, and connection to nature, environment and sustainability. It stars loveable puppet characters such as Troggg, Marina, Scrambles, Freerange the Chicken, Lovelace the e-waste puppet, and a cast of sock puppets who like how they look, think and feel.
This show is aligned to the HaSS (Humanities and Social Sciences) strand of The Australian Curriculum Foundation and Year 1.
Puppeteer Brett has performed and trained professionally in the USA with Jim Henson puppeteers from Sesame Street and The Muppets. His co-puppeteer and show host Elissa has a Master of Arts (Social Science). She received a Griffith University Award for Academic Excellence in 2009 and a GPA of 7 (the highest score possible) for her Master Of Arts.
Cost: For prices and packages visit our Rate Cards.
Two presenters: Brett Hansen and Elissa Jenkins.
Cost Covers:
1 hour interactive puppet show.
Q&A.
5-10 minute meet-and-greet and photo opportunity with the puppets after the show (within limits of Covid 19 health recommendations)
Two performers.
Time allowance for travel to and from venue.
Load in, set-up and pack-down of the puppet stage, props, puppets and sound equipment.
Rehearsal time prior to the event.
Quality songs and scripts.
Quality characters.
Quality puppetry.
There is an initial 50% deposit to secure the booking. This ensures that the chosen booking time is yours, and we'll knock back others wanting the same date and time. The remaining balance can be paid in cash on the day of the event, or via direct deposit afterwards.

Brett's Working With Children Blue Card number is 1161011/4, Elissa's is 690261/4. We have Public Liability Insurance through Duck For Cover Entertainers Insurance. We are vaccinated against Covid 19 and Influenza. We can provide a Risk Assessment Plan, Covid Safe Plan and Vaccination Certificates.