Whether held in the back yard, the lounge room or at a childcare centre, Troggg & Friends Puppet Show is the always funny, always crowd pleasing solo puppet show performed by our principal puppeteer Brett Hansen. It's the show Brett performed when he first started Larrikin Puppets, and is still available for you to book today.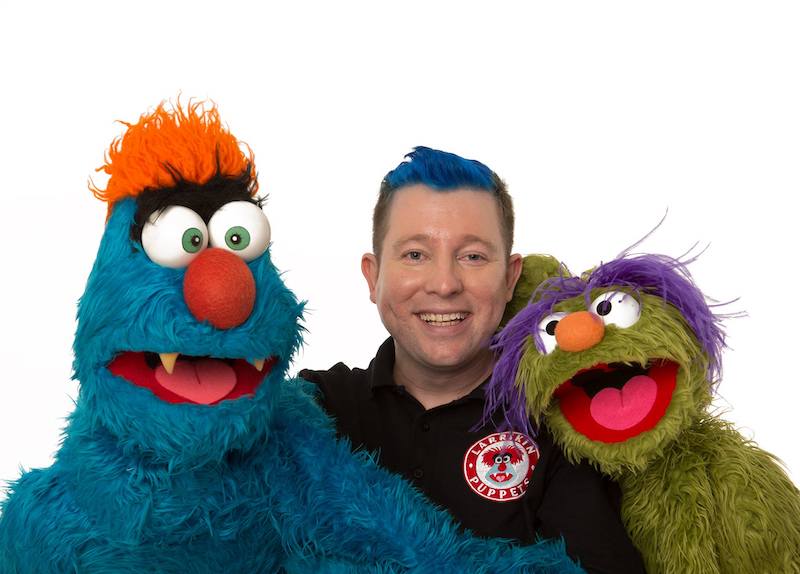 "This show was fantastic! All of the children had so much fun interacting with the puppets and singing along. With lots of smiles and laughter this made for an extra special celebration for all, including Mums and Dads."
Troggg & Friends is an affordable puppet show featuring 30 minutes of age appropriate songs, games, jokes, skits and comical interaction between the puppets and the audience. The style of puppetry is like The Muppets and Sesame Street.
The show is performed from behind a puppet stage, which is about 2.5 metres wide, and Brett uses about 1.5 metres behind it to lay out the puppets, props, audio equipment, and himself for performing.
Access to power is always nice, but if it's in a park or somewhere not close to power access Brett has a battery operated speaker to work with as well. Be sure to mention whether power is available or not in your booking enquiry.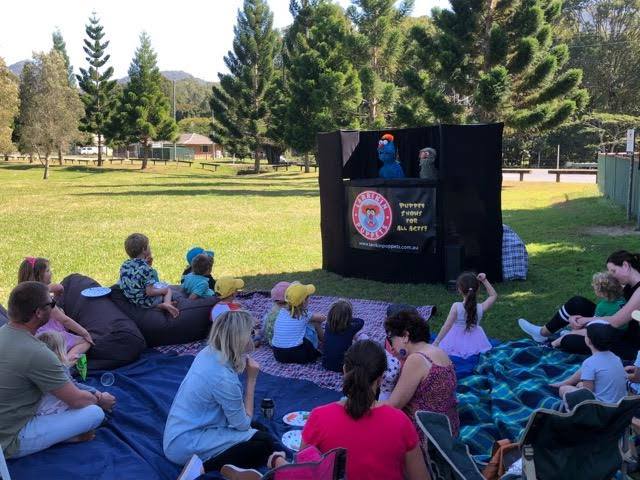 This is followed by a 5 minute presentation after the show where Brett comes out and explains how all the puppets work. Then a 5-10 minute meet-and-greet with Troggg the blue monster – the star of the show. Kids (and parents too!) often like to get photos and selfies with him during this time.
You and all the party guests are welcome to take as many photos of the puppets as you like, and share them on Facebook, Instagram, etc. if you wish to. 🙂
Also – just a bit of adult supervision (or crowd control) on the day during the puppet show is always helpful. The adults usually all watch and laugh along as well.
The puppet show, the "how the puppets work" demonstration, and the meet-and-greet and photo session usually all lasts up to 45 minutes in total.
For this puppet show, Brett arrives at the party or venue approximately 45 minutes to 1 hour prior to showtime to set up the puppet theatre, sound equipment, props and puppets ready for the show.
Cost: This solo performance by Brett has a range of costs for birthday parties and childcare centres / kindergartens based on region.
Cost: For prices, visit our Rate Cards.
Please note: Brett no longer performs this solo puppet show at larger events like festivals, shopping centres, schools or libraries. Those events feature larger performances by two puppeteers.
An initial 50% deposit is required to confirm the booking. This ensures that the chosen booking time is yours, and we'll refuse other people wanting the same date and time. And then the remaining balance can be paid in cash on the day of the event, or via direct deposit afterwards.
Inclusions for the Cost:
30 minute interactive puppet show of songs, games, jokes and fun.
5 minute "How the puppets work" presentation.
5-10 minute Puppet meet-and-greet.
Photo opportunity with Troggg the blue monster.
Time allowance for travel to and from, set-up and pack-down of the puppet stage, props, puppets and sound equipment.
Rehearsal time prior to the event.
Quality characters.
Quality puppetry.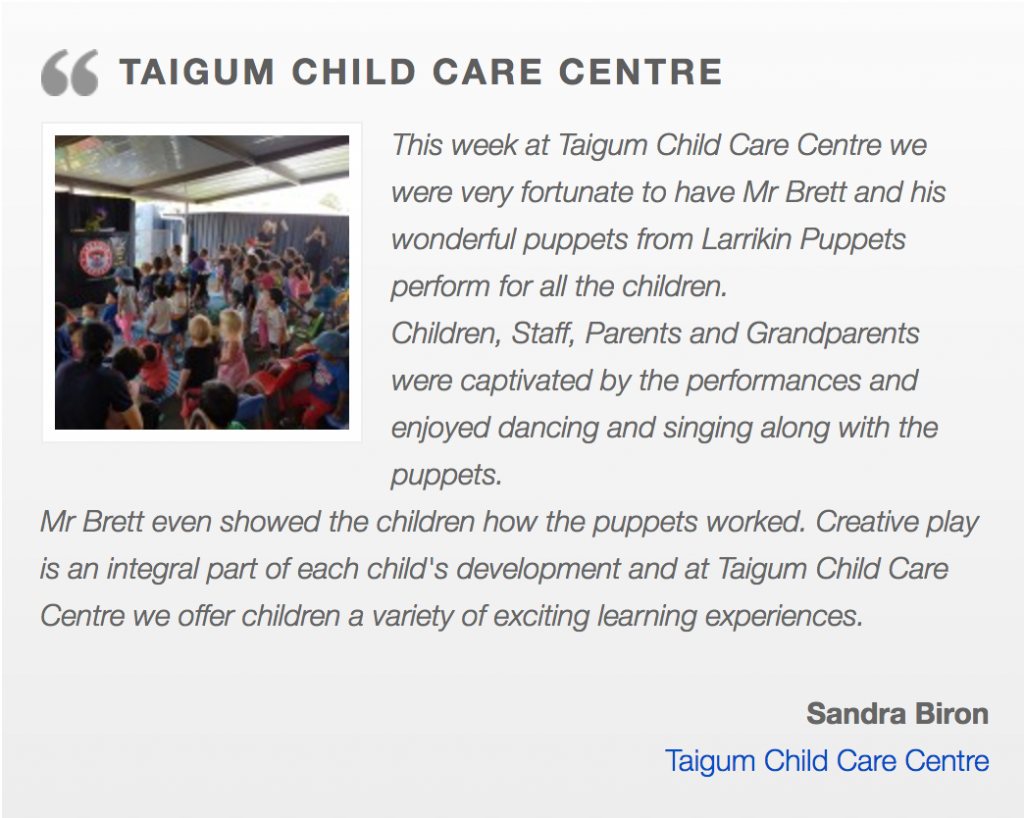 In addition to a lifetime of puppetry experience since the age of 3, Brett has completed professional development in the USA, which included formal training with Jim Henson puppeteers from The Muppets and Sesame Street.
Brett has a current Blue Card and is fully insured with Public Liability insurance through "Duck For Cover" entertainers insurance.
Please let us know if you'd like to book Troggg & Friends Puppet Show, and we can then draw up an invoice for you with all the details.