Hosted by Melek and Zac, stars of the Australian children's book series "Hijabi Girl", this colourful, exciting musical puppet variety stage show is for ages 5-9 and their families. It features a fun, colourful, diverse cast of Muppet-style puppet characters performing skits, jokes, catchy original songs (as heard on Spotify and Apple Music) and live interaction with the audience. This stage show is great for schools, libraries and theatres and is aligned to the national school curriculum.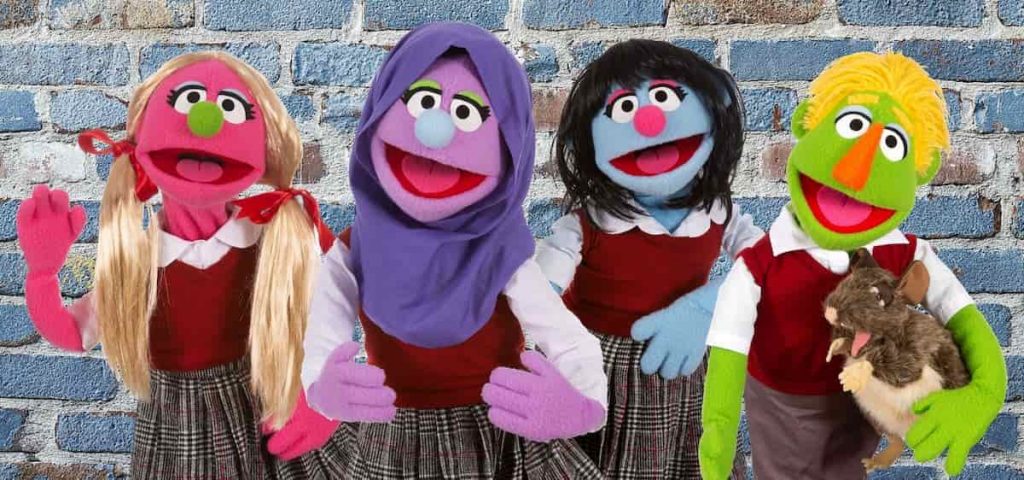 All Together Now: A Celebration Of Cultural Diversity, performed by Larrikin Puppets puppeteers Brett and Elissa, is suitable for Book Week or any time of year, as it's aligned to three learning areas of the national school curriculum: The Arts, Design & Technology and Intercultural Understanding.
For more information download a Larrikin Puppets Info Pack. For costs download a Rates Card.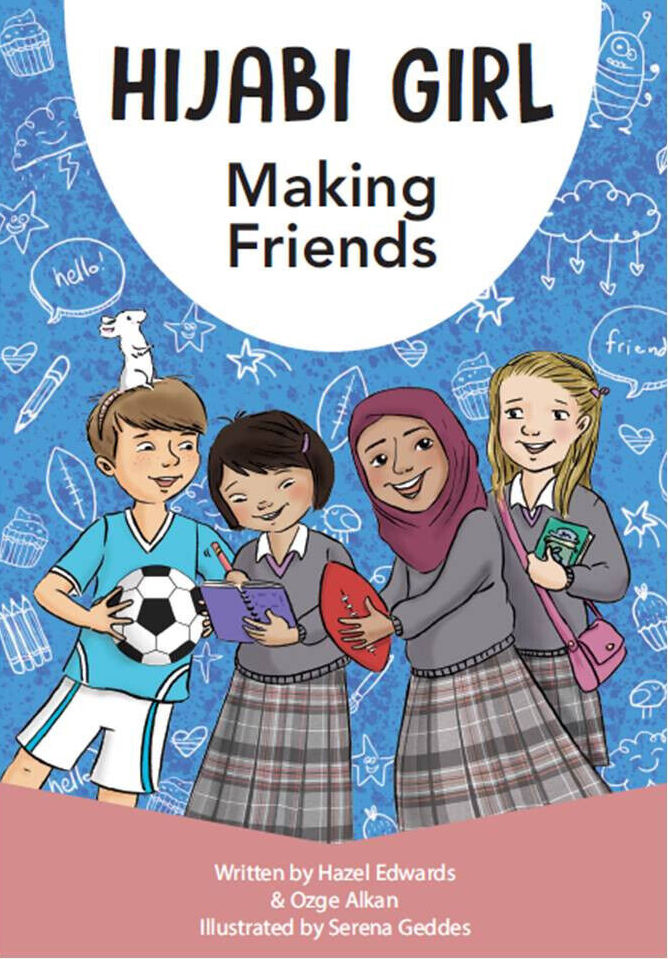 Show stoppers include:
A song about school playtime performed by two food puppets: a Turkish Kebab and a plate of Vietnamese Rice Paper Rolls.
A song performed by Melek, a Turkish Muslim girl puppet who wears a hijab and wants to start her own all-girls Aussie Rules football team – and DOESN'T want to dress as Little Red Riding Hood in the Book Week Parade.
A Sicilian language lesson, including a discussion about endangered languages.
An AFL football puppet.
A teacher rod puppet (large glasses).
A song about how everyone has different interests and skills, performed by Tien, a Vietnamese girl puppet, with a chorus of singing pencil puppets.
A reading of an excerpt from "Hijabi Girl: Making Friends", a children's book by prolific Australian author Hazel Edwards OAM and Turkish-Australian Muslim co-author Ozge Alkan, and illustrated by Serena Geddes.
We have received encouragement and approvals from the book authors and illustrator to perform these characters. Elissa is the child of migrant parents and identifies as Sicilian-Australian. She grew up speaking Sicilian with her Nonna.
National School Curriculum Links:
Intercultural Understanding – Foundation to Year 2 AND Years 3 and 4
General Capabilities: Support students to recognise culture and develop respect, including interacting and empathising with others, reflecting on intercultural experiences, and taking responsibility. Supports students to investigate culture and cultural identity; explore and compare cultural knowledge, beliefs and practices; develop respect for cultural diversity; communicate across cultures; consider and develop multiple perspectives; empathise with others; reflect on intercultural experiences; and challenge stereotypes and prejudices.
Original songs include:
Teachers Resources are available including classroom activities, classroom play script and book sample.