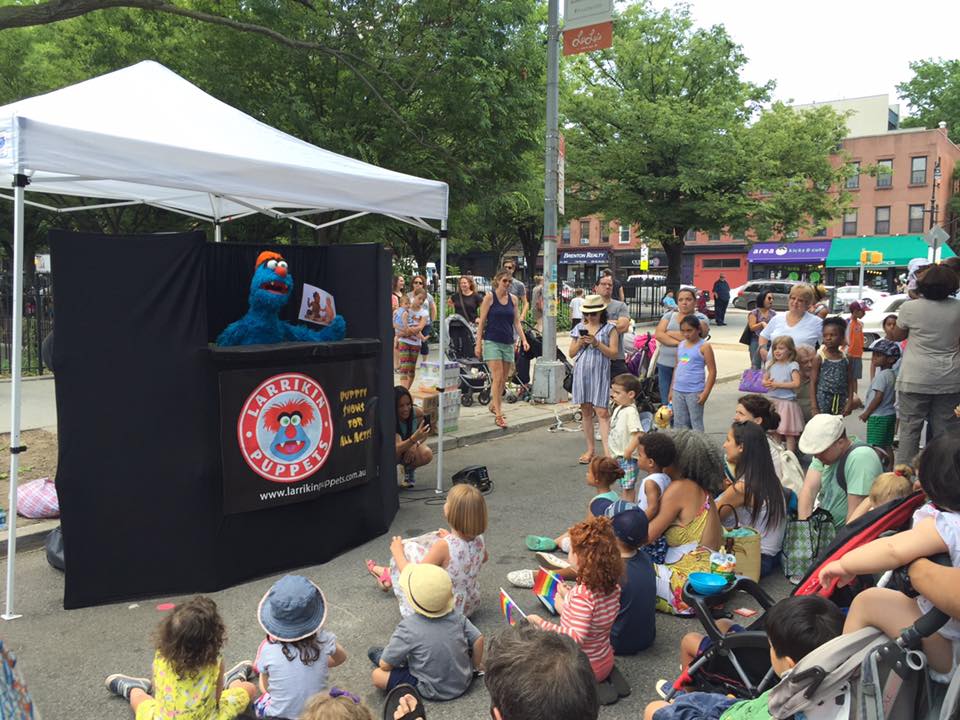 ABOUT LARRIKIN PUPPETS
Award-winning Larrikin Puppets performs colourful, exciting puppet shows and interactive puppetry workshops featuring zany characters and catchy songs, live, online and for film and TV.
Highly entertaining and captivating, Larrikin Puppets' fast-paced, feel-good puppetry celebrates fun, kindness and diversity while nurturing child development, encouraging audiences to talk, dance, sing and play along.
Established in 2012, Larrikin Puppets is a world-class Australian puppetry arts company founded by puppeteer and musician Brett Hansen. His wife Elissa Jenkins joins him as co-puppeteer and human host. Based on Bribie Island in regional Queensland, they specialise in children's entertainment and kids' music.
Brett and Elissa, who have received training in the USA under Jim Henson puppeteers from The Muppets and Sesame Street, provide child and family audiences with wide-eyed wonder, joy and laughs from beginning to end.
Monster characters Troggg, Marina, Scrambles, Bangles, Frizzby, Flossy and their cast of puppet friends capture the imaginations of children and bring out every adult's inner child.
In 2021 Larrikin Puppets won 'Best Live Kids Show' at their national industry What's On 4 Kids Awards. They also built Lovelace, the first puppet made out of ewaste, supported by an RADF Continue Creating 2021 Grant. With 11 original songs for children, their music is played on Kinderling and ABC Kids radio and streamed globally.
In 2022 they launched a bold in-theatre puppetry production 'Hijabi Girl: A Musical Puppet Show' for early primary audiences. With themes around diversity, identity, anti-bullying and creative problem solving, the show was a celebration of multicultural Australia, and a statement about acceptance and coping successfully with being different. Performed by three puppeteers, it featured 22 different puppets, 7 original songs and a pre-recorded voice cast of 9 children aged 13 and under.
Larrikin Puppets is passionate about bringing wide-eyed wonder to children and families everywhere and work each day to make the world a more whimsical, kind and joyful place.
You can follow Larrikin Puppets on Facebook, Instagram, Tiktok, Spotify and iTunes.
Larrikin Puppets are children's entertainers who service the greater Brisbane area, performing colourful and fun puppetry at your events:
Puppet Shows for Kids' Parties, Grown Up Parties, Child Care Centres, Schools, Vacation Care, Fetes, Festivals, Libraries, Restaurants, Hotels, Shopping Centres!
Puppet Compère/MC for Corporate Events, Product Launches, Wedding Receptions, Award Ceremonies, Film Screening events, Trivia Nights!
Puppetry for Film, TV and Theatre productions!
Puppetry Performance Workshops for Schools, Theatre, Film & TV!
ANY event! ALL ages!
Larrikin Puppets specialises in Muppet-style puppetry inspired by the work of the late, great Jim Henson.
Larrikin Puppets won BEST KIDS LIVE SHOW at the 2021 national What's On 4 Kids Awards and also won Best Local School Aged Activity (5-12 years).
In 2015 Larrikin Puppets won the BizCover NEIS Change Award. They were FINALIST in the 2017 What's On 4 Kids Awards 'Best Party Entertainment' category, and FINALIST in the 2018 Moreton Bay Region Business Excellence & Innovation Awards 'Best Marketing' category.
FOUNDER & DIRECTOR; PRINCIPAL PUPPETEER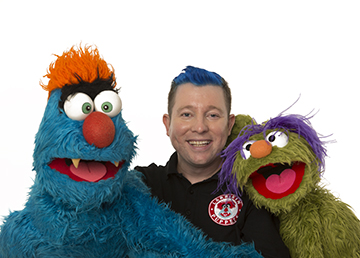 Children's entertainer Brett Hansen is the founder of and principal puppeteer at Larrikin Puppets. Brett won the 2015 BizCover NEIS Change Award for Larrikin Puppets at the Small Business Development Conference in Melbourne, after the growth of the business throughout its first three years.
Brett's weekly puppetry work is mainly focussed on live performances at schools, childcare centres, festivals and parties around the greater Brisbane area. He also runs beginner puppetry workshops at schools and for casts of theatre productions and film and TV productions. Brett spent a week in residence at Belmont State School teaching each child from prep to year 6 the art of storytelling through puppetry as part of the 2016 Belmont Literary Carnivale.
In 2016, Brett spent three months in the USA for professional development where he networked, trained and performed with puppeteers in New York City, Los Angeles and Texas. He received formal puppetry training at the Beyond The Sock advanced puppetry workshop at the University of North Texas under Jim Henson puppeteers from Sesame Street and The Muppets; Marty Robinson and Noel MacNeal, with puppet construction training from Pasha Romanowski (Project Puppet, The Moe Show). Brett also trained at The Puppet Kitchen in Manhattan, New York under Michael Schupbach (Sesame Street, The Jim Henson Company). Brett performed his puppet show with Troggg and friends in New York City at the Puppetry Arts Festival of Brooklyn.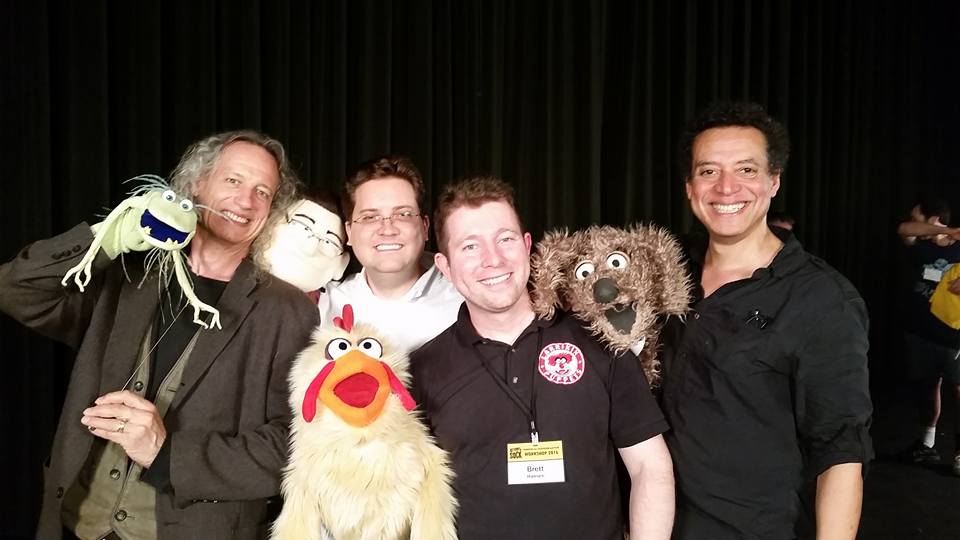 In theatre, Brett was puppetry consultant (trainer of puppeteer cast members) in both the 2012 and 2014 Brisbane Arts Theatre productions of Broadway musical, 'Avenue Q', as well as the 2017 Sunnybank Theatre Group production. Brett was also a puppeteer cast member of the show in 2012, co-performing Nicky and Trekkie Monster. Brett's own casted stage shows 'Thank Troggg You're Here: A Puppet Impro Spectacular!' and 'Show Of Hands' have been performed several times to large audiences as part of the Anywhere Theatre Festival in 2014 and 2018.
Brett was also the puppeteer for Studio Theatre & Cafe's Saturday morning kids' stage show, 'The Super Weekend Show' – featuring puppets, full bodied costumes, songs, jokes, games and prizes.
In film, Brett performed the puppet characters in Richard Bell's '5 for 35', a film which screened in 2015-2016 at the 8th Asia Pacific Triennial of Contemporary Art (APT8) at GOMA (Queensland's Gallery Of Modern Art). He also assisted with the puppetry in 'Cluck: The Web Series', puppeteered Troggg in the short film 'Heart of a Thousand Souls', and puppeteered two characters in the short film 'Kev'. In television, Brett has performed puppetry on "Totally Wild" (Network Ten / Eleven), "The Bureau of Magical Things" (Jonathan M. Shiff Productions and Network Ten / Eleven), The Late Nite Show" and "Showreel" (31 Digital) and appeared (as Troggg) on two episodes of "Juiced TV" (Children's Hospital Foundation). Brett and Elissa also performed the puppetry on the music video for Tia Gostelow's single, 'That's What You Get' (Why Not? Films), which has aired nationally on Rage and MTV.
ARTISTIC DIRECTOR, ASSISTANT PUPPETEER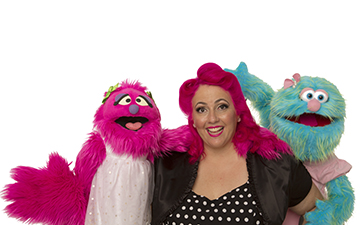 Elissa Jenkins is Larrikin Puppets' artistic director, with a focus on theatrical development, creative partnerships, funding opportunities and driving the company's program of shows. Elissa also performs Flossy, Marina and other background characters. She has received formal puppetry training at The Puppet Kitchen in Manhattan, New York under Michael Schupbach (Sesame Street, The Jim Henson Company), and often assists in the running of our own puppetry performance workshops.
Elissa has a 20 year career in media, marketing, communications and management; three degrees; a collection of awards; a bunch of life experience; and many beautiful stories to tell.
Elissa has worked for a multinational media corporation, in the non-profit sector, in the renewable energy sector, and has supported small to medium businesses and social enterprises to flourish. She's an ideas person and an action person – she makes things happen.
Elissa combines her friendly personality, passion and pizzazz with her smarts, sincerity and professionalism to steer strategic organisational imperatives and inspire teams to achieve greatness, no matter where in the world they are located.
Elissa is a leader in the social justice and environment movements, locally and globally. Her volunteer activities have taken her to Kenya, Brazil, Austria and Taiwan and provided her with a global network of environmental and social justice friends and colleagues. She has lived. She has learnt. She has acted. And her diverse skillset reflects this. Elissa is also editor-in-chief and publisher at Sustainability Hackers.
A special project of Elissa's within Larrikin Puppets is the launch of Puppets At Work which will feature a program of activities for corporate and community workplaces. We look forward to sharing more with you in the coming months.
While Larrikin Puppets is a full-time business for Brett, it is a part-time, passion piece for Elissa, who says, "I am very lucky to have such a playful business to have fun with while supporting it to grow."
Larrikin Puppets is a Blue Card holding business, regulated by the Commission for Children and Young People and Child Guardian Act 2000. We're covered by Public Liability Insurance through Duck for Cover Entertainers' Group Inc.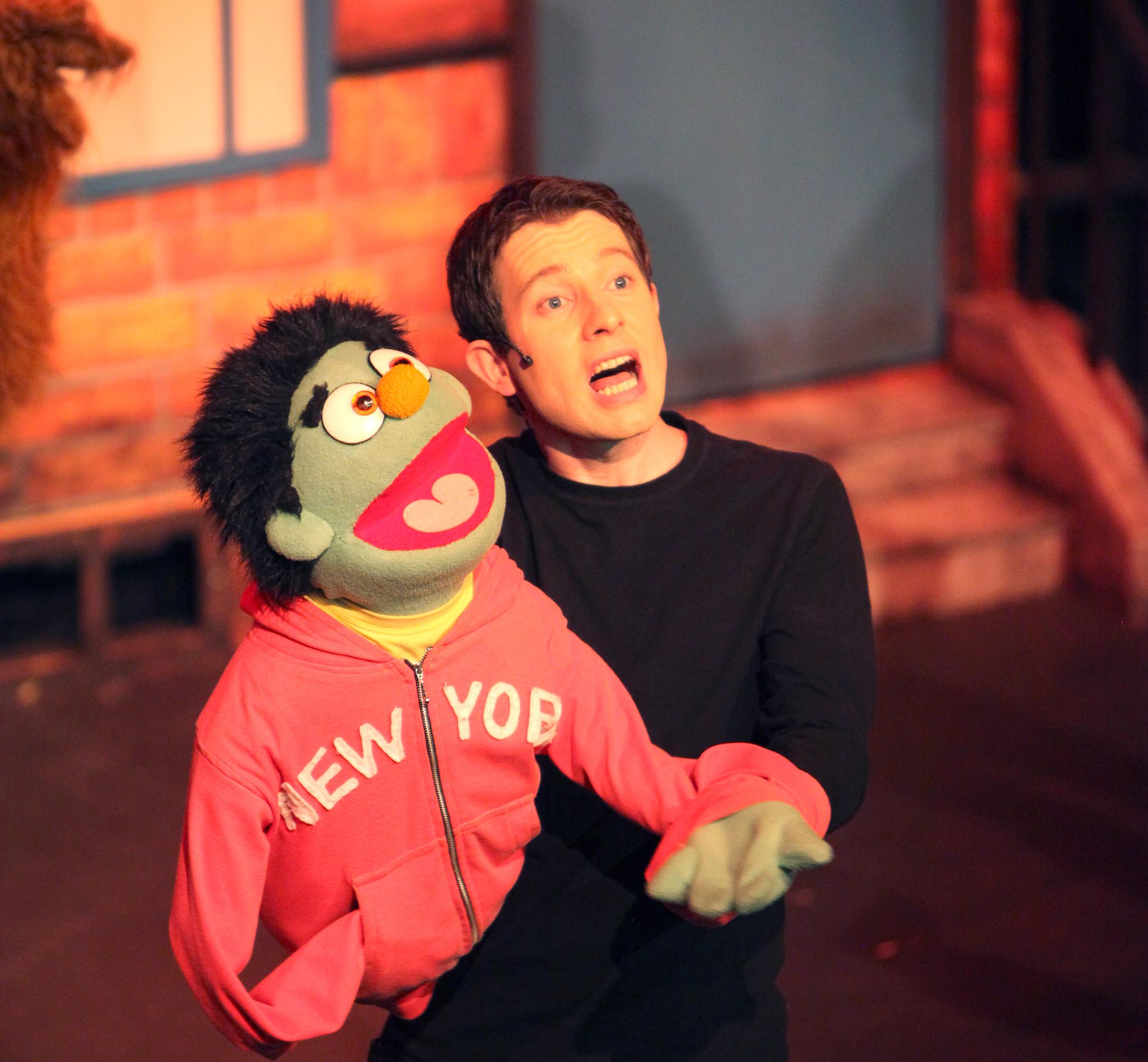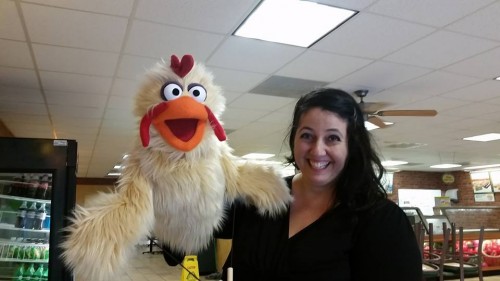 The trailer for Brisbane Arts Theatre's 2012 production of Avenue Q can be seen here. And footage of our own production of Thank Troggg You're Here: A Puppet Impro Spectacular can be found here.
Have a look at Brett Hansen's puppeteer showreel here!