Puppetry is a wonderful way to educate and entertain children. Through themed puppet shows that support Australia's Early Years Learning Framework, Larrikin Puppets helps bring new concepts to life while providing wide-eyed wonder. Our puppets transform otherwise dry topics into something fun and whimsical. Our puppets also bring elements of pure joy, smiles and laughter to mark a special celebration like Christmas, Halloween or Australia Day.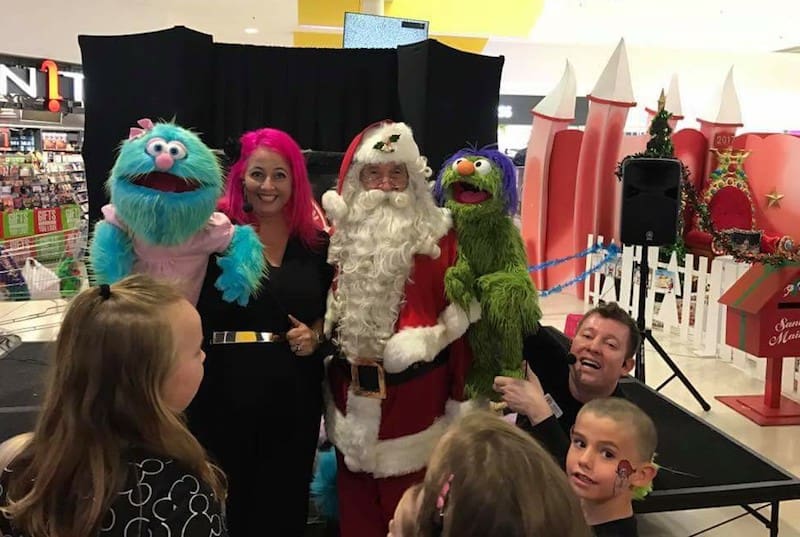 "Wow what a wonderful puppet show that Brett and Elissa performed at our childcare centre last week. Actually I think the word "divine" was mentioned by our Kindergarten Teacher. I highly recommend them and will be having them back each year."
Ideal for childcare centres, schools, libraries, shopping centres, children's festivals and clubs, our themed puppet shows combine adventure, song, dance and storytelling to educate and/or entertain.
Marina's Marine Adventure Puppet Show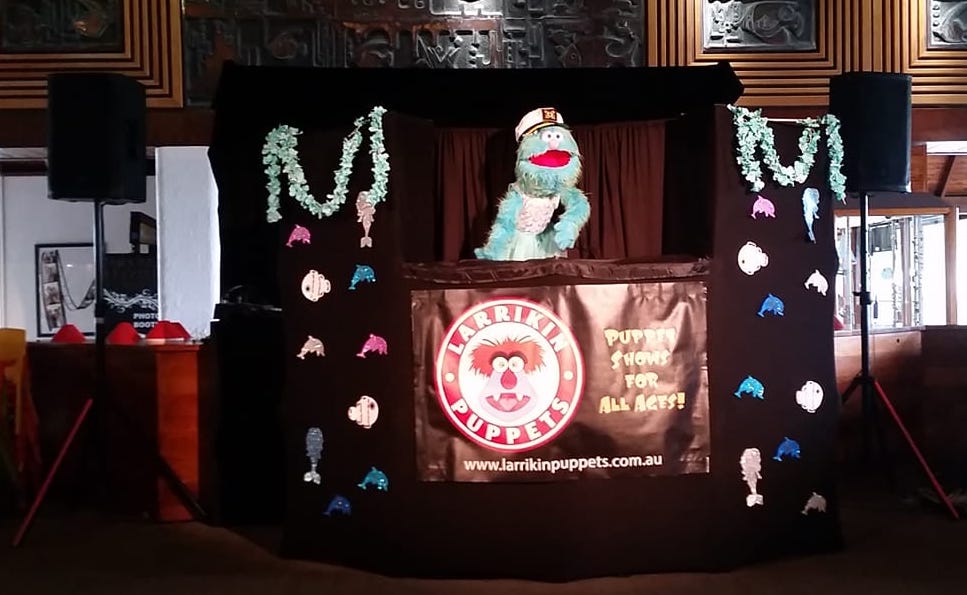 3-year-old Marina the little blue monster and her big brother Troggg set sail on an exciting adventure exploring the ocean and meeting all the creatures that live there. Marina's Marine Adventure Puppet Show is an all-singing, all-dancing nautical puppet show that is fun for ages 1-7 and their families. Book Marina and her fishy friends now.
Health & Wellbeing Puppet Shows
We make learning about health and wellbeing fun! Our zany troupe of puppets sing, dance and talk with the kids about healthy eating, dental hygiene, food allergies and fitness, and even tackle more sensitive subjects like emotional wellbeing, body positivity and family illness. Choose from two Health & Wellbeing Puppet Shows, one for Under 5s and one for Early Primary audiences.
Kindness & Anti-Bullying Puppet Show
Whether you're an organisation that promotes kindness every day of the year or you're specifically looking for something to mark National Day of Action Against Bullying and Violence, our Kindness & Anti-Bullying Puppet Show deals with this tough topic in a thoughtful, fun and engaging way. Our kindness show is suitable for early childhood and early primary audiences aged 2-7. Book a kindness puppet show now.
Environmental Sustainability Puppet Show
For childcare and library Under 5s audiences, our Environmental Sustainability Puppet Show features songs, games and skits plus a story book reading by Larrikin Puppets' own resident environmentalist Elissa Jenkins.
Musical Christmas Puppet Show
Larrikin Puppets provides fun-filled, top quality, high energy Christmas entertainment that you will want to have return as a feature act year after year. From as early as April, bookings start coming in for our Musical Christmas Puppet Show that we perform for singing, dancing and screaming crowds at Shopping Centres, Community Carols events, Santa's Arrival events, corporate Christmas parties and childcare Christmas parties. Book early to avoid missing out!
Australia Day Puppet Show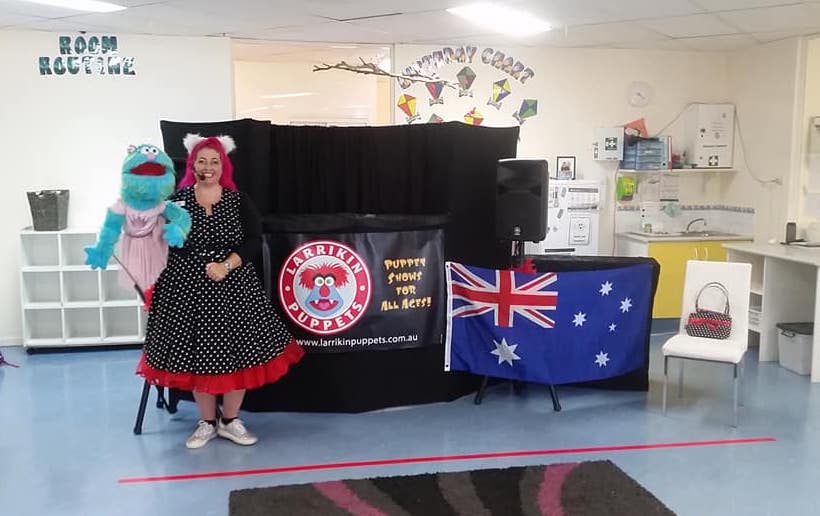 A celebration of all things Australia, our Australia Day Puppet Show is a culturally inclusive, pop-up theatre experience full of laughs and learning. Book now for your Australia Day event.
Halloween Puppet Show
Our cast of puppet monsters make for an ideal Halloween Puppet Show without anything too scary for the little ones. In fact, our monsters are more cute than fearsome and more cuddly than frightening. Book now for Halloween!
Easter Puppet Show
Hippity hop into Easter with an Easter Puppet Show that captures the fun, joy and magic of the season. Larrikin Puppets will entertain children and families and together we'll sing in the Easter Bunny's big-eared arrival to the event. Book your Easter Puppet Show now.
Be sure to consider any of our themed puppet shows for childcare centres, schools, festivals, libraries and more.