Children's Entertainers Brett Hansen and Elissa Jenkins from Larrikin Puppets provide some very colourful and engaging library activities for kids with Troggg the blue monster and his furry puppet friends! 
Our library program includes puppetry performances suitable for under 5s, as well as puppet shows and activities for children of all ages and their families on the school holidays.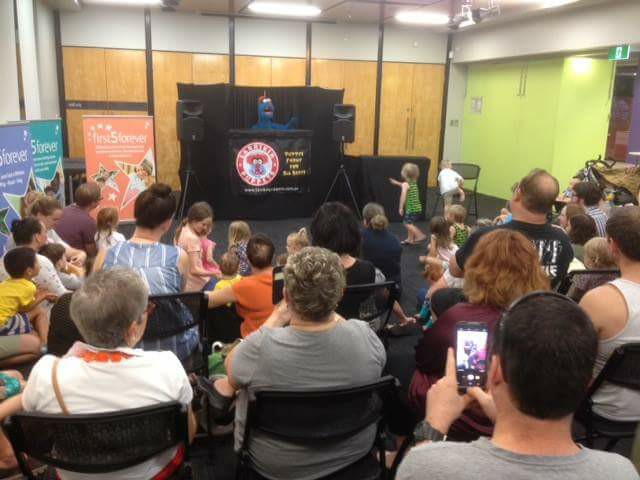 "When we met Elissa and Brett and saw their fabulous show and workshop we were blown away. The show appeals to children of all ages, including toddlers up to young teens, and gives a lively introduction to puppetry and how it works. They bring all their own puppets – and there are lots of them, big and small – so that all the children can learn to handle their own puppet character."
There are four fun and engaging library activities for kids that we offer council libraries – our popular, interactive comedy-variety puppet show, our Story Time puppet show, our hands on puppetry performance workshop, and our sock puppet making craft workshop.
We have performed our puppet shows and presented our workshops in most libraries around Queensland, including Cairns, Townsville, Burdekin, Whitsundays, Mackay, Rockhampton, Maranoa Region, Banana Shire, Bundaberg, Fraser Coast, Gympie, Noosa, Moreton Bay Region, Brisbane, Lockyer Valley Region, Redlands and Logan.
Puppet Show:
This colourful and exciting 30 minute puppet show features zany Muppet-style characters performing songs, skits, jokes, games and live interaction with the audience. The puppets encourage the audience to dance, sing and play along. There's also a 5 minute "How the puppets work" demonstration at the end where we get volunteers up from the audience to help co-puppeteer a couple of the characters. There's an additional 5-10 minutes after show available for people to have a meet-and-greet with the puppets and get a few photos. All up it's about a 45 minute presentation. No limit to the amount of audience members, as long as everybody can fit and see the show. This has been one of our most popular library activities for kids.
Cost: Visit our Rate Card for Libraries.
Cost Covers:
– Colourful, exciting 30 minute puppet show of songs, games, jokes and comical interaction with the audience.
– 5 minute "How the puppets work" demonstration.
– 5-10 minute Meet-and-greet and photo opportunity with the puppets after the show.
– Two performers.
– Time allowance for travel to and from venue.
– Load in, set-up and pack-down of the puppet stage, props, puppets and sound equipment.
– Rehearsal time prior to the event.
– Quality characters.
– Quality puppetry.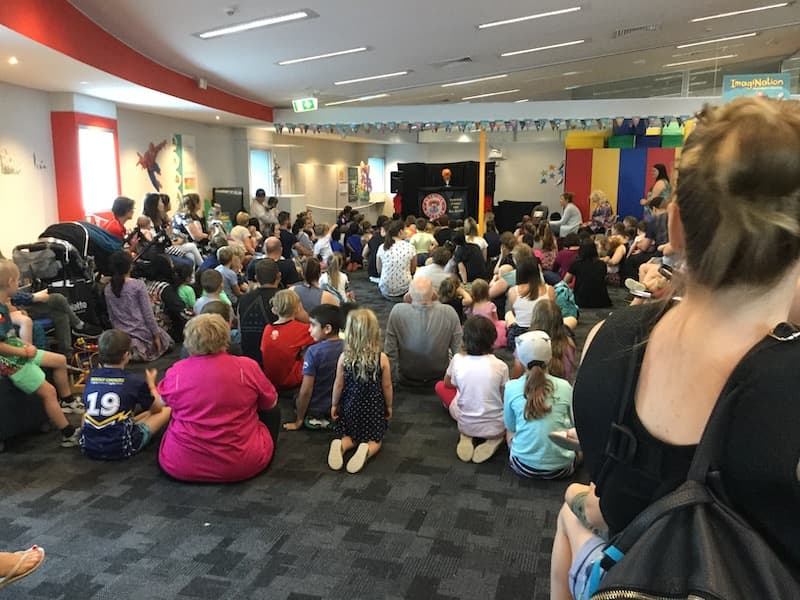 Story Time with Larrikin Puppets:
Our library Story Time puppet show has been presented in many libraries with councils sometimes accessing funding from the First 5 Forever program for these performances.
Great for mums and bubs (under 5s), Story Time with Larrikin Puppets features a variety show with songs, skits, games and jokes with opportunities for kids to talk, play, sing, dance and interact with the puppets. Research from First 5 Forever highlights that this style of engagement helps build a foundation for a child's development.
The show also includes a segment in which Elissa reads a children's book by one of three Australian authors while the puppets riff off the story, role modelling active listening and supporting comprehension through questions and comments. First introduced in 2018, this show is fast becoming one of our most loved library activities for kids all over Queensland.

This is a 45 minute presentation in total.
Cost: Visit our Rate Card for Libraries.
Cost Covers: All of the above plus the additional story book reading is incorporated into the show.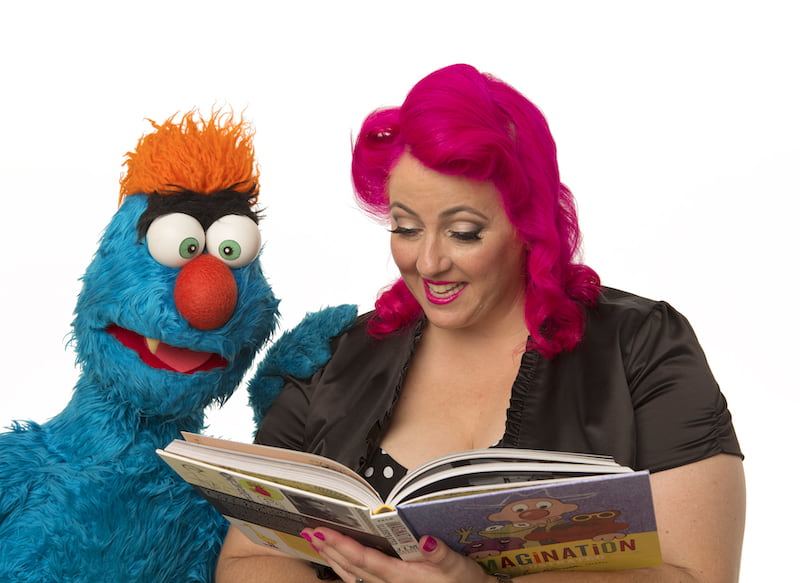 Puppetry Performance Workshop:
We run our puppetry performance workshop in schools, vacation care and theatres, and we have also presented this at most council libraries around Queensland, as well as school libraries for Book Week. 
Students in the class learn the basic techniques that bring Muppet-style puppet characters to life in an interactive workshop. We lend 50 workshop puppets for participants to use in the class as we teach lip sync, arm movements, walking, emotions and voice work. No previous puppetry experience needed.
This is a 1 hour presentation that includes a brief puppet show at the beginning and an introduction to different types of puppetry before we begin teaching the practical techniques. Best to limit the numbers to 50 participants as that is how many workshop puppets we have for them to use.
Cost: Visit our Rate Card for Libraries.
Cost Covers: 1 hour workshop (including puppet show), the use of 50 workshop puppets, load in, set up and pack down, travel to and from venue.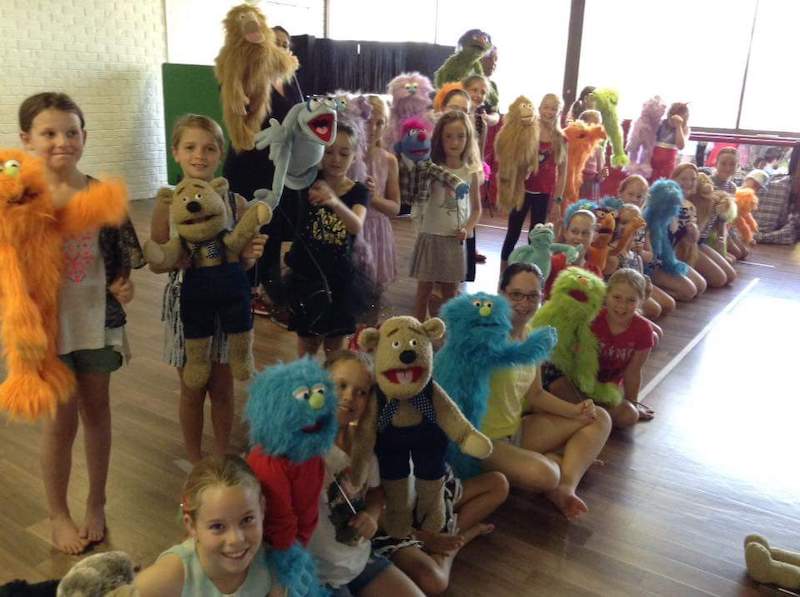 Sock Puppet Making Craft Workshop:
This is the premium program that we offer. We have presented this at both Lockyer Valley Libraries (Laidley and Gatton). They applied for an RADF grant to fund it. We've also run the workshop at primary schools for Prep and Grade 1 classes.
Using super fun and colourful puppetry kits featuring a range of pre-cut materials, we teach children how to construct a beautifully detailed, quality sock puppet they can perform with and take home – something that has a long shelf life that they won't just throw away.

The craft segment is followed by a puppetry performance workshop where we teach participants how to operate Muppet-style puppets. While waiting for the glue to dry in the newly created sock puppets, we lend everyone a professional puppet to work with as we teach lip sync, arm movements, emotions, voice work, walking and various other techniques used to bring puppets to life.
The Sock Puppet Making Craft Workshops feature:
– 10 minute introduction puppet show
– 80 minute craft workshop
– 30 minute puppetry performance workshop
TOTAL:
120 minutes (2 hour workshop).
This workshop is not only about learning a new skill, but it's great for building confidence, improving communication, engaging in creative play, practicing storytelling, developing both gross and fine motor skills, and having fun!
The Sock Puppet Making Craft Workshops are suitable for ages 5+. Ages 5-8 are often great for one style of workshop while Ages 9+ are suitable for another. However, we can also do an all ages (5+ workshop) if that's something you'd prefer. As you can appreciate, different age groups progress at different speeds which is why we separate the opportunities.
Older Kids (ages 9+) & Adults
Includes building the foam mouthplate.
Younger Kids (ages 5-8)
Puppet provided with foam mouthplate included, so the kids will only need to put on the eyes, nose, fur and hair.

Cost:
Visit our Rates Card for Libraries.
To book this option, we require a 50% deposit upfront to secure the booking. This gives us a firm commitment on and time to purchase the materials and prepare the kits.
This is one of our most engaging and hands on library activities for kids, which features a puppet show, a puppet making craft workshop and a puppetry performance workshop all in the same session.