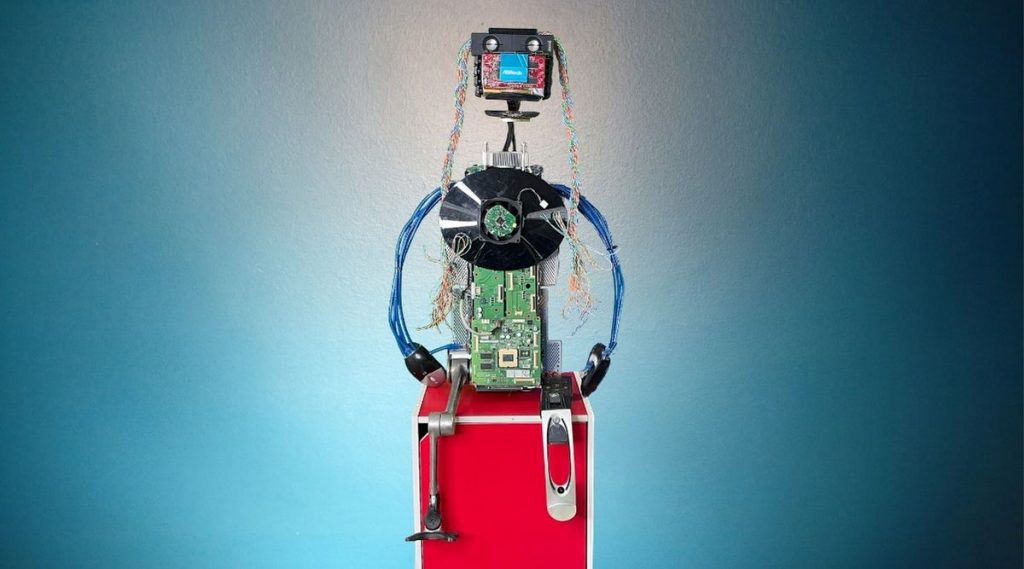 Larrikin Puppets is excited to announce the launch of Lovelace, an enchanting puppet built of electronic waste. Believed to be the first professional puppet in the world to be made of ewaste, this is Larrikin Puppets' first major puppet construction project.
Lovelace is named after the most famous woman in technology Ada Lovelace who, born in 1815, was the world's first computer programmer.
Based on Bribie Island in Queensland's Moreton Bay Region, Larrikin Puppets received an RADF Continue Creating 2021 Grant to help make this puppet project possible.
Larrikin Puppets Artistic Director Elissa Jenkins is passionate about sustainability and technology, and is aware of some of the troubling facts around ewaste – including the fact that most ewaste lasts forever – so the idea of an ewaste puppet was born.
We have seen art sculptures made out of ewaste and puppets made out of other types of waste, but we believe this may just be the world's first professional puppet made out of electronic waste.
We now have plans to use the puppet as a creative launchpad to discuss issues around sustainability, design and technology at our public puppet shows, but also across school curriculums: STEM (specifically Design, Technology, Engineering), Sustainability and The Arts.
The puppet's special features:
Mouth plate mechanism – a curling iron with metal mouth plates made from a computer CPU and a red circuit board tongue.
Platted hair – the insides of blue ethernet cables.
Breast plate – monitor stand and a fan (it spins!) with a circuit board.
One leg – rotating monitor stand.
Other leg – a video remote control and speaker bracket.
Eyes – from a computer speaker.
Neck – a computer CPU fan.
Arms – ethernet cables with computer mouse for mitten hands and an RJ45 plug for thumbs.
Body and face – green, blue and red motherboards with circuits.
Cheeks – computer keyboard keys.
Lips – gold coloured metal from an old video player.
Blue nose – a heat sink from a motherboard.
Design
We – Brett and Elissa – worked together to research what style of puppet would best suit ewaste materials. We decided a Bunraku style of puppet would be ideal, given the likely heavy weight of the materials.
While Larrikin Puppets is accustomed to performing Muppet-style, light-weight foam and fur/fleece hand puppets where the puppeteer is hidden, Bunraku puppeteers appear on stage with their puppet – with their half-life-size dolls. However, given our passion for performing hand puppetry, we were keen to also give our puppet a moving mouth, something Bunraku puppets don't traditionally have.
Brett drew an illustration of the puppet to highlight how we expected the puppet would move its limbs and its mouth, and where the rods might be placed.
Materials
The electronic waste was donated by ewaste recycling facility Buyequip located in Brisbane's north.
We decided that – as wonderful as it would be for the puppet to be made entirely out of ewaste – it may need some bones and these bones may need to be made of foam. While we didn't end up needing to use as much foam for the bones as we thought we would, we did stay true to the nature of the project and, rather than buy new foam, we sourced the foam from unwanted pool noodles and op shop kickboards.
While at the op shop on Bribie Island buying foam, we also found a curling iron in the electricals section thinking it might be a perfect mechanism for a moving mouth. The curling iron is an example of e-upcycling rather than e-waste.
We have lots of favourites when it comes to the features of this puppet, but the moving mouth is high on the list. Rather than makeshift something else, Brett insisted on using the curling iron as it was the easiest way to build a mouth plate with a moving lower jaw – something important in the world of hand puppetry. His stubbornness paid off as it's the perfect fit.
Tools
Tools we used included a saw (to saw through plastic and metal), an angle grinder (to cut through metal), a drill (to drill holes for screws), a box cutter (to cut foam) and a glue gun. Four different glues were used depending on the material.
Ewaste facts
According to ewaste expert Brett Hyde, when it comes to materials that make up IT equipment, they break down rather than decompose.
This means that, over time, the material just splits apart into smaller and smaller pieces. None of the components are "living things", so they never actually become one with the dirt.
So the key is making sure e-waste doesn't end up in the natural environment, including landfill, in the first place.
How long electronic waste takes to break down:
Glass: 1-2 million years
Hard plastics: 1 million years
Aluminium: 200-500 years
Tin: 50 years
Copper: It doesn't break down
Gold: It doesn't break down
Palladium: It doesn't break down
Silver: It doesn't break down
Iron: It doesn't break down
Zinc: It doesn't break down
Iridium: It doesn't break down
Book a Presentation or Puppet Show featuring Lovelace
Keen to see Lovelace up close and personal?
Acknowledgements
Larrikin Puppets received an RADF Continue Creating 2021 Grant to help make this puppet project possible. The Regional Arts Development Fund is a partnership between the Queensland Government and Moreton Bay Regional Council to support local arts and culture in regional Queensland.
Big thanks to:
Buyequip for donating the electronic waste.
Brett Hyde for always taking the time to educate Elissa and others about ewaste recycling.
Adrian Jenkins for lending us his workshop and tools.
Moreton Bay Regional Council.
Queensland Government.