Larrikin Puppets presents 'Our Planet At Play', an environmental sustainability puppet show that explores actions we can all take to make the world a better place. 'Our Planet At Play' is a fun, colourful, interactive show – in the style of The Muppets and Sesame Street – that includes a storytime segment and an act featuring Lovelace, the world's first professional puppet made out of electronic waste.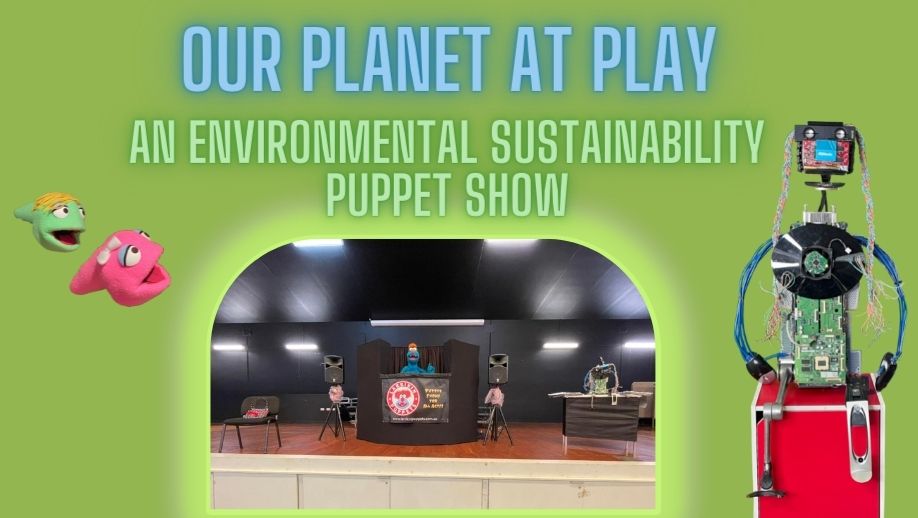 If you're looking to introduce your childcare and early primary students to environmental sustainability principles, 'Our Planet At Play' by Larrikin Puppets is a puppet show that does exactly that. This fast-paced, feel-good environmental sustainability puppet show encourages audiences to talk, play, sing, and dance along.
The puppet show is ideal for children in early primary school classes (Prep, Grades 1 and 2), libraries, childcare centres and kindergartens. The show teaches children about environmental sustainability including waste management (littering), recycling, composting plus nature and marine conservation – and what we can all do to look after this planet of ours. It stars loveable puppet characters such as Troggg, Marina, Scrambles, Freerange the Chicken, Frizzby, Moss, Flossy, Frazzamatazz as well as a variety of land animals and sea creatures.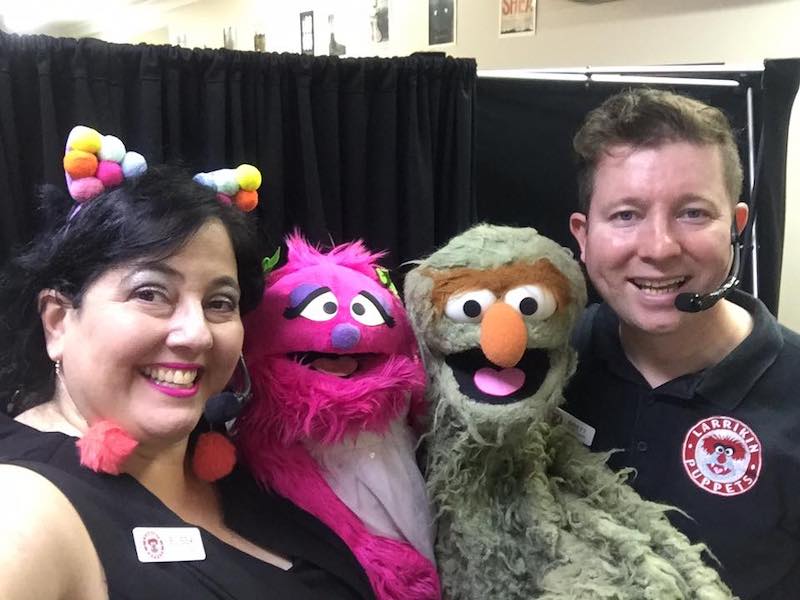 Costs:
Childcare Centres, Kindergartens, Libraries: $475

Schools:
1-100 students = $525 (for 100 students that's $5.25 per student)
101-200 students = $575 (for 200 students that's $2.87 per student)
201-400 students = $650 (for 400 students that's $1.62 per student)
401-600 students = $700 (for 600 students that's $1.16 per student)
601 students and over = $750 (for 1000 students that's 75c per student).
Two presenters: Brett Hansen and Elissa Jenkins.
Cost Covers:
– 30 minute interactive puppet show.
– 5 minute "How the puppets work" demonstration.
– 5-10 minute Meet-and-greet and photo opportunity with the puppets after the show.
– Two performers.
– Time allowance for travel to and from venue.
– Load in, set-up and pack-down of the puppet stage, props, puppets and sound equipment.
– Rehearsal time prior to the event.
– Quality characters.
– Quality puppetry.
There is an initial 50% deposit to secure the booking. This ensures that the chosen booking time is yours, and we'll knock back others wanting the same date and time. The remaining balance can be paid in cash on the day of the event, or via direct deposit afterwards.


Brett's Working With Children Blue Card number is 1161011/3, Elissa's is 690261/3. We have Public Liability Insurance through Duck For Cover Entertainers Insurance.
We have performed and trained professionally in the USA with Jim Henson puppeteers from Sesame Street and The Muppets.
For Australian television we performed the puppetry in the "Best Friends Forever" music video for Regurgitator's Pogogo Show (on ABC Kids) and worked on a TV pilot in Sydney for a puppet cooking show starring Chef Jason Roberts (Studio Ten / Ready, Steady Cook). Previous television appearances have included Totally Wild (Network Ten) and The Bureau of Magical Things (Network Ten/Jonathan M. Shiff Productions).
Choose the Larrikin Puppets Environmental and Sustainability Puppet Show for a colourful, fun and interactive presentation of puppetry and messages about working together to protect the environment for audiences 7 and under, and their teachers.