The Inclusive Family Story Time Puppet Show 'We Can't All Be The Same' is a a fun, zany, cutting-edge performance that captures the imagination and play of children aged 2-8 and their families while teaching audiences about empathy, diversity, equality, love and adventure.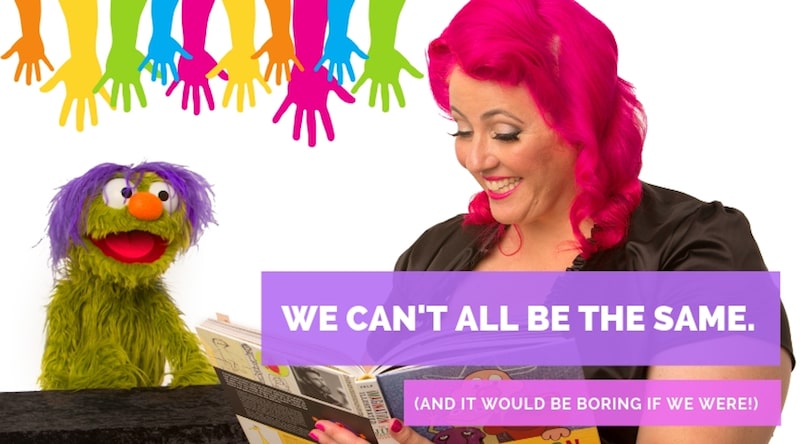 'We Can't All Be The Same' is a 30 minute puppet show and story time performance that will resonate with all families who are part of, actively support or want to learn more about LGBTIQ, refugee and multi-abled communities.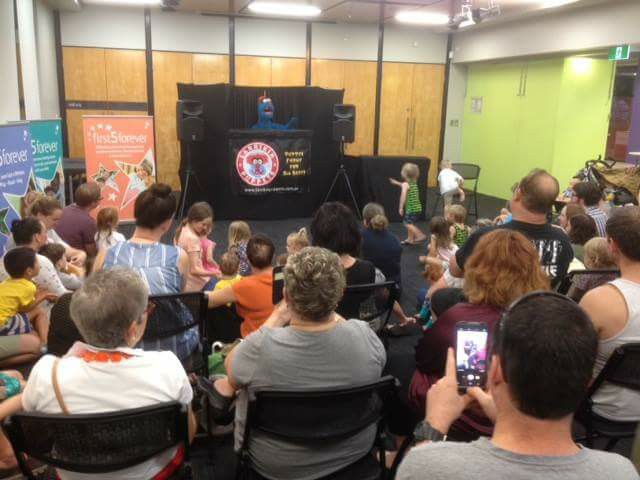 The show features songs, skits and games plus a story reading and interactive storybook sing-a-long. Characters in the puppet show include Freerange the Chicken, a singing vegan cheesecake and Flossy the Fur Wave Feminist.
The performance is followed by a 5 minute demonstration on how the puppets work and a 10 minute meet-and-greet with the puppets.
During the story time show, our wonderful storyteller Elissa is joined by puppet characters Troggg and Frazzamatazz for the reading of 2-3 inclusive family stories by Australian author Glenn Martin from his wonderfully thoughtful, empathetic children's book 'We Can't All Be Same'.
BOOK NOW or create a theatre fundraising event to FUNDRAISE FOR A CAUSE.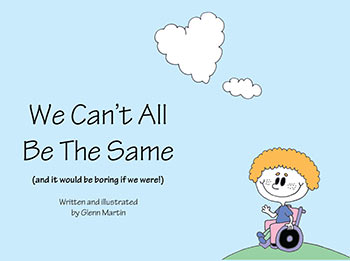 We Can't All Be The Same is a beautiful collection of four, rhyming, short stories that teach children about diversity, equality, love and adventure. This book gifts readers with a love story, a story of identity, a story of determination and a story of adventure:
The SuperAbles
Local kids Henry and Holly team up together to help find the person responsible for stealing Mrs Bubble's apple pies. Henry is in a wheelchair and Holly is without sight, but that does not hinder their ability to catch the thief.
A Simple Fairytale
Jose just wants to find his perfect man. He travels the world on a quest to find his true love. After finally finding someone special, a simple mistake could prevent Jose from ever seeing his special man again!
A Tale of Two Ponds
Benji is a fish and his pond is quickly drying up. He needs to find a new pond to call home! Unfortunately, not everyone is eager to welcome him!
Susie's Wish
Susie has a dream of swimming at the Olympics. She goes through a difficult journey and faces challenges, both in her competitions and in dealing with her gender identity.
Purchase 'We Can't All Be The Same' by Glenn Martin as a soft cover or ebook.
"These stories will resonate with members and families of the LGBTIQ, refugee and multi-abled communities. Children who identify themselves from one of these groups are often underrepresented or forgotten completely in literature to the detriment of all. This inclusive book strives to give a voice, a role model or a relatable figure to those who have often had none when they open the pages of a book. The impact on those who read this book, especially those who maybe feeling isolated, can be subtle but significant. The impact on the rest of the community can be one of awareness and appreciation of people from all walks of life." – Shelley Argent – PFLAG National Spokesperson, Parents, Family and Friends of Lesbians and Gays
"I liked all the stories but my favourite was about the little boy in the wheelchair working as a team because everyone is different and that's ok! Boys can marry boys, girls can marry girls but people can't marry cats… or dogs! There's lots of love and everyone loves someone." – Fletcher, 5 years old
"It's the best book ever! Glenn's book reminds me to be kind to everyone and not to steal." – Lily, 6 years old
Cost: For prices and packages visit our Rate Cards.
Two presenters: Brett Hansen and Elissa Jenkins.
Consider Larrikin Puppets Inclusive Family Story Time Puppet Show: We Can't All Be The Same for a colourful, fun and interactive presentation of puppetry and children's stories for audiences 2-8 and their families.