Larrikin Puppets perform a fun and educational puppet show all about health and wellbeing that features our colourful puppets singing and talking about good food options, exercise and keeping active, food allergies, dental hygiene, emotions and treating each other with respect and kindness.
Troggg the blue monster and his Larrikin Puppets friends make learning fun with our Health and Wellbeing puppet show, which has been performed in several childcare centres and Brisbane City Council's Kids Collective events at Roma Street and South Bank Parklands.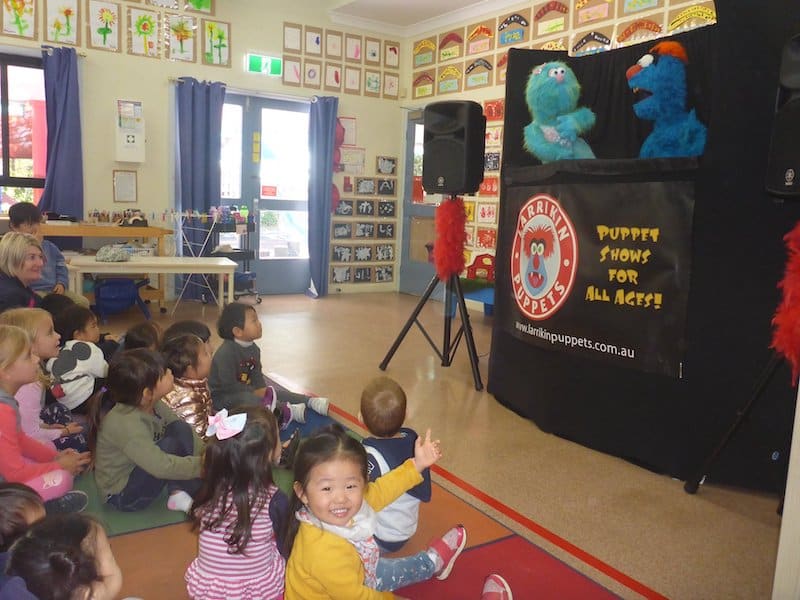 Such delightful moments include Frizzby's food allergy anthem, "What You're Allowed To Eat Instead" and his duet with Flossy in the dental hygiene themed, "Swig, Swish and Swallow".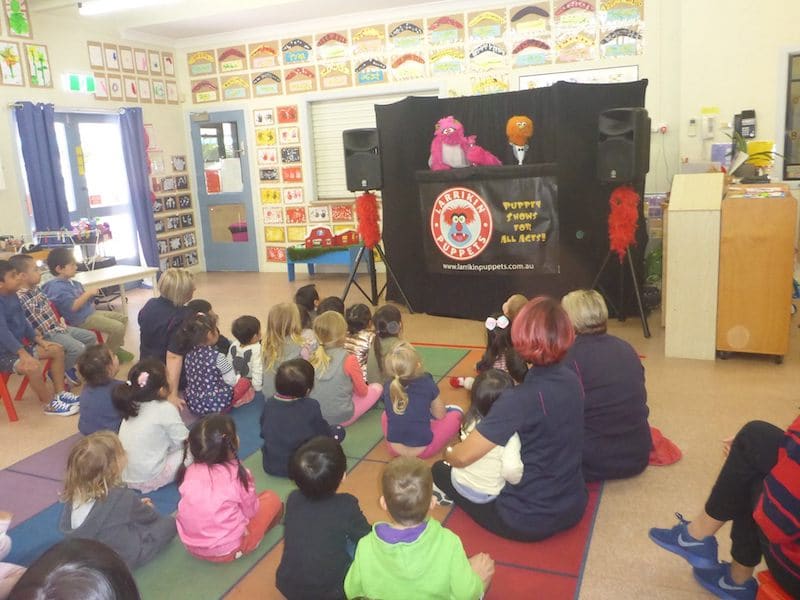 Troggg and 3-year-old Marina talk about lots of different ways to keep fit, and we learn about what all the different emotions mean and how we can deal with them or help others during difficult times.
We also look at different fruits and vegetables that are good for us, as well as a couple of 'sometimes' foods that should best be left for special occasions.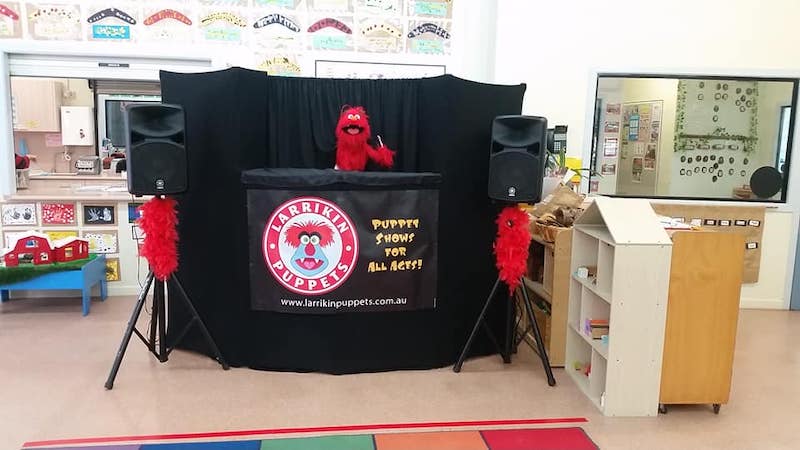 Scrambles joins Marina for a lovely duet about getting help from parents when brushing their teeth after meals.
Moss has a bit of an upset tummy, while Frazzamatazz takes us through some fun dance steps for the audience to participate in.
Lots of laughs and learning about health and wellbeing for audiences aged 2 to 5, their teachers and families.
Cost:
Childcare Centres, Libraries, Vacation Care: $450
Public & Corporate Performances (Shopping Centres, Festivals, Council Parkland Events): $550
Schools:
1-100 students – $450 (i.e. $4.50/student).
101-300 students – $550 (i.e. $1.83/student).
301-600 students – $650 (i.e. $1.08/student).
601 students and over – $750 (i.e. 75c/student).
Please note, this show is mostly suitable for children aged between 2 and 5 at childcare and kindergarten, and can also be enjoyed by school students in Prep and Grade 1. However, for older school students (Grades 2-12) we highly recommend our interactive puppetry performance workshop.
Cost Covers:
– 30 minute interactive puppet show.
– 5 minute "How the puppets work" demonstration.
– 5-10 minute Meet-and-greet and photo opportunity with the puppets after the show.
– Two performers.
– Time allowance for travel to and from venue.
– Load in, set-up and pack-down of the puppet stage, props, puppets and sound equipment.
– Rehearsal time prior to the event.
– Quality characters.
– Quality puppetry.
We have performed and trained professionally in the USA with Jim Henson puppeteers from Sesame Street and The Muppets.
We have current Blue Cards and Public Liability Insurance.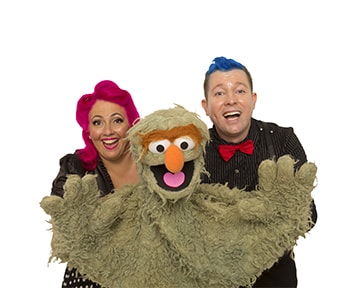 Content on healthy eating and food allergies has been sourced from consultations with expert naturopath and nutritionist Lauren Stark BHSc from Naturally For You Health & Wellness.