Brett Hansen and Elissa Jenkins, along with their troupe of friendly, funny puppet characters provide top quality children's entertainment for childcare centres, family day care and kindergartens all over Australia - including Brisbane, Sunshine Coast and Gold Coast. Joyful childcare audiences aged 2-5 love our colourful puppet shows!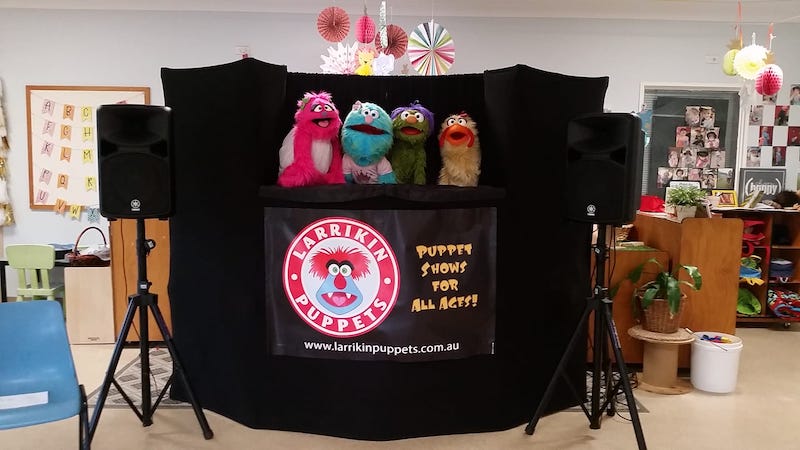 "Larrikin Puppets were fun, professional and great value. The children were in hysterics the whole show and loved meeting the puppets afterwards".
Option 1: General Childcare Puppet Show
Our colourful and exciting 30 minute childcare puppet show features zany Muppet-style characters performing songs, skits, jokes, games and live interaction with the audience. The puppets encourage the audience to dance, sing and play along. This style of children's entertainment uses a fascinating performing arts style, so we also include a 5 minute "How the puppets work" demonstration at the end. Additionally, there is 5-10 minutes after show available for everyone to have a meet-and-greet with the puppets and get a few photos. All up it's a 45 minute presentation. There is no limit to the amount of audience members in attendance, as long as everybody can fit and see the show. We also have a Christmas-themed version of the show for end of year visits.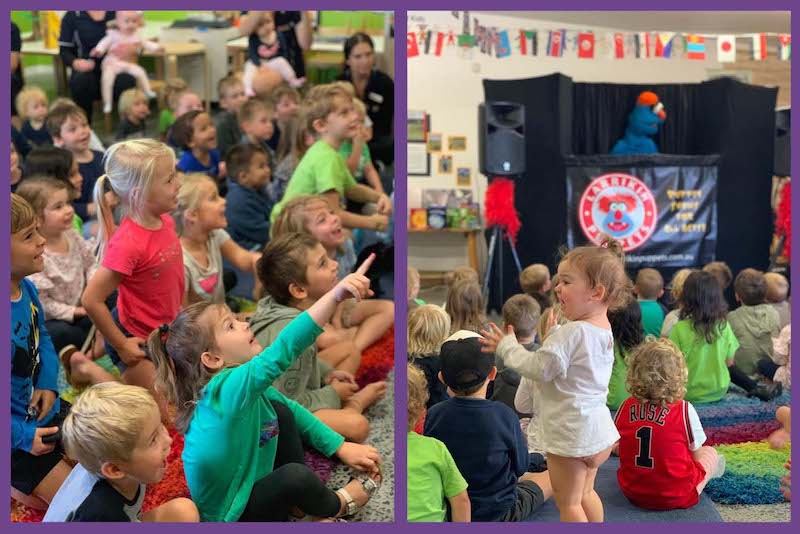 Cost Options:
Two performers; Brett Hansen and Elissa Jenkins –
$475 – Moreton Bay Region, Brisbane, Sunshine Coast Region, Shire of Noosa, City of Gold Coast, Logan City, Ipswich City, Somerset Region, Tweed Heads (Northern NSW/Southern QLD border).
Having the two puppeteers means more gender balance with some female puppet characters and more audience interaction. If that doesn't suit your budget, the solo shows (just Brett) with "Troggg" and the gang are just as dynamic and exciting.
One performer; Brett Hansen –
$350 – Moreton Bay Region, Brisbane, Sunshine Coast Region, Shire of Noosa.
$350 + $25 travel surcharge ($375) – City of Gold Coast, Logan City, Ipswich City, Somerset Region.
For childcare centres and kindies with a smaller budget this show performed by Brett on his own is a simpler show without the female characters.
Please note: Shows with themed, educational content – such as sharing, kindness, exercise, looking after the environment and healthy eating – will require both puppeteers.
Cost Covers:
– 30 minute interactive puppet show.
– 5 minute "How the puppets work" demonstration.
– 5-10 minute Meet-and-greet and photo opportunity with the puppets after the show.
– Two performers ($475) / One performer ($350).
– Time allowance for travel to and from venue.
– Load in, set-up and pack-down of the puppet stage, props, puppets and sound equipment.
– Rehearsal time prior to the event.
– Quality characters.
– Quality puppetry.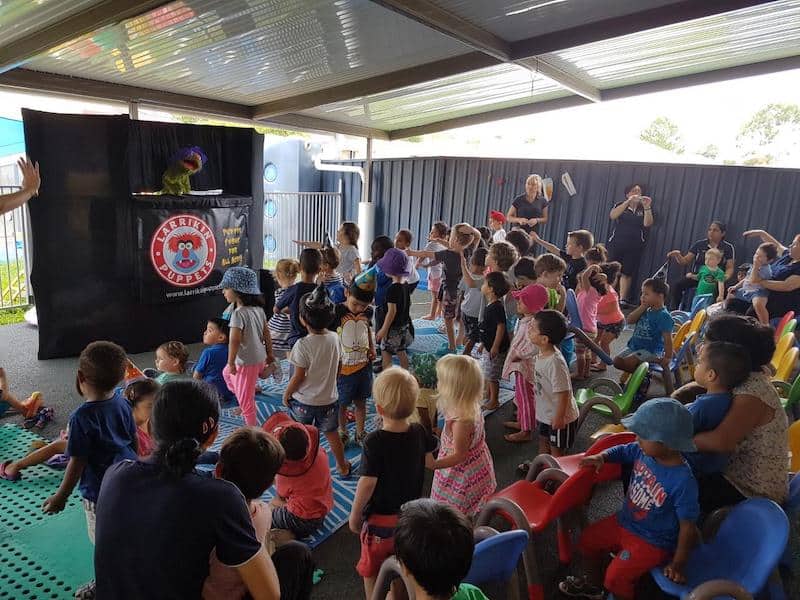 Option 2: Story Time with Larrikin Puppets
Story Time with Larrikin Puppets features a variety show with songs, skits, games and jokes with opportunities for kids to talk, play, sing, dance and interact with the puppets. The show also includes a segment in which Elissa reads a children's book by one of three Australian authors while the puppets riff off the story, role modelling active listening and supporting comprehension through questions and comments. There is also a story book sing-along. This is ideal children's entertainment for Book Week and other celebrations of literature and learning about reading. Read more about Story Time with Larrikin Puppets here.
This is a 45 minute presentation in total.
Cost: $475.
This presentation is performed by two puppeteers.
Cost Covers: All of the above plus the additional story book reading and story sing-along incorporated into the show.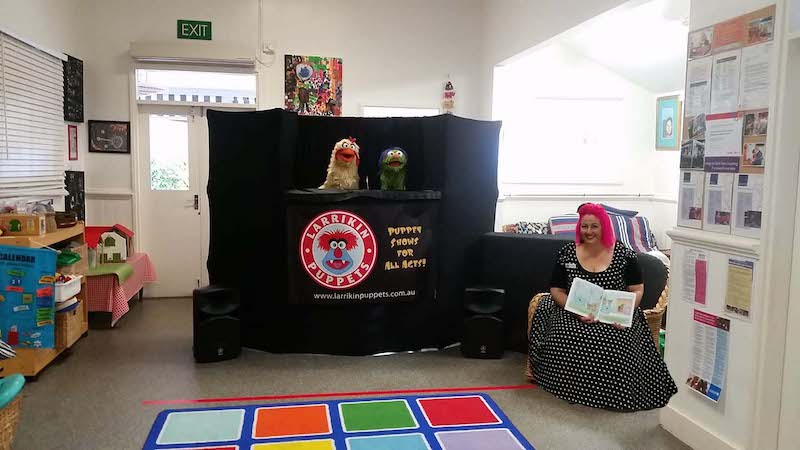 There is an initial 50% deposit to secure the booking. This ensures that the chosen booking time is yours, and we'll knock back others wanting the same date and time. The remaining balance can be paid in cash on the day of the event, or via direct deposit afterwards.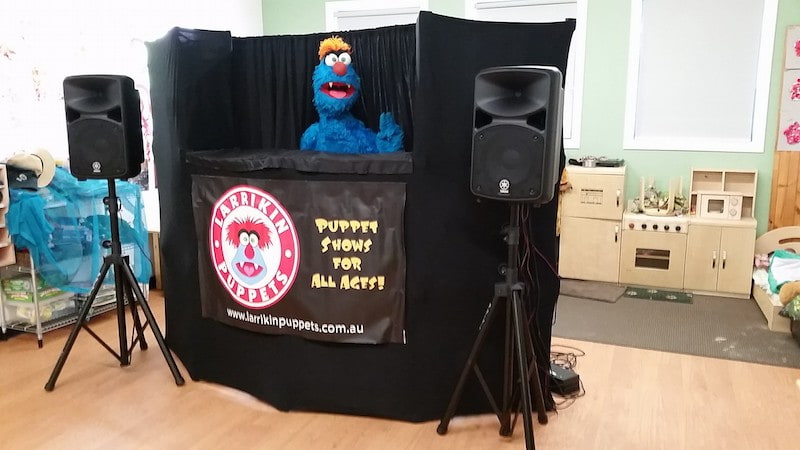 More Than A Zany Puppet Show: Child Development & Learning Experiences – DOWNLOAD FOR PRINT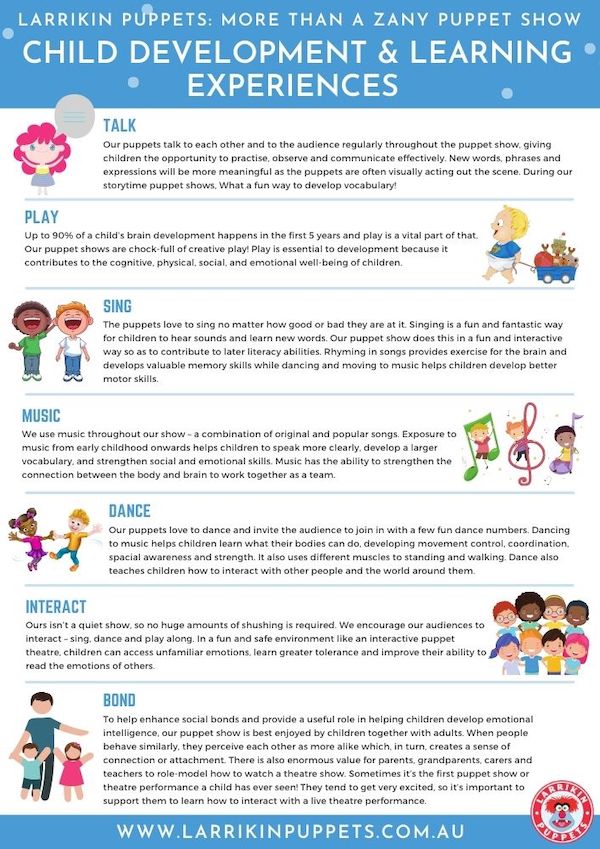 For shows where we have been requested to incorporate content on healthy eating and food allergies, this information has been sourced from consultations with expert naturopath and nutritionist Lauren Stark BHSc from Naturally For You Health & Wellness.

Brett's Working With Children Blue Card number is 1161011/3, Elissa's is 690261/3. We have Public Liability Insurance through Duck For Cover Entertainers Insurance.

We have performed and trained professionally in the USA with Jim Henson puppeteers from Sesame Street and The Muppets.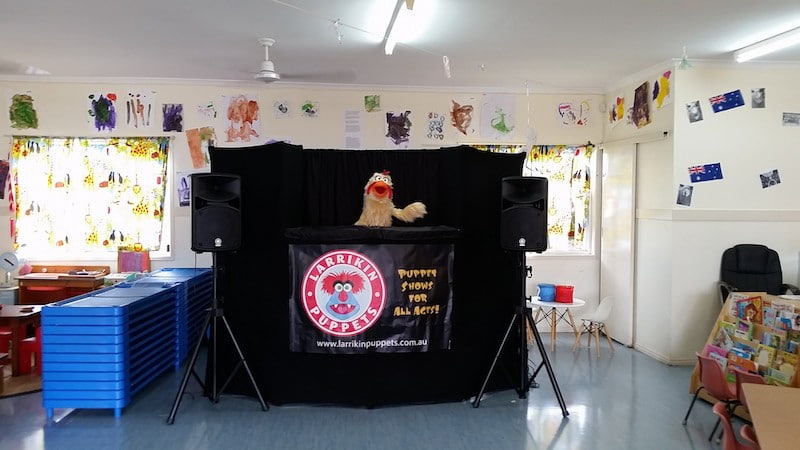 For Australian television we performed the puppetry in the "Cheap Seats" music video for Illy and Waax (seen on RAGE, MTV, etc), the "Best Friends Forever" music video for Regurgitator's Pogogo Show (seen on ABC Kids) and worked on a TV pilot in Sydney for a puppet cooking show starring Chef Jason Roberts (Studio Ten / Ready, Steady Cook). We also appeared on the two-part documentary "Mirror Mirror" by Todd Sampson (Network Ten). Previous television appearances have included "Totally Wild" (Network Ten) and "The Bureau of Magical Things" (Network Ten/Jonathan M. Shiff Productions).   
We love sharing our colourful and fun puppets at childcare centres and kindergartens.