We provide puppetry for Film and TV projects – Short films, TV shows, commercials and music videos. Our blue monster star Troggg will appear in any production, or Brett Hansen and Elissa Jenkins can puppeteer characters that you have created.
If you have a cast of performers without puppetry experience, Brett can provide training and supervision on set.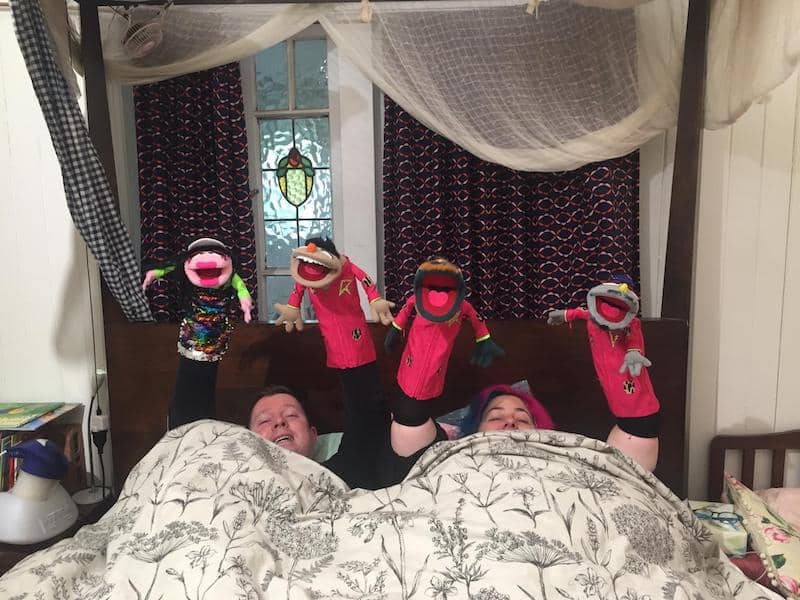 "Massive shout out to Larrikin Puppets for bringing us to life in sock puppet form for our new video" – Regurgitator.
We have received formal film and TV monitor puppetry training in the USA under Jim Henson puppeteers from The Muppets and Sesame Street.
Contact us to discuss your production and how we can incorporate monitor puppetry.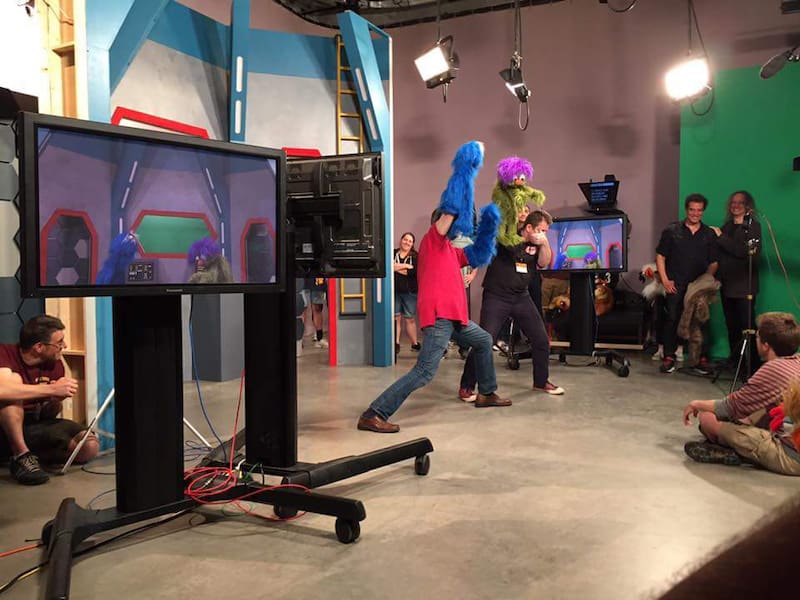 Examples of our Film and TV puppetry (both as performers and trainer/supervisor):
Regurgitator's Pogogo Show: Best Friends Forever (2019) – Music video produced by Regurgitator, Paul Curtis & David Granato. Directed by David Granato at Polygranate Films. Larrikin Puppets' Brett Hansen and Elissa Jenkins puppeteered sock puppet versions of Koko (Jerico Wallace), Ben Ely, Quan Yeomans and Peter Kostic. Puppets were built for the project by Feriana Tiarnida. Larrikin Puppets also performed with these characters on stage at The Tivoli with Regurgitator for the Brisbane Festival:
Totally Wild (2018) – Long running kids' TV series on Network Ten, Channel Eleven and TenPlay. In an episode filmed in January 2018 (aired in March 2018), Brooke Marsden interviews Brett Hansen about puppets, and uses Frazzamatazz to learn puppetry techniques. Brett Hansen and Elissa Jenkins perform Troggg, Marina, Flossy and Frizzby in the segment: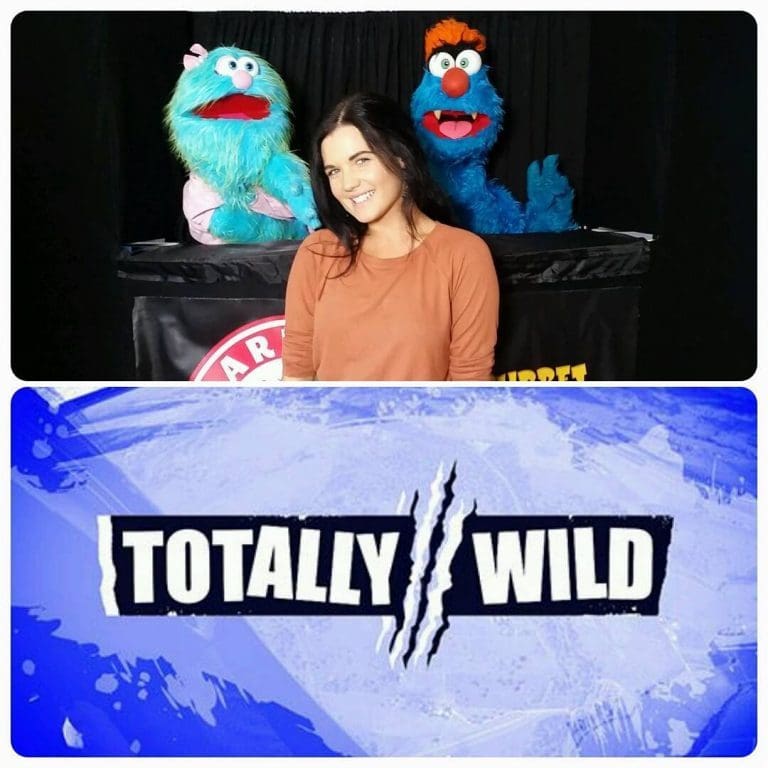 The Bureau of Magical Things (2017) – Kids' fantasy-drama TV series on Network Ten and Channel Eleven produced by Jonathan M. Shiff, and starring Kimie Tsukakoshi, Jamie Carter, Elizabeth Cullen, Julian Cullen, Mia Milnes, Rainbow Wedell, Melanie Zanetti, Nicholas Bell, Christopher Sommers and Steve Nation. Brett Hansen was a puppeteer in Episode 11 – performing a magical pogo stick. In one scene Brett was in the dumpster puppeteering the pogo stick wrestling with Kyra (played by Kimie Tsukakoshi). In scenes where the pogo stick is bouncing around on its own, Brett has been digitally removed from those shots. The movement is all puppetry rather than CGI. There were three versions of the pogo stick. Two of them were puppets with green rigging attached for Brett to manipulate it. The third had no rigging, and was used in close ups where Brett peeked it out from behind a tree, made it look both ways, jiggle and fall down. True film and TV magic has been used here. Below are Brett's scenes: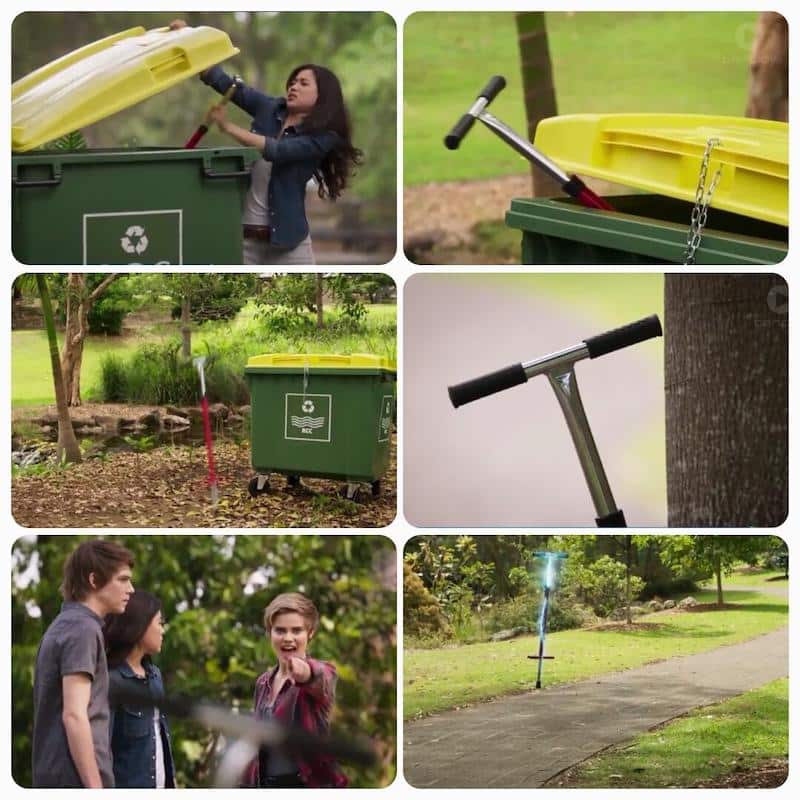 Juiced TV (2015) – Kids' TV series created by Juiced Enterprises. Produced by Pip Russell, in partnership with Children's Hospital Foundation. Brett Hansen puppeteered Troggg throughout the show as host, and was interviewed about puppetry during the show's final segment: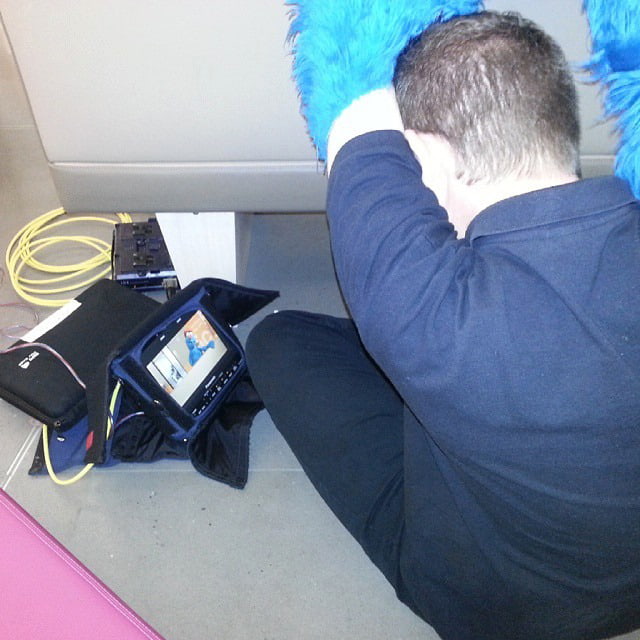 Tia Gostelow: That's What You Get (2016) – Music video produced by Emma Giddins, and directed by Branden Wittchen & Luke Angelo-Roberts at Why Not? Films. Larrikin Puppets' Brett Hansen and Elissa Jenkins puppeteered Rick and Louisa – two puppets built for the project by Scott Richards at Maxx Puppets. As well as Tia Gostelow and the puppets, the video also stars actor Ryan Hance: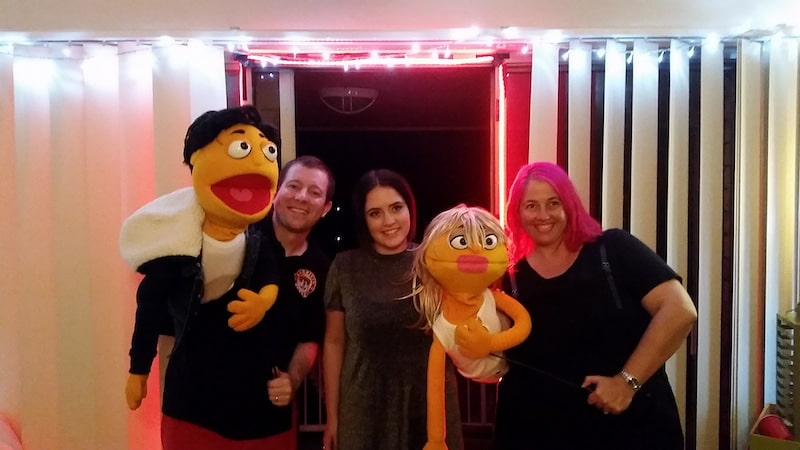 5 for 35 (2015) – Short film written and produced by Richard Bell. Co-Produced by Josh Milani. Directed by Brad Lindenmayer. Brett Hansen puppeteered Lil Gary Foley Psychiatrist, Lil Death (Moss) and others throughout the film. Screened in 2015/2016 at the 8th Asia Pacific Triennial of Contemporary Art (APT8) – Queensland Art Gallery/Gallery of Modern Art.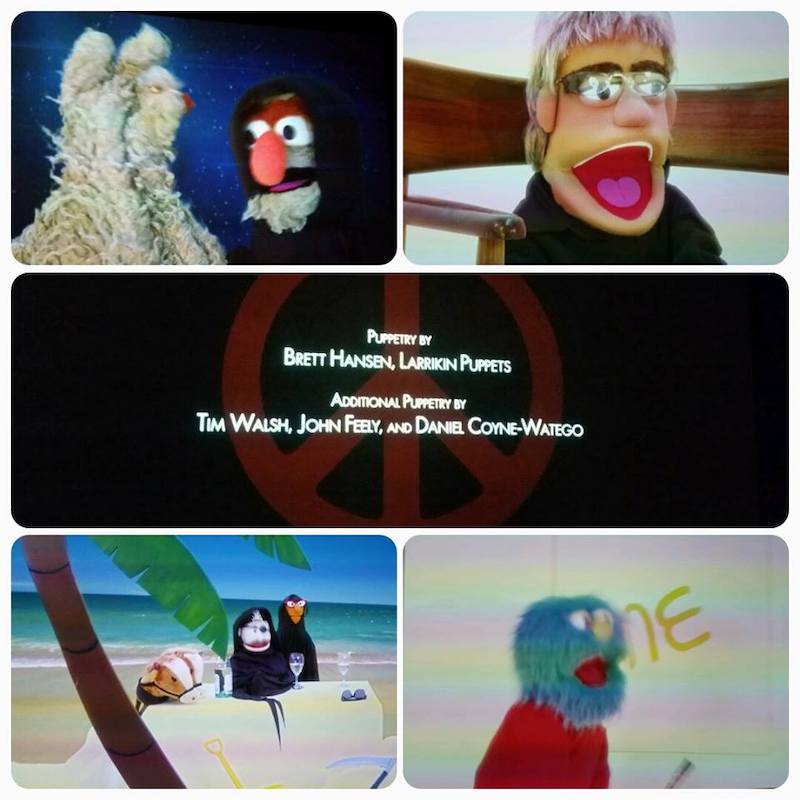 Kev (2016) – Short film written by Branden J Wittchen, directed Luke Angelo-Roberts & Branden J Wittchen, and produced by Emma Giddins of Why Not? Films. Brett Hansen performed the puppetry for two characters in the film – Kev (a bigoted Aussie orange monster played by Frizzby) and a bumbling puppet Police officer who has his priorities all wrong: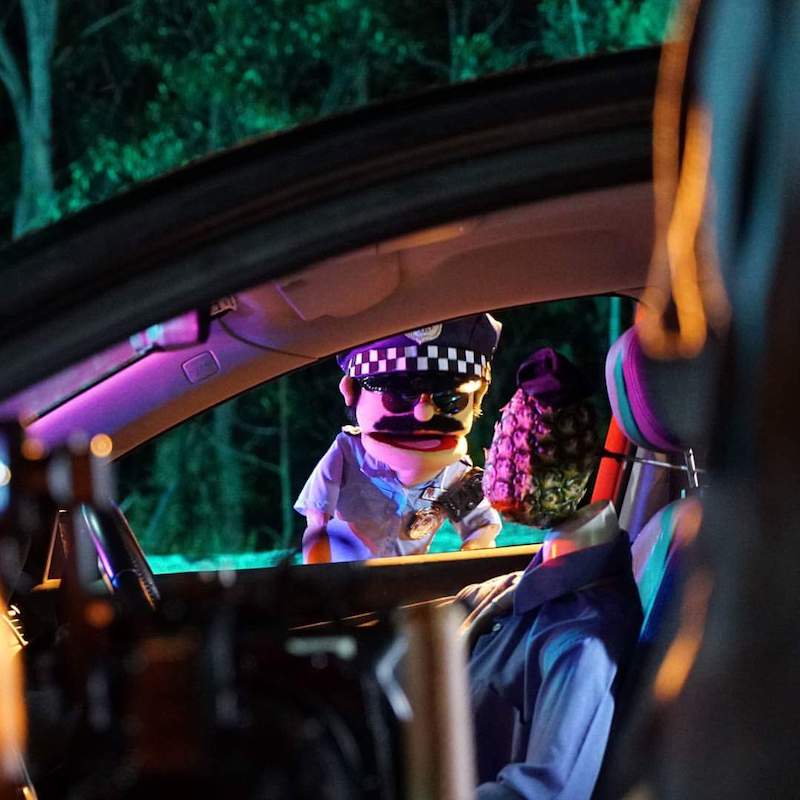 Heart of a Thousand Souls (2014) – Short film written and directed by Luke Walker, and produced by Jessica Magro. Along with Troggg (who has a minor role), the film stars Tahlia Jade, Ben Taylor, Charnstar Anderson, Kaushik Das, Cory Simpson and Rachel Partridge. Brett Hansen puppeteered Troggg in a few scenes: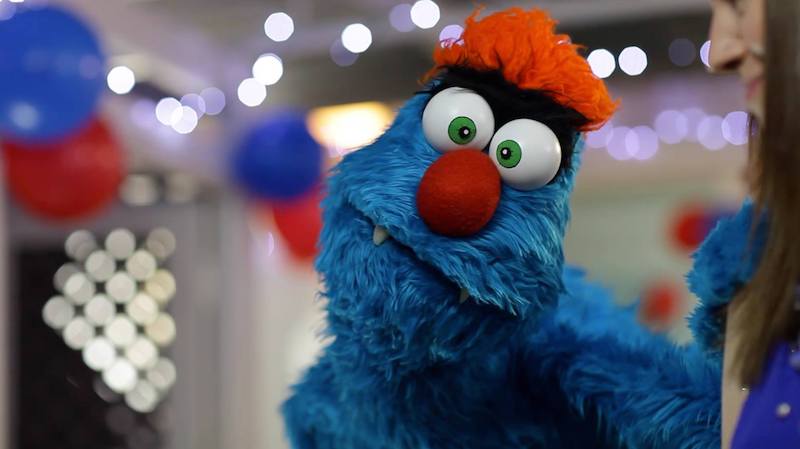 Vox Poppin' (2013) – Troggg's street interviews video by Greg Kelly at Creative Clones. This was one of our earliest pieces of film and TV footage:
Larrikin Puppets Official Video (2018) – Larrikin Puppets filmed by Gabor Kukucska from InspireFlix:
The Puppeteer (2017) – Larrikin Puppets documentary by Gabor Kukucska from InspireFlix:
The Late Nite Show (2013) – TV show on 31 Digital, created by Scott Black. Troggg appeared as a guest a few times: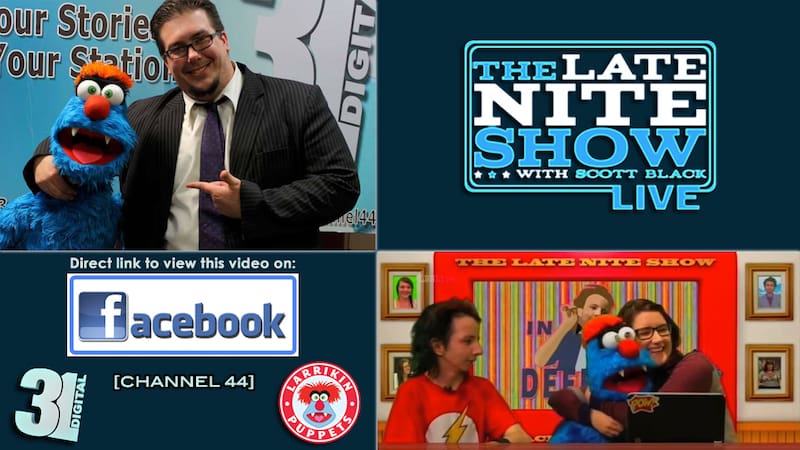 Showreel (2013) – TV show on 31 Digital, written by Matt Clayton, Clare Abbotts, Dani Bachinger, John Ryan, Catherine Tucker, Kristy Walker, and produced by Dan Randall. Production coordinator Brooke Matthews. Interview with Brett Hansen and Troggg:
CLUCK! Episode 1: The Cockblock of the Century (2013) – Web Series written by Lucy Nicklan, produced by Stephanie Walsh, and directed by Vincent Chen. Brett Hansen provided puppetry training, assistance and supervision on set for the two puppet characters (played by Jake Ashton and Kitty Gatling), puppeteered the main character in one scene, and puppeteered a tie being pulled into a paper shredder:
CLUCK! Episode 2: Fowl Behavior (2013) – Web Series written by Lucy Nicklan, produced by Stephanie Walsh, and directed by Vincent Chen. Brett Hansen provided puppetry training, assistance and supervision on set for the two puppet characters (played by Jake Ashton and Kitty Gatling), puppeteered the main character in one scene, and puppeteered a tie being pulled into a paper shredder:
CLUCK! Episode 3: Poultry in Motion (2013) – Web Series written by Lucy Nicklan, produced by Stephanie Walsh, and directed by Vincent Chen. Brett Hansen provided puppetry training, assistance and supervision on set for the two puppet characters (played by Jake Ashton and Kitty Gatling), puppeteered the main character in one scene, and puppeteered a tie being pulled into a paper shredder:
CLUCK! Behind The Scenes: The Puppets (2013) – Footage of Brett Hansen and Jake Ashton working with the puppets made by Lierre Beutel and Gemma Keliher: