The Presto Stage Puppet Theatre is suitable for professional puppeteers or any emerging performer of live hidden puppetry including hand puppets, glove puppets and Muppet-style puppets.
Presto Stage is lightweight, super portable and comes in a carry bag. Its expandable frame provides a large, roomy area to comfortably accommodate performers and creative play. Set up is really easy and quick. Takes about 5 minutes! Contact us to order yours now OR shop now for postage to Australia OR shop now for postage to the USA.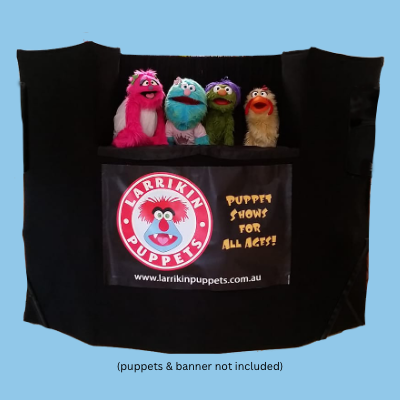 Includes:
Sturdy lightweight aluminium stage frame.
Durable black wrap-around cloth that attaches to the frame with velcro.
Black playboard that provides support for puppets and props.
Black curtain that creates a hide for puppeteers.
Carry bag for easy transport and storage.
Special features:
Lightweight at 9kg (20 pounds)
Quick and easy set up
Measures 182cm (6ft) high x 243cm (8ft) wide, with a 121cm performance area.
Cost:
For Australian Postal Addresses ONLY:
AU $625 + GST = $687.50 + $355 Postage = $1042.50.
BUY NOW AUSTRALIA
For USA Postal Addresses ONLY:
US$418 + US$75.00 = US$493.
BUY NOW USA
In another country? Contact us for a quote on postage and to order!
Sales within Australia: Direct bank transfer also offered. Contact us to arrange.
Sales outside of Australia: Online via credit card only. Contact us for the postal rate in your country.
Important update: Delivery timeframes will vary between 4 to 9 weeks depending on your location. We cannot facilitate urgent requests.
ORDER NOW!
AU$1042.50 (including postage to Australia)
ORDER NOW!
US$493 (including postage to United States)