Highly entertaining and captivating, Larrikin Puppets performs colourful, fast-paced, feel-good puppet shows for children and family audiences. Troggg, Marina, Frizzby and Flossy celebrate fun, joy, love, kindness, peace and diversity while nurturing child development, encouraging audiences to talk, dance, sing and play along. From an intimate childcare puppet show to a big theatre extravaganza, we've got a puppet show for you.
Through colourful, exciting puppet shows, Larrikin Puppets captures the imaginations of children and brings out the inner child of every adult in the audience too.
Puppet Show With Larrikin Puppets
Ideal for shopping centres, festivals, pubs, schools, childcare centres and libraries, child and family audiences will adore our popular, zany comedy-variety Puppet Show With Larrikin Puppets.
After an hilarious, fast-paced crowdpleaser chock-full of child development principles and creative play? Book now.
Hands In The Air: Puppet Show Stage Spectacular
After something to impress a large theatre audience of families? Discover our Hands In The Air: Puppet Show Stage Spectacular for cruise ships, holiday resorts and regional theatres. This show brings all the zany fun of our family show with the addition of innovative, exciting Film & TV monitor puppetry, brought live to the stage to surprise and delight.
Troggg & Friends Puppet Show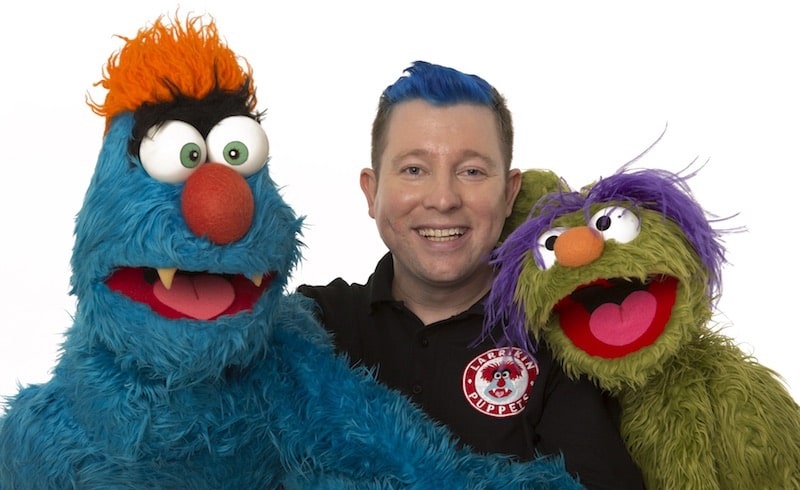 At Larrikin Puppets, we're committed to ensuring the joy of puppetry is accessible to a range of audiences and budgets no matter how big for our boots we get. That's why – despite our growing popularity – Brett still performs his solo show Troggg & Friends Puppet Show for childcare centres and children's birthday parties. Book Brett now.
Birthday Party Puppet Shows
If you're in South-East Queensland, spanning Brisbane, Gold Coast and Sunshine Coast – and you're after super special birthday party entertainment for ages 6 and under, book our Birthday Party Puppet Show For Ages 1-6 performed solo by Larrikin Puppets' Principal Puppeteer Brett Hansen. For the older age group of 7-9, Brett and Elissa perform a different show – Birthday Party Puppet Show: Ages 7-9 – with plenty of interaction for the older kids.
Show of Hands: Improv Comedy Puppet Show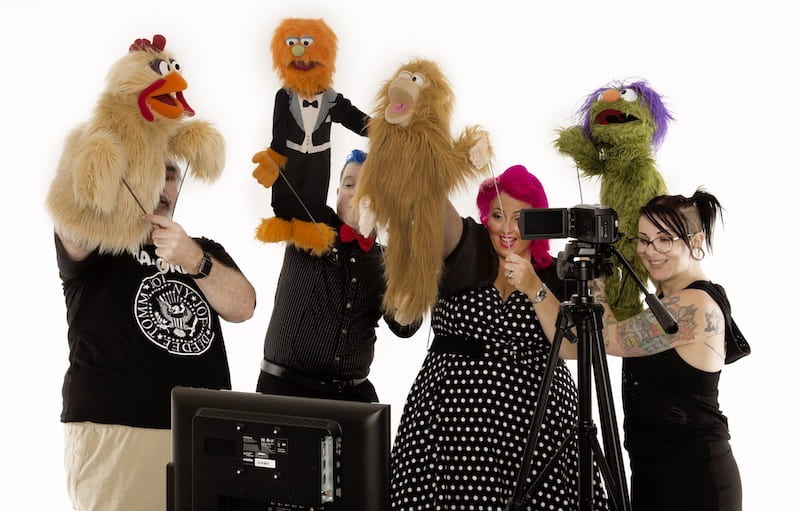 Ideal for an adult theatre audience or corporate event, Show Of Hands is a comedy variety show that combines short-form improvised theatre scenes with puppetry in the TV style of Jim Henson. No two shows are ever the same! Book Show of Hands: Improv Comedy Puppet Show for high quality corporate entertainment.
Hijabi Girl: A Musical Puppet Show
Hijabi Girl is a children's book for ages 7-9 that Larrikin Puppets is transforming into a musical theatre performance featuring puppets. Created specifically for an early primary school audience to advocate against bullying and celebrate multiculturalism in Australia, this theatre production will launch in 2021 and tour regional theatres in 2022 for visiting school groups to attend. Book your school now.