Puppeteer Brett Hansen and his friendly and funny puppet characters provide lots of fun at kids birthday parties for ages 1-6 in and around Brisbane, the Moreton Bay Region, the Sunshine Coast and surrounds. Always fun, exciting and hilarious, kids and families have a great time singing, dancing and interacting with this colourful puppet show from Larrikin Puppets!
"My baby loves puppets so I decided to hire a puppeteer for his first birthday. Brett from Larrikin Puppets was so approachable and professional from the beginning. The show exceeded my expectations. It was amazing. My son, his friends and everybody had lots of fun."
Larrikin Puppets brings colourful and zany party entertainment to kids birthday parties for ages 1-6. Heaps of fun for children and parents in and around Brisbane. We love to make kids birthday parties extra special and memorable with puppets!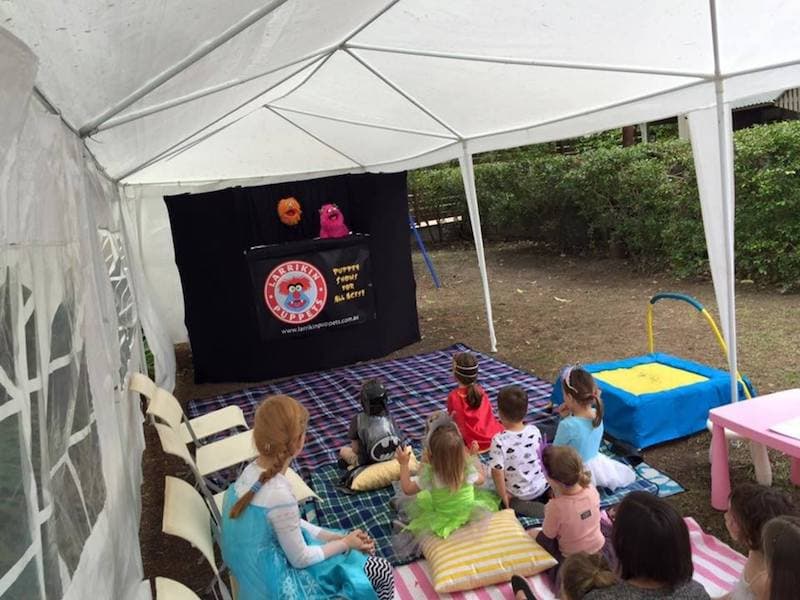 Suitable for children aged 1-6 (with plenty of humour for parents to laugh at too) this puppet show is performed by one puppeteer (Brett Hansen) unless a specific request is made to include an additional puppeteer (Elissa Jenkins). The puppets perform a 30 minute age appropriate comedy-variety show with songs, games, jokes, skits and live interaction with the audience – performed in the hand puppetry style of Sesame Street and The Muppets. In fact, Brett received formal training in the USA with Jim Henson puppeteers who work on those TV shows and movies.
The show is performed from behind a portable puppet theatre, which is about 2.5 metres wide, and Brett uses about 1.5 metres behind it to lay out the puppets, props, audio equipment, and himself for performing. Access to power is required if both performers are in the show because a larger P.A. system is used to accomodate the two microphones. If it's just Brett performing (as it is in most cases for kids birthday party shows for ages 1-6) he uses a small battery powered speaker that doesn't require access to power.
The show is followed by a 5 minute presentation where the puppeteer (or puppeteers) explain how all the puppets work. Then a 5-10 minute meet-and-greet with Troggg the friendly blue monster from the show. People can get photos and selfies with Troggg during this time.
You and all the party guests are welcome to take as many photos of the puppets as you like, and share them on Facebook, Instagram, etc. if you wish to.
Also – just a bit of adult supervision (or crowd control) on the day during the puppet show is always helpful. The adults usually all watch and laugh along with the show as well.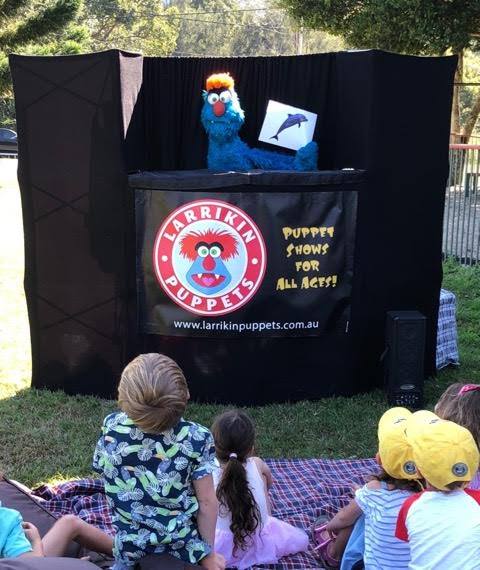 The puppet show, the "how the puppets work" demonstration, and the meet-and-greet and photo session all lasts up to 45 minutes in total.
Number of puppeteers: 1
Access to power: Ideal but not required. A small battery powered amp with one microphone input can be used for the 1 puppeteer show if it's performed in a council park with no access to power.
Venues: This show can be performed in back yards, front yards, garages, lounge rooms, council parks, restaurants, halls, clubs, pubs and play centres.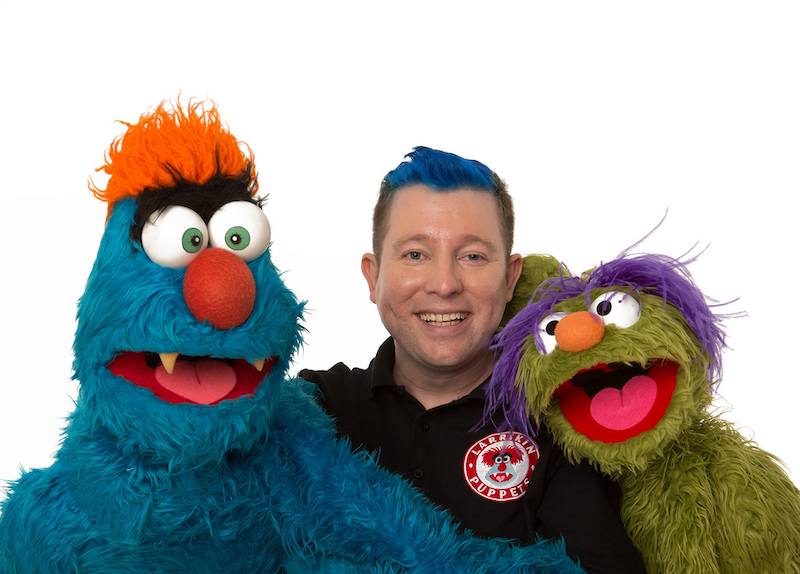 Cost for Brett to perform: For prices and packages visit our Rate Cards.

An initial 50% deposit is required to confirm the booking. This ensures that the chosen booking time is yours, and we'll refuse other people requesting the same date and time. And then the remaining balance can be paid in cash on the day of the event, or via direct deposit afterwards.
Cost for Brett and Elissa to perform: For prices and packages visit our Rate Cards.
Inclusions for the Cost:
30 minute interactive puppet show of songs, games, jokes and fun.
5 minute "How the puppets work" presentation.
5-10 minute Puppet meet-and-greet.
Photo opportunity with Troggg the blue monster.
Time allowance for travel to and from, set-up and pack-down of the puppet stage, props, puppets and sound equipment.
Rehearsal time prior to the event.
Quality characters.
Quality puppetry.
Please note: Most council parks are not powered sites. If you choose to have Elissa join Brett for a birthday party show for ages 1-6, we are unable to perform in the park. Park shows can be performed by Brett on his own via his portable, battery powered speaker.
Larrikin Puppets has provided colourful and fun entertainment at kids birthday parties around Brisbane and surrounds since 2012, with our most popular party bookings being for 1st birthday parties and 3rd birthday parties.
If you'd like a kids birthday party puppet show for ages 1-6, contact us here.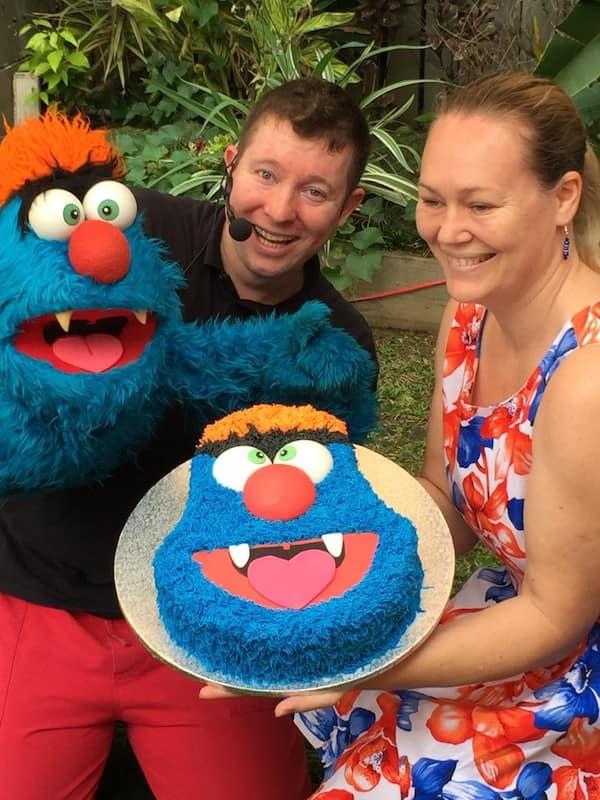 You can find more information about Larrikin Puppets on Facebook, Twitter, LinkedIn, Instagram and Pinterest.