Popular Queensland children's entertainers Larrikin Puppets perform a fun and exciting family puppet show for Agricultural Shows, Fetes and Festivals!
Larrikin Puppets have performed at Woodford Folk Festival, Gympie Music Muster, Rockhampton River Festival, Snowflakes In Stanthorpe, Pine Rivers Show, Puppetry Arts Festival of Brooklyn (New York, USA), Cooroy Fusion Festival, Redcliffe Sails Festival, Ipswich Festival, Bundaberg Pageant of Lights, Gladstone Harbour Festival, Brookfield Show, Mudgeeraba Show, Mary Valley Show, Caboolture Family Fun Day and more!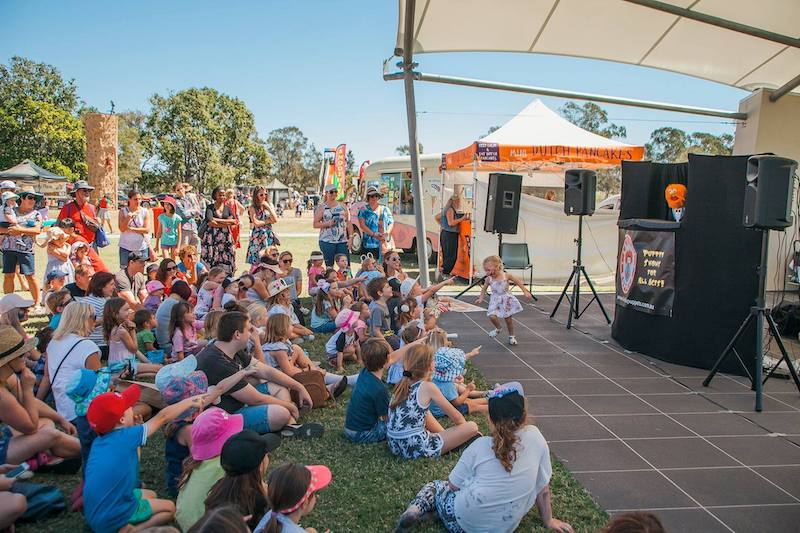 "Your performance on stage was absolutely amazing and several people have commented specifically on how 'fantastic' the puppet show was.".
Children's entertainers Brett Hansen and Elissa Jenkins with their gaggle of funny puppet characters provide top quality entertainment at fetes and festivals, agricultural shows, family fun days, carnivals, exhibitions and other showground events all over Australia – including Brisbane, Ipswich, the Gold Coast and Sunshine Coast.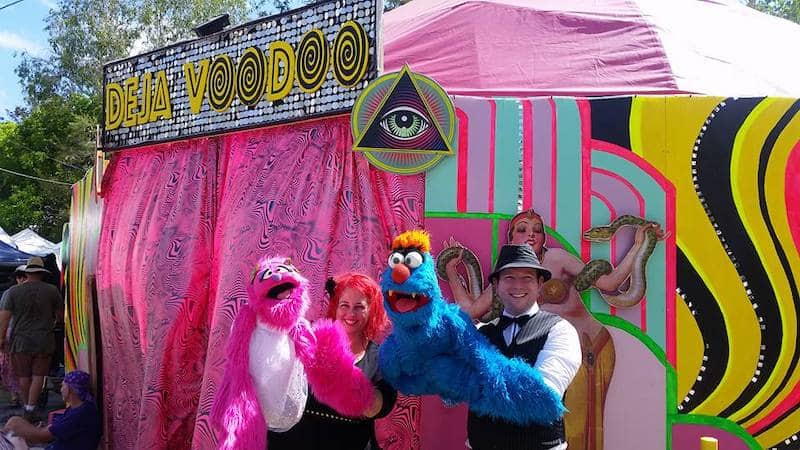 Suitable for the whole family, the puppets perform a zany variety show of skits, jokes, games, catchy original songs (as heard on kids radio and Spotify) and comical interaction with the audience. It's all interactive and live. Kids are encouraged to sing and play along. The finale of the show has us teaching volunteers from the audience how to operate some backup singer/dancer puppets for a song.
We then do a demonstration on how the different puppets in our show work, however this segment is optional, and dependent on time for different acts to strike on and off a main stage.
After the show we can be available to do a 5-10 minute meet and greet and photo opportunity with Troggg the blue monster and other puppets.
All up it's a 45 minute presentation, which can be cut down to a 30 minute presentation if it's a fast-paced strike on/strike off main stage situation with multiple acts.
We also perform a Christmas-themed puppet show which is perfect for the lead up to Christmas – at community carols events, family fun days and Christmas pageants. It's a very exciting and engaging family entertainment option for fetes and festivals! We also perform at New Year's Eve festivals and main stage events.

Cost: Full pricing details can be found on Rate Card #3 for Festivals. You might like 2-4 shows in 1 day, or several days of 2-4 shows per day. Contact us to discuss.
Cost Covers:
– 30 to 45 minute puppet show of songs, games, jokes and comical interaction with the audience, including audience volunteers to perform with puppets in the show's finale.
– 5-10 minute Puppet meet-and-greet / Photo opportunity with Troggg and Marina.
– Time allowance for travel to and from, set-up and pack-down of the puppet stage, props, puppets and sound equipment.
– Rehearsal time prior to the event.
– Quality characters.
– Quality puppetry.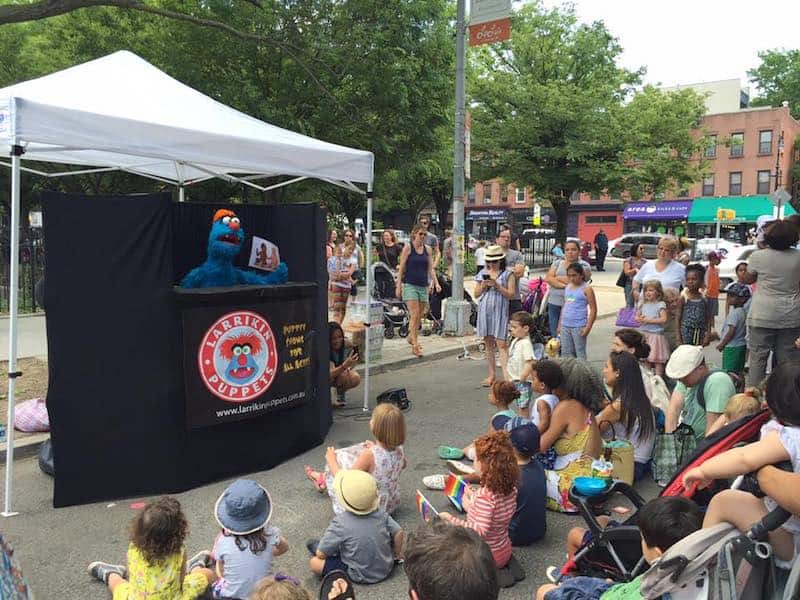 PLEASE NOTE: Events that require us to travel long distances (ie. flights from Brisbane or drives longer than three hours from our base on Bribie Island) will incur additional costs such as flights, excess baggage, fuel and accomodation. If your budget allows for this, please contact us to make arrangements.

Professional Development and Formal Training:
We've completed three months of professional development in the USA, which included advanced, formal training with Jim Henson puppeteers from The Muppets and Sesame Street.
Blue Card and Insurance:
We have current Blue Cards and are fully insured with Public Liability insurance through "Duck For Cover" entertainers insurance. These documents can be attached to an email, should you need them. Larrikin Puppets is also listed on the Brisbane City Council Creative Register.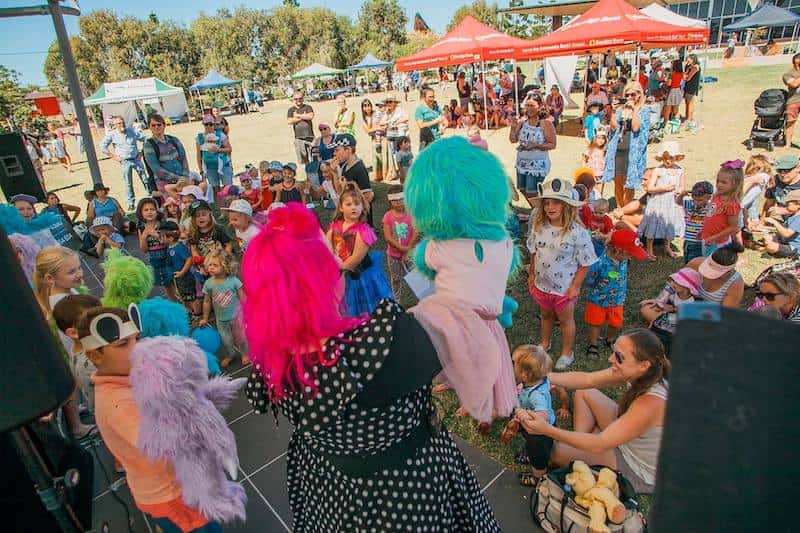 Stage Set-Up:
For fetes and festivals where we are set up for a day of performances, it usually takes a bit over an hour to set up the puppet stage, props, puppets, sound equipment, and our pipe and drape backstage area. It's a portable puppet stage with an overall height of 1.8 metres, and an overall length of 2.4 metres. The puppet stage is only a front-on facade. Behind it is our pipe and drape system which measures about 2.5 metres behind the puppet stage. This is where the puppets, props, and puppeteers go for performing. For festivals where we are an act that bumps on and off the main stage between other acts, we set our puppet stage up backstage or to the side of stage ready to quickly carry up onto stage and spend two minutes laying out our puppets and props, and quickly testing the wireless headset mics and music/sound before the performance. The pipe and drape backstage area is not used for our strike on/strike off mainstage performances between other acts.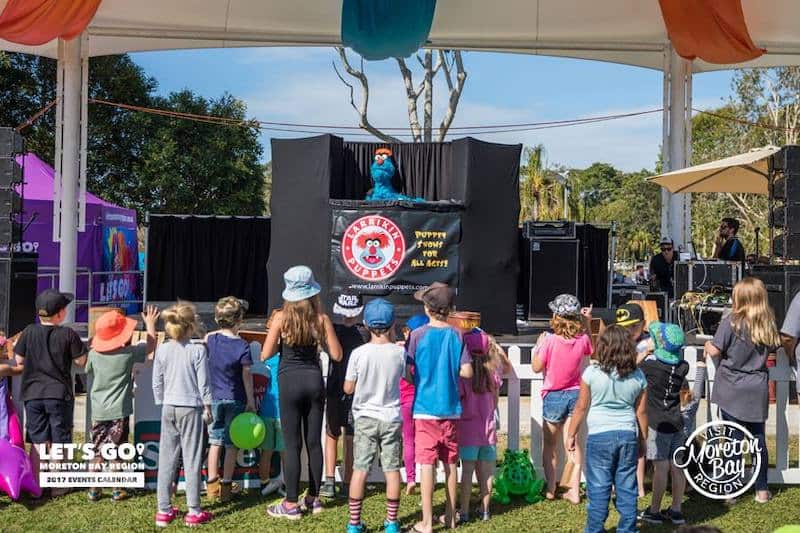 Music and Sound Effects:
For music and sound effects, we use our own set of large PA speakers which we plug in an iPod and our wireless headset mics. These large PA speakers are great for events where we are set up in one spot for a whole day of performances. A powered site is required for this, or a generator. For fetes and festivals where we are an act that bumps on and off the main stage between other acts, the event often has a sound technician who provides us with wireless headset mics to plug into the event's main PA system to project to larger audiences. The sound technician also provides us with a D.I. box (direct input) to plug our iPod of music and sound effects into. We need to be able to access our iPod from behind the puppet stage, as we start and stop the music ourselves throughout the performance.

On the Day of arrival: Puppeteers arrive about 2 hours before the puppet show's starting time to park the vehicle, load in all of the equipment to the performance space, set up the stage, sound equipment, props and puppets. The show (as described above) is performed for 30-45 minutes. The puppeteers then pack up all the equipment and load out.
You can find more information about Larrikin Puppets on Facebook, Twitter, LinkedIn, Instagram, Pinterest and TikTok (our puppets are TikTok famous!)