Popular children's entertainers Larrikin Puppets perform fun and exciting live family entertainment at pubs, clubs and RSLs! Diners and families will be captivated by this colourful and interactive puppet show starring Troggg, Marina and their furry, funny friends!
GET READY TO BE ENTERTAINED...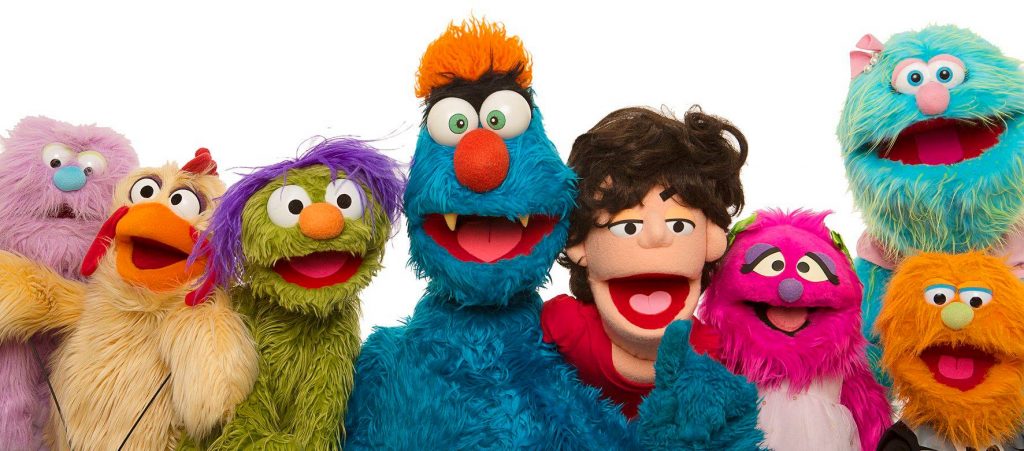 Larrikin Puppets presents colourful and exciting family entertainment for pubs, clubs and RSLs, featuring zany Muppet-style characters performing songs, skits, jokes, games and live interaction with the audience. The show features two performers, and encourages the audience to dance, sing and play along. We incorporate a couple of our original songs, "I Know All The Things" and "Dance Like A Unicorn" – as heard on Spotify, Apple Music and kids radio stations. There's also some audience participation and a "How the puppets work" demonstration at the end.
Performance Duration: 45 minutes, including the "How the puppets work" demonstration and a meet-and-greet with the audience after the show.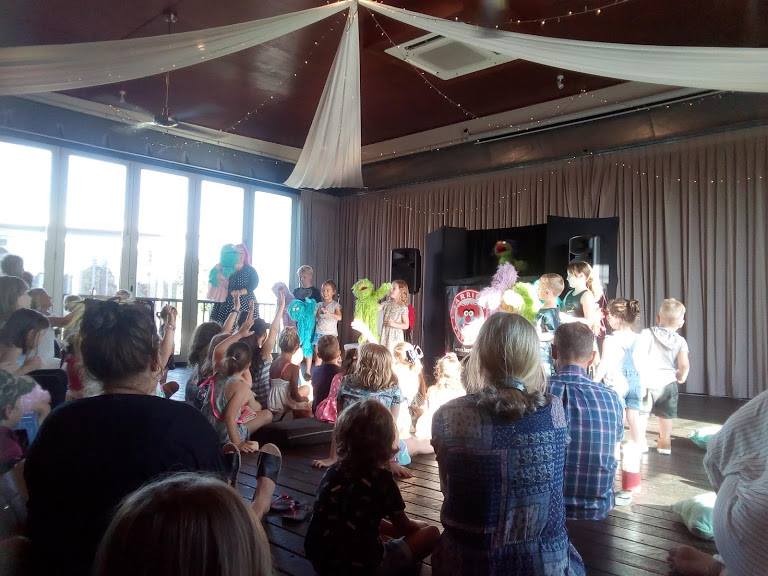 The style of puppetry is like The Muppets and Sesame Street, and we (two puppeteers) mostly perform from behind a puppet stage, but we do emerge as 'humans' during some of the interactive audience volunteer segments.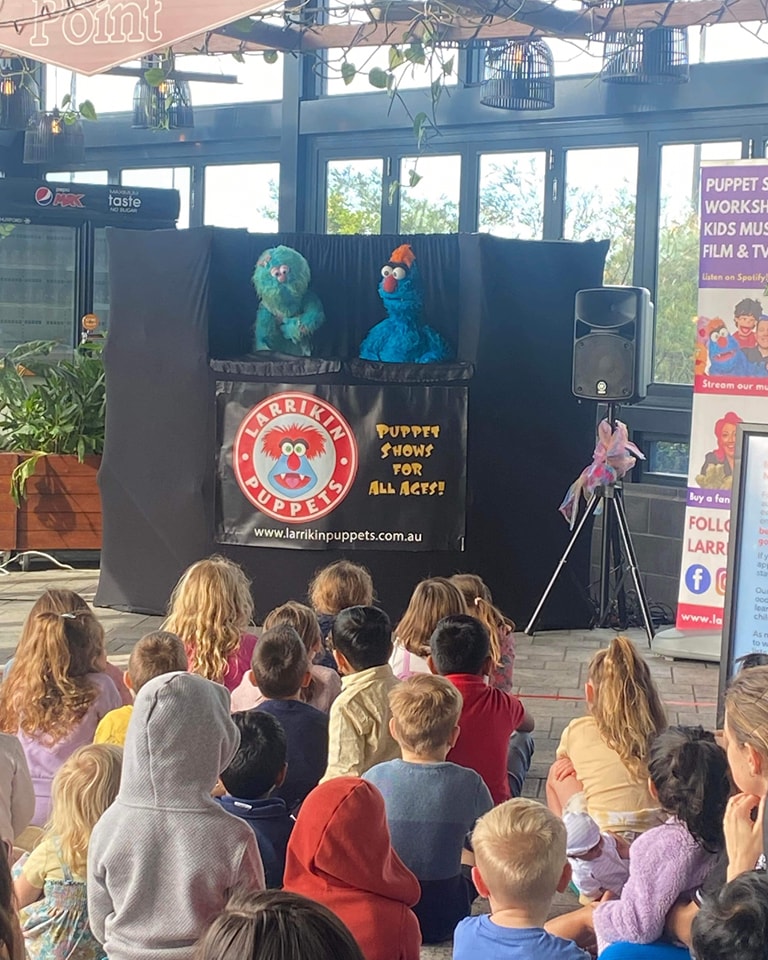 We've performed in such venues as North Lakes Sports Club, City Golf Club (Toowoomba), Tewantin Noosa RSL (Sunshine Coast), Noosa Reef Hotel (Sunshine Coast), Buderim Tavern (Sunshine Coast), Harvey Road Tavern (Clinton, Gladstone), Benowa Tavern (Gold Coast), CSi Club Southport (Gold Coast), The Belvedere Hotel (Woody Point), Kawana Waters Hotel (Buddina), Blue Pacific Hotel (Woorim, Bribie Island), The Glen Hotel (Eight Mile Plains) and Apollonian Hotel (Boreen Point).
Cost: The prices for Larrikin Puppets shows in pubs, clubs and RSLs are outlined on Rate Card #3 – Festivals, Shopping Centres, Pubs, Clubs, RSLs, Corporate.
Bulk discount rates are available for bookings of multiple shows at the same location on the same day OR for multiple shows at the same location across consecutive days, in situations where our puppet theatre is able to remain set up for the duration of the booking. Examples include 2-3 shows in the one day, or 1 show each day Monday to Friday. Contact us to discuss.
Cost Covers:
– Two Puppeteers (Brett and Elissa).
– 35 minute puppet show of songs, games, jokes and comical interaction with the audience.
– 10 minute "How the puppets work" demonstration.
– Time allowance for travel to and from venue.
– Sign in, Load in, Set-up and pack-down of the puppet stage, props, puppets and sound equipment.
– Rehearsal time prior to the event.
– Quality characters.
– Quality puppetry.
Our puppet stage is 2.5 metres wide, plus the two speakers – making our front of stage roughly 3 metres to 3.5 metres in total. We use about 1.5 to 2 metres behind the stage to set up our puppets, props, seat and ourselves for performing. We use one powerpoint.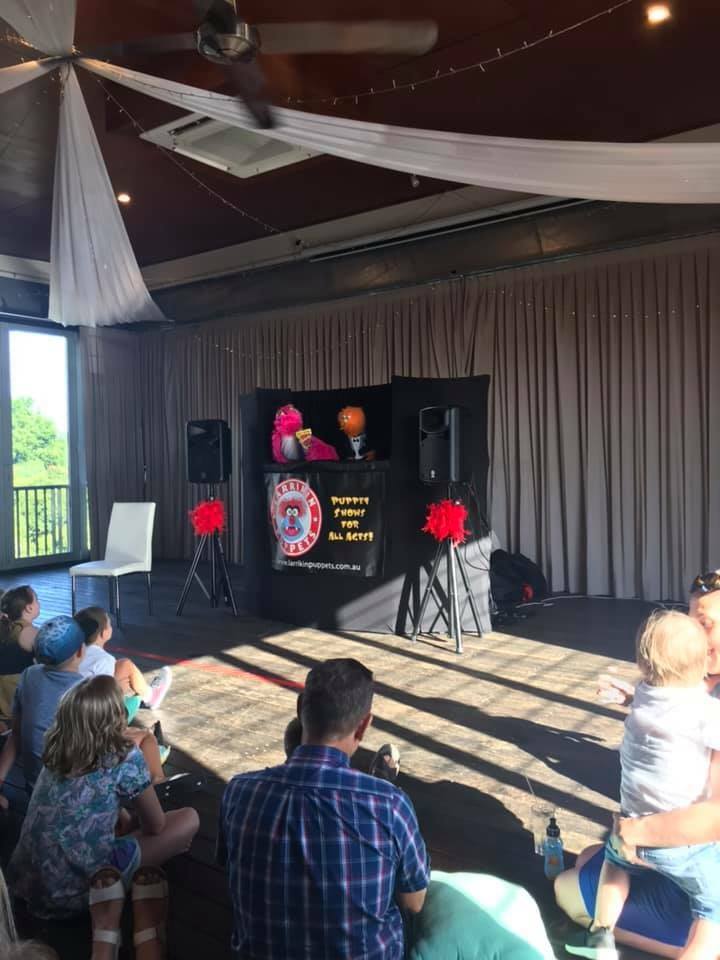 PLEASE NOTE: Events that require us to travel long distances (ie. flights from Brisbane or drives longer than three hours from our base on Bribie Island) will incur additional costs such as flights, excess baggage, fuel and accomodation. If your budget allows for this, please contact us to make arrangements.


Professional Development and Formal Training:
We've completed three months of professional development in the USA, which included advanced, formal training with Jim Henson puppeteers from The Muppets and Sesame Street.
Blue Card and Insurance:
We have current Blue Cards (Brett's number is 1161011/3, Elissa's is 690261/3) and are fully insured with Public Liability insurance through "Duck For Cover" entertainers insurance. These documents can be attached to an email, should you need them.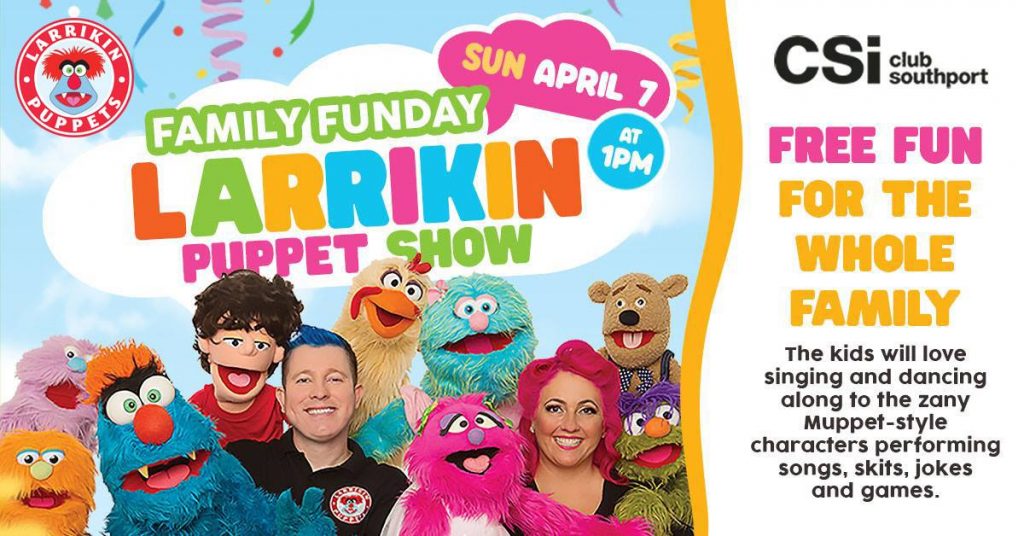 Stage Set-Up:
For pubs, clubs and RSLs where we are set up for a full day, week or fortnight of live family entertainment, it usually takes a bit over an hour to set up the puppet stage, props, puppets, sound equipment, and our pipe and drape backstage area. It's a portable puppet stage with an overall height of 1.8 metres, and an overall length of 2.4 metres. The puppet stage is only a front-on facade. Behind it is our pipe and drape system which measures about 2.5 metres behind the puppet stage. This is where the puppets, props, and puppeteers go for performing.
Music and Sound Effects:
For music and sound effects, we use our own set of large PA speakers which we plug in an iPod and our wireless headset mics. These large PA speakers are great for pubs, clubs and RSLs where we are set up in one spot for a whole day or a whole week or two of live entertainment. Access to power is required for this.
On the day of arrival:
Puppeteers arrive about 1 hour and a half before the puppet show's starting time to park the vehicle, load in all of the equipment to the performance space, set up the stage, sound equipment, props and puppets. If it is a week or two of live entertainment in the same pub, club or RSL, the puppeteers will arrive the day before to get everything all set up ready for a fresh start on Day 1 of live entertainment in the venue. The show (as described above) is performed for 30 minutes, followed by a "How the puppets work" demo and a meet-and-greet/photo opportunity. The puppeteers then pack up all the equipment after the final performance.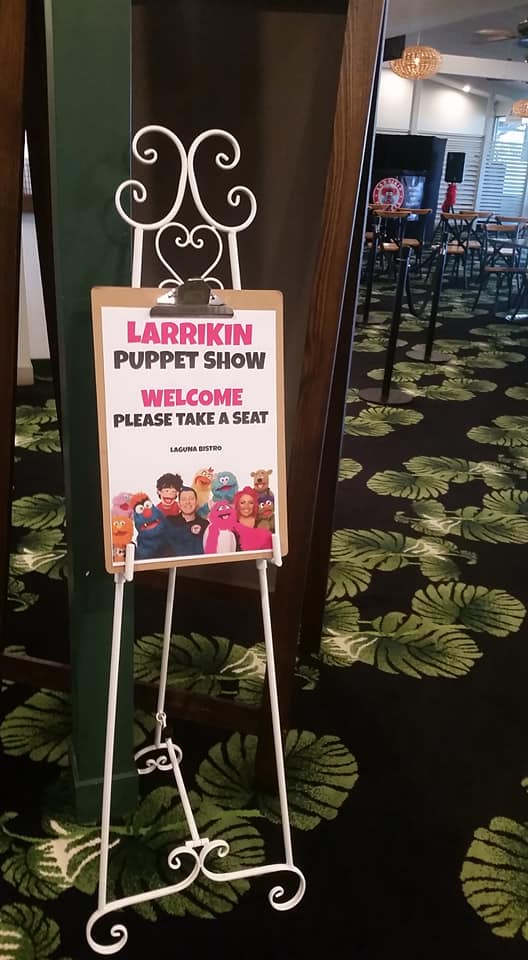 TV Work: For Australian television, Troggg and Marina have guest hosted national TV show Shake Takes (Network Ten). We performed the puppetry in a music video for Illy and Waax (Sony Music Australia), a music video for Regurgitator's Pogogo Show (ABC Kids) and worked on a TV pilot in Sydney for a puppet cooking show starring Chef Jason Roberts (Studio Ten / Ready, Steady Cook). Previous television appearances have included Totally Wild (Network Ten) and The Bureau of Magical Things (Network Ten/Jonathan M. Shiff Productions).
You can find more information about Larrikin Puppets on Facebook, Twitter, LinkedIn, Instagram, Pinterest and TikTok.