Keen for high quality corporate entertainment for your next workplace or staff event? Think outside the human! Book our blue monster puppet MC Troggg to host your next corporate event, award's night, AGM or gala ball. We also perform puppet shows for children and families at corporate Christmas parties, charity events and other family fun day events. Our puppets drive or fly to you, no matter where you're located in Australia.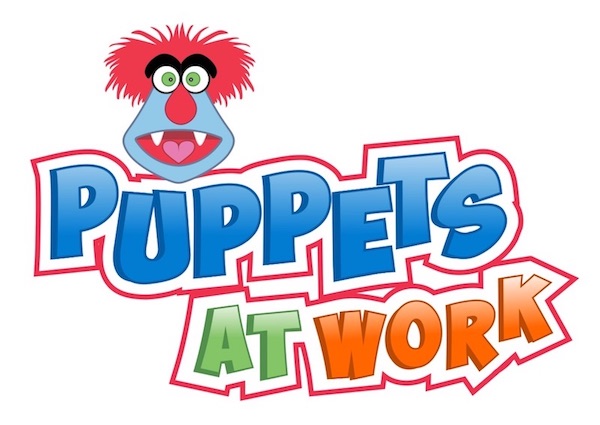 "Having a puppet MC made our already unique event even 'uniquer'. How good was Troggg? Big thanks to Brett Hansen from Larrikin Puppets for being our very entertaining MC for the night."
Your event just got interesting! Puppets At Work provides corporate entertainment your audience will be raving about for years to come.
Puppet MC/Host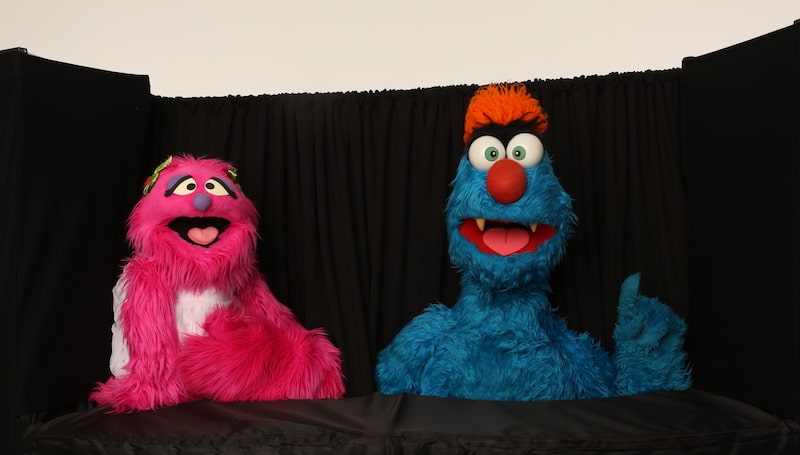 Think outside the human! Choose a Muppet-style puppet to MC or host your next corporate event, award's night, AGM or gala ball. This fun, novel idea brings joy to adult audiences, guiding guests through the program or run sheet.
Our puppeteers perform hidden from behind a puppet theatre, so your guests enjoy the fantasy and whimsy of puppet characters that appear very, very real.
You can choose from two monster puppet emcees: our crowd favourite Troggg in the blue fur or Moss in the green fur. Alternatively you can choose the classy Troggg (blue male monster) to co-emcee with the sassy Flossy (pink female monster). Book now.
Inclusions:
Up to 4 hours of time hosting the corporate event.
Travel time and set up of lectern/table, audio equipment/mic.
Run sheet review and scripting.
Consultation via email and 1 x 30-minute video conference or phone call meeting.
Cost: 1 x Puppeteer: $550. 2 x Puppeteers: $800. If rehearsals are required at a venue prior to the event, there is an extra charge of $60/hour per puppeteer.
Book a Puppet MC for your next event now.
Corporate Puppet Show For Children & Families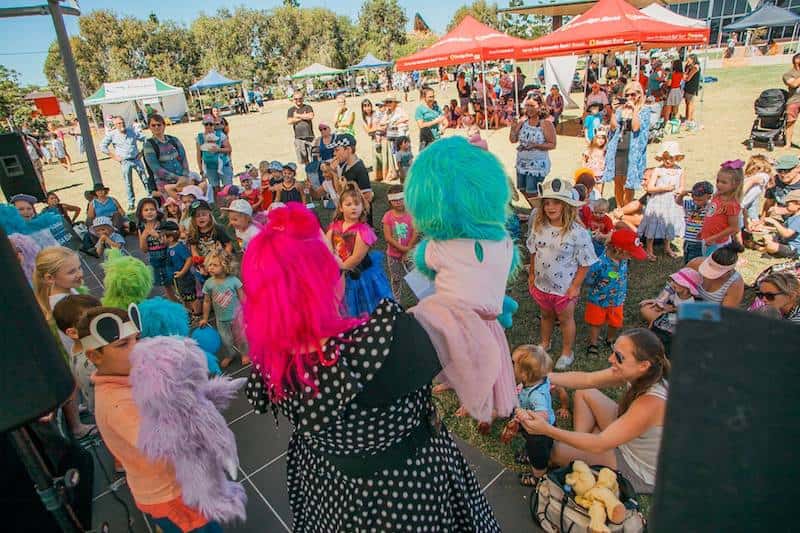 Larrikin Puppets performs puppet shows for children and families at corporate Christmas parties, charity events and other family fun day events.
The puppet show is 30 minutes of songs, games, jokes, skits and comical interaction with the audience – performed in the puppetry style of Sesame Street and The Muppets. This is followed by a 5 minute demonstration on how the puppets work then a 5-10 minute meet-and-greet and photos with the puppets.
Some of our corporate clients have included Ernst & Young Australia, Cooper Grace Ward Lawyers, Mainfreight Australia, ROPE Inc., Opera Australia, and Queensland Police Legacy Scheme.
Note, while we do perform corporate puppet shows for children and families, we don't perform corporate puppet shows just for adults aside from Show Of Hands, featured below..
If you're a businesses, non-profit organisation or union putting on a big family fun day, our puppet show is the ultimate 'go to' for quality children's corporate entertainment.
Inclusions:
30 minute puppet show performed by two puppeteers (Brett and Elissa).
5 minute "How the puppets work" demonstration.
10 minute puppet meet-and-greet / Photo opportunity.
Time allowance for travel to and from, set-up and pack-down of the puppet stage, props, puppets and sound equipment.
Rehearsal time prior to the event.
Quality characters.
Quality puppetry.
Quality corporate entertainment.
Cost: $550
Show of Hands: Improv Comedy Puppet Show
This is our premium corporate entertainment offering chock-full of rollicking laughs for an adult audience.
A co-production between Larrikin Puppets and Edge Improv, Show Of Hands is a comedy variety show that combines short-form improvised theatre scenes (think Whose Line Is It Anyway?) with puppetry in the TV style of Jim Henson (The Muppets, Sesame Street). No two shows are ever the same!
Puppets are projected onto a movie screen, with puppeteers performing live on stage below them. Performers improvise outside of their own body, and into the body of a puppet, playing within the space framed by a video camera's lens. The audience can watch the puppets projected onto the screen, as well as the performers live on stage below them.
Show Of Hands is a live theatre performance that features five puppeteers, a musician and lots of exciting tech. If you love the sound of something super special for your adult audience, contact us now to discuss details.
Cost: $1500