Children and families in our audiences at international shows really enjoy our colourful, fun puppet characters! We like the idea of performing for children outside of Australia, who would otherwise miss out on seeing our loveable characters Troggg, Marina, Scrambles and friends.

Larrikin Puppets touring act consists of two performers - Brett Hansen (principal puppeteer) and Elissa Jenkins (assistant puppeteer).


When the COVID-19 pandemic is under control and international touring from Australia is possible again, we would be able to bring our puppet show to the USA, UK, New Zealand, Singapore, Hong Kong, Dubai, Saudi Arabia and India.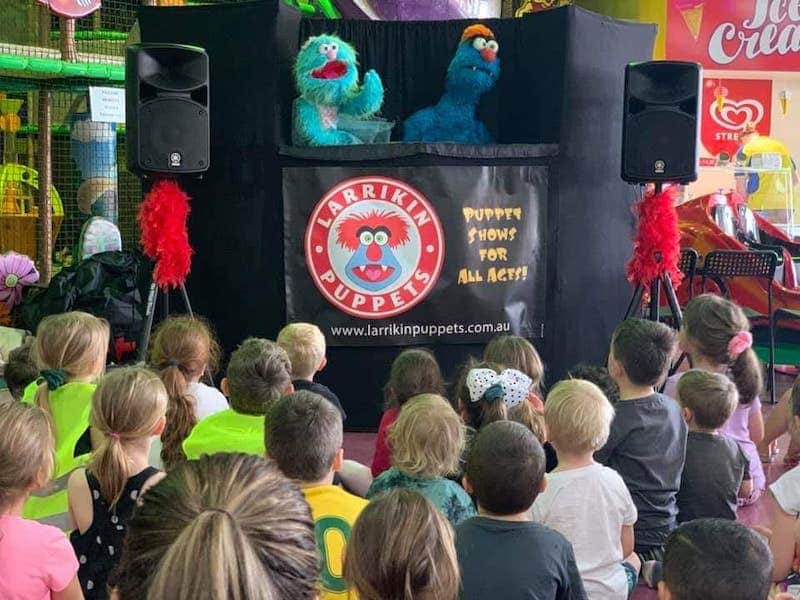 Our puppet show is colourful, interactive and crowd-pleasing. The style of puppetry is like The Muppets and Sesame Street. It's all interactive and live. Audiences of children and families are encouraged to sing, dance and play along.
This international touring puppet show includes our original songs that are featured on Spotify and Little Rockers Radio.
The show is followed by an additional 10 minute presentation where we demonstrate to the audience how all the different puppets in our show work. This segment of the show is always very well received by the audience because we often find that our show is the first puppet show many of these children experience.
The total show time is about 40-45 minutes long, and is very fast paced and engaging.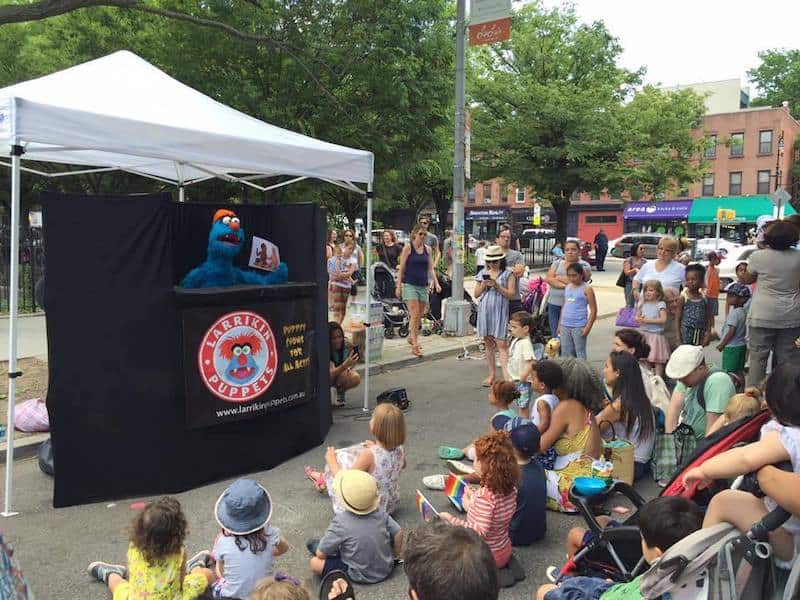 For international touring, our puppet show has been performed at the Puppetry Arts Festival of Brooklyn (in New York City, USA). Our puppets have also appeared in Wellington, New Zealand and Kowloon, Hong Kong. We have received booking enquiries from Wakazoo Group in UAE and Muze Arts & Entertainment in Saudi Arabia.
Here's a 30 second promo video showing all the colour and fun of our puppet shows.
Logistics:
It takes about 1 hour and a half to load in and set up our portable puppet theatre, PA speakers and puppets, etc., and then 1 hour to pack down.
We would require access to one powerpoint at each venue.
If we are not transporting our own P.A. speakers on the international tour, or hiring speakers while we're overseas, we would require:
Connection to your amplification.
2 wireless headset microphones.
1 D.I. box (direct input unit) to connect iPhone to mixing desk. Because our show is live and interactive with the audience rather than having a sound technician queuing music for us, we control our music and sound effects ourselves from behind our puppet theatre using an iPhone.
Due to the time it takes for us to load in, set up, pack down and load out, we can only perform at one location on any given day. We can perform 2-5 shows in the one location, however. With one set up at the beginning of the day and one pack down at the end, 2-5 different audiences can come and see the show at any given venue or event.
Costs:
Flights and local transport from Brisbane, Australia to your city/town and return.
Excess baggage on flights. Ask us about the specifics of our equipment.
Accommodation in your city/town.
Transport to and from the performance venue.
Cost of each puppet show.
Accommodation Type:
For stop-over accommodation on the way there, accommodation while in your country/town/region for the performances, and stop-over accommodation on our way home, a budget motel room with one bed works for us because we are a married couple.
TOTAL:
Number of performances + Flights + Baggage + Accommodation + Transport between accommodation and the performance venue = Total Cost.
Cost Includes:
Two Puppeteers (Brett and Elissa).
[X] x 45 minute puppet shows.
Time allowance for travel to and from the region.
Time allowance for travel to and from each venue during our week or two weeks in the region.
Sign in, Load in, Set-up and pack-down of the puppet stage, props, puppets and sound equipment at each venue.
[X] nights accommodation (stop-overs there, performance days in the region, stop-overs home).
Flights + Baggage.
Transport.
Rehearsal time prior to the tour.
Quality characters.
Quality puppetry.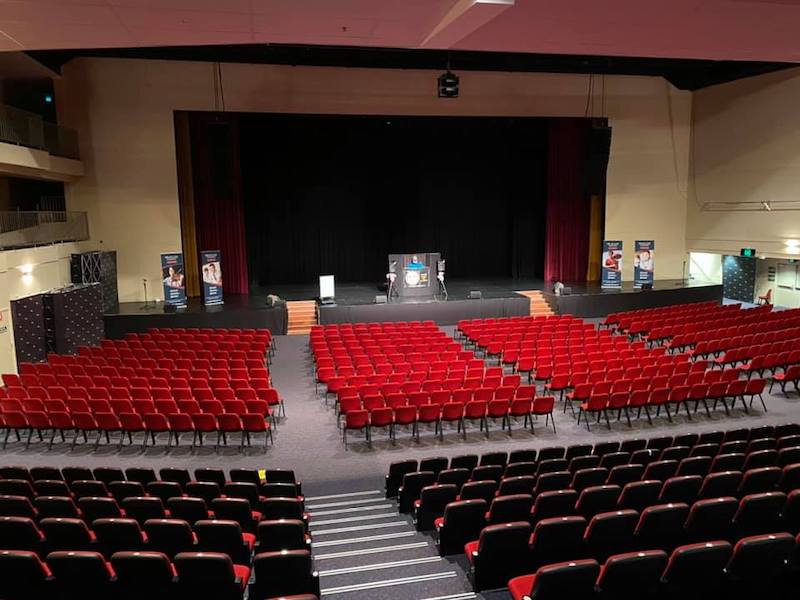 Blue Card and Insurance:
My Australian Working With Children Blue Card number is 1161011/3, Elissa's is 690261/3. We have public liability insurance through Duck For Cover Entertainers Insurance.
Professional Development Overseas:
We completed three months of professional development in the USA, which included performances and advanced training with Jim Henson puppeteers from The Muppets and Sesame Street.
Notable TV work (links to YouTube):
– Shake Takes 1 (Network Ten).
– Shake Takes 2 (Network Ten).
– Shake Takes 3 (Network Ten).
– Music Video: "Best Friends Forever" by Regurgitator's Pogogo Show (ABC Kids).
– Music Video: "Cheap Seats" by ILLY and WAAX (Sony Music Australia).
– Totally Wild (Network Ten).
– The Bureau of Magical Things (Network Ten, Netflix).
– ROPE TV (Trending Media Australia)
We would love to share our colourful and fun puppets with audiences in your country.