Larrikin Puppets is committed to continuing our goal to bring joy, laughter, fun and play to kids during the COVID-19 lockdown and isolation period.
Join us as we present super fun puppet shows, puppetry workshops, story times, poetry with puppets and puppet play dates.
Are you looking to engage a virtual room of adults online? Invite Troggg the big blue monster or Elissa & Troggg to co-host or simply drop in on your next online meeting or event.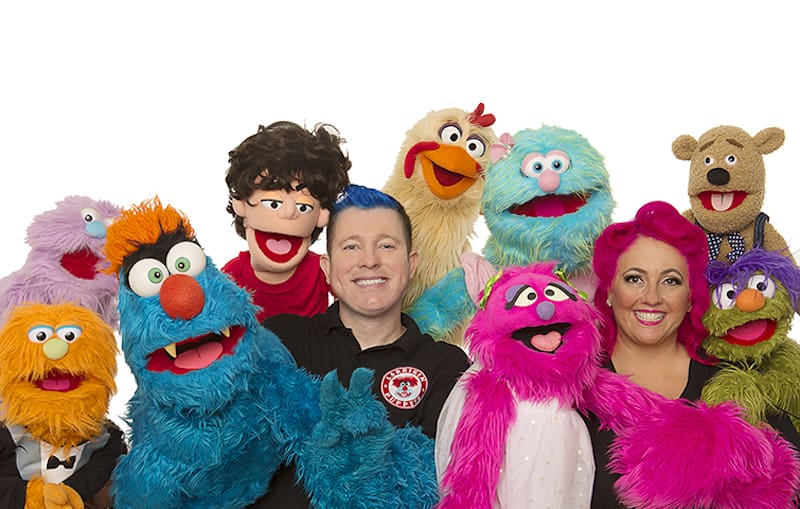 Online Puppet Shows & Storytime Puppet Shows
Corporates, non-profits, childcare centres, schools, libraries and festivals from all over Australia and the world can book Larrikin Puppets to present interactive ONLINE INCURSIONS using Zoom for their private audiences – puppet shows and storytime puppet shows. Book now to bring joy to the kids of staff and parents working from or isolated at home. Discover more information now or, to enquire, just fill in the booking form.
Online Sock Puppet Craft & Puppetry Performance Workshops
Corporates, non-profits, childcare centres, schools and libraries can book our online puppetry workshops, a great activity for children and families – and adult work teams as well! Learn how to create a simple sock puppet at home prior to the workshop then attend the online Zoom puppetry performance workshop as a group. To keep up to date with workshops, sign up to our newsletter or follow us on Facebook. Kids and adults (big kids!) welcome. Discover more details now.
Puppets On Call: Bring Fun To Online Events & Meetings
Invite Larrikin Puppets to your next corporate meeting on Zoom or another online communication platform. Or invite Troggg the big blue monster or Elissa & Troggg to co-host your next online event. Discover more details or book now.
Puppet Play Dates
Join Larrikin Puppets as we facilitate a puppet play date for kids via Zoom! Meet the puppets and make new friends with kids from all over Australia! This super fun play date is for children aged 3-7 and their families, and limited to only 25 households. A supervising adult must be present. Register now for a Puppet Play Date.
Poetry With Puppets
Looking for a fun 'at home' activity where your child gets to play with words? Encourage them to write a poem in English then submit it to Larrikin Puppets to be performed by a puppet on video. Your child can then choose which puppet in our cast they'd like to have read their poem! All children aged 12 and under located anywhere in the world are welcome to enter. Discover the full details.