Newspaper Article: NOVEMBER 2018 – Article in Bribie Weekly about the 2018 Moreton Bay Region Business Excellence & Innovation Awards.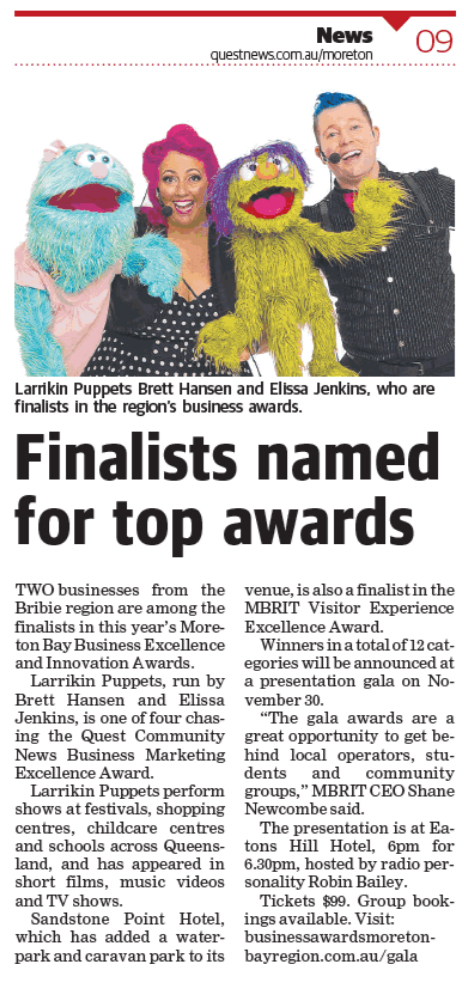 Larrikin Puppets Brett Hansen and Elissa Jenkins, who are finalists in the region's business awards.
TWO businesses from the Bribie region are among the finalists in this year's Moreton Bay Business Excellence and Innovation Awards.
Larrikin Puppets, run by Brett Hansen and Elissa Jenkins, is one of four chasing the Quest Community News Business Marketing Excellence Award.
Larrikin Puppets perform shows at festivals, shopping centres, childcare centres and schools across Queensland, and has appeared in short films, music videos and TV shows.
Sandstone Point Hotel, which has added a waterpark and caravan park to its venue, is also a finalist in the MBRIT Visitor Experience Excellence Award.
Winners in a total of 12 categories will be announced at a presentation gala on November 30.
"The gala awards are a great opportunity to get behind local operators, students and community groups," MBRIT CEO Shane Newcombe said.
The presentation is at Eatons Hill Hotel, 6pm for 6.30pm, hosted by radio personality Robin Bailey.
Tickets $99. Group bookings available. Visit: Web link no longer available.