Larrikin Puppets perform a fun and exciting Childcare Puppet Show that will keep the children, staff and parents happy!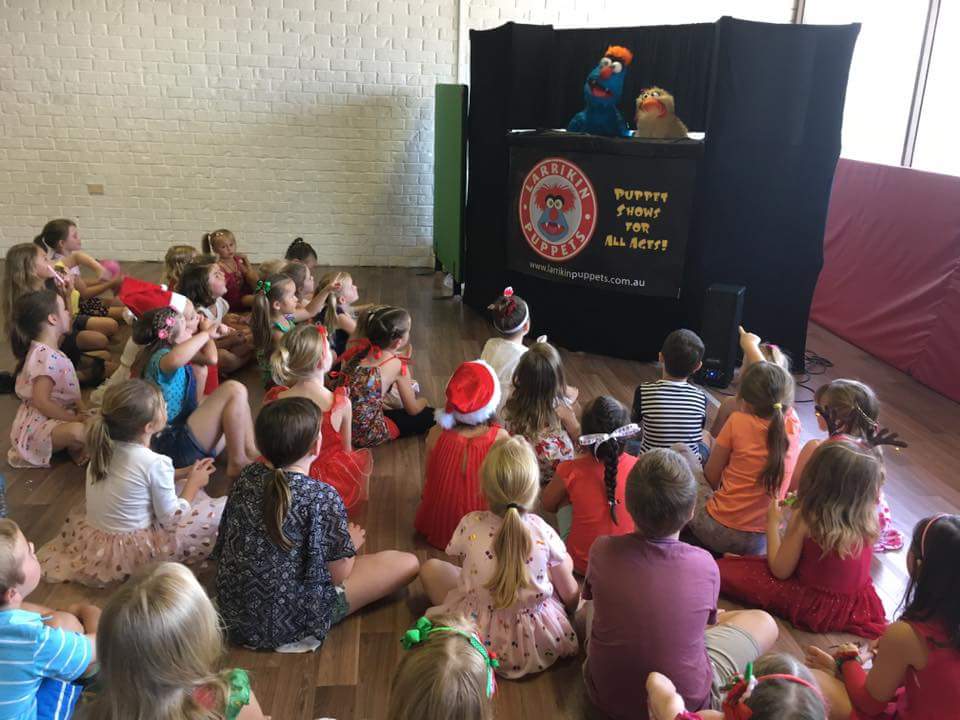 Brett Hansen and his troupe of friendly and funny puppet characters provide top quality entertainment and fun for childcare centres, day care and kindies in and around Brisbane, the Sunshine Coast and Gold Coast. See below for full details on how you can create a special and memorable day of puppets at your child care centre!
Cost:
$350.
The initial 50% deposit to lock in the booking is $175.
And then the remaining $175 can be paid in cash on the day of the puppet show, or via direct deposit. Details of Payment Methods here.
 
Description:
Suitable for early childhood, with plenty of humour for the staff and teachers to enjoy too, this is a 30 minute puppet show of songs, games, jokes, skits and comical interaction with the audience. The style of puppetry is a bit like The Muppets and Sesame Street.
Educational content – such as sharing, kindness, exercise, looking after the environment and healthy eating – can also be requested in your booking enquiry.
The show is followed by an additional presentation (lasting about 5 minutes) where Brett demonstrates to the audience how all the puppets work. Then a 5-10 minute meet-and-greet were the kids can get their photo taken with Troggg the blue monster. All up it's about a 45 minute performance.
For babies and 1-2 year olds, we offer an interactive show, filled with all the colour and musical fun of the regular show, but the puppeteer also emerges from behind the stage throughout the show with various cute and fluffy animal puppets for each child to see up close.
Content on healthy eating and food allergies has been sourced from consultations with expert naturopath and nutritionist Lauren Stark BHSc from Naturally For You Health & Wellness.
On the day:
Puppeteer arrives at the childcare centre about 45 minutes before the puppet show's starting time to set up the stage, sound equipment, props and puppets. The show (as described above) is performed for 30 minutes, followed by the 5 minute "how the puppets work" demonstration, and the 5-10 minute meet-and-greet and photo opportunity with Troggg. The puppeteer then packs up the stage and other equipment.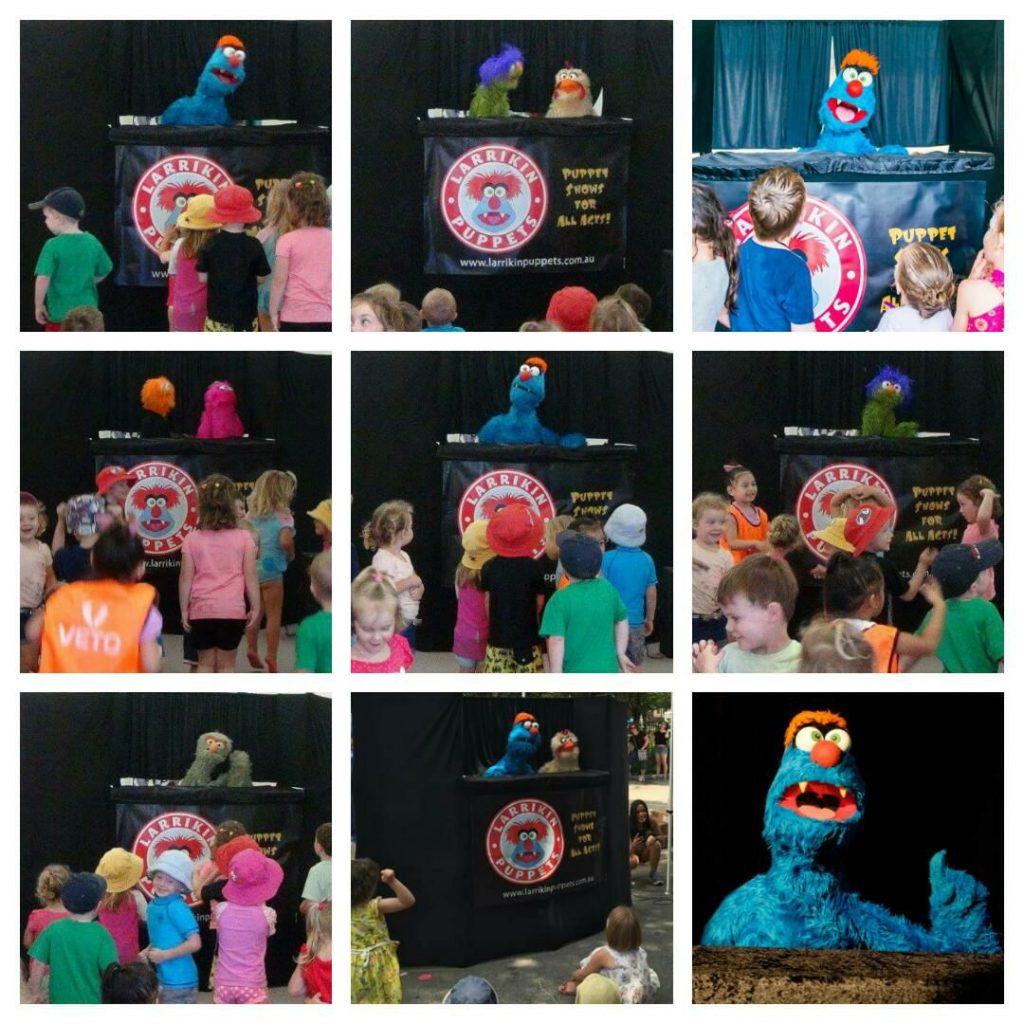 Inclusions:
30 minute puppet show of songs, games, jokes and comical interaction with the audience.

 5 minute "How the puppets work" demonstration.

 5-10 minute puppet meet-and-greet / Photo opportunity with Troggg the blue monster.

 Time allowance for travel to and from, set-up and pack-up of the puppet stage, props, puppets and sound equipment.

 Rehearsal time prior to the event.

 Quality characters.

 Quality puppetry.
Brett has a current blue card, is fully insured, professional, and punctual.


Sunkids at Burleigh said, "We had Larrikin Puppets attend our childcare centre last week and absolutely loved it! Brett kept all 106 children in the centre amused and laughing their heads off the entire time! They are still talking about the 'cute' and 'crazy' puppets! What an amazing show! Thanks Brett can't wait to have you back!!".
Beaucare in Beudesert said, "An absolutely fantastic puppet show! The children loved it, lots of laughter and excitement! Brett was very professional in his manner, extremely well organised and engaging with the children. Informative and educational show, the children were delighted to be able to touch the puppets and see how they are manipulated. I recommend Larrikin Puppets, incredible children's entertainers!"
Larrikin Puppets will also perform at public events at the childcare centre, like centre open days, fetes, and Christmas break up parties.

For more information and updates about Larrikin Puppets and our work with childcare centres, please 'Like' our Facebook page.
612 ABC Brisbane's Spencer Howson wrote an article for Bmag about Brett Hansen and Larrikin Puppets. See it here.