Larrikin Puppets perform a fun and exciting family puppet show for Fetes and Festivals that will keep people of all ages happy and entertained!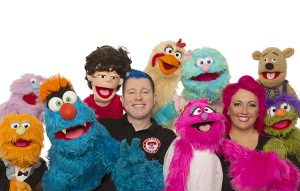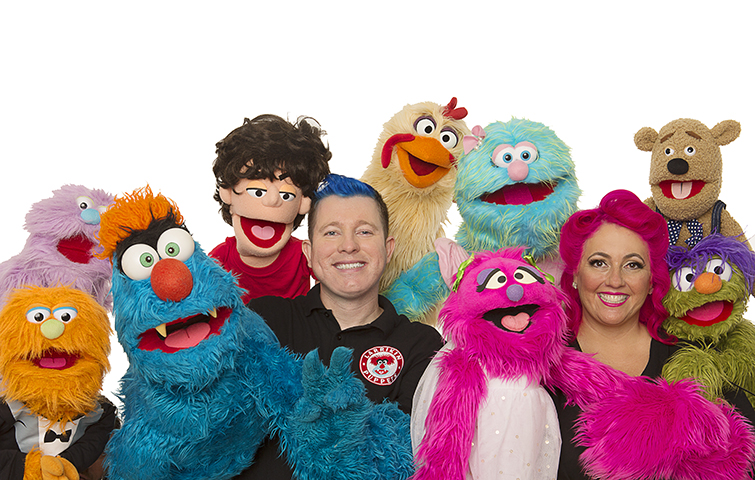 Brett Hansen and Elissa Jenkins with their gaggle of funny puppet characters provide top quality entertainment at fetes and festivals, council park shows & fairs, exhibitions and other showground events in and around Brisbane, Ipswich, the Gold Coast and Sunshine Coast.
Larrikin Puppets have performed at the Woodford Folk Festival, the Ipswich Festival, the Puppetry Arts Festival of Brooklyn (New York, USA), the Redcliffe Sails Festival, the Bundaberg Pageant of Lights, the Mary Poppins Festival (Maryborough), the Goodna Jacaranda Festival, the Darra Street Festival, the Brisbane Zombie Walk (RNA Showgrounds), Crazy Kids School Holiday Fun (Mt. Coot-tha Botanical Gardens), Little Days Out at South Bank, The Hills Carnivale (Ferny Hills), The Moorooka Festival, the West End Festival, the Chrome Street Fiesta (Salisbury), the Caboolture Family Fun Day, the Racecourse Road Community Christmas (Hamilton), the Sunshine Coast Teddy Bear Fair (Buderim), the Griffin Community Christmas, Caboolture Christmas Carols, Moorooka Christmas Carnivale, A Day For Duke (Bribie Island), open days, school fetes, church fetes and more.
See below for full details on how you can include a puppet show at your festival or public event!
Larrikin Puppets festival puppet shows are $550 per show. Additionally, some festivals choose to have some roving puppetry as well, which is $90 per hour. However, for more than one performance combined with some roving, we can do a deal for you. Contact us here to discuss.
Puppet Show details –
Suitable for the whole family, the puppets perform a zany variety show of songs, skits, jokes, games and comical interaction with the audience. It's interactive and live (rather than pre-recorded). Kids are encouraged to sing and play along. The finale of the show has us teaching six volunteers from the audience how to operate some backup singer/dancer puppets for the final song.
After the show: We will be available to do a 5-10 minute meet and greet and photo opportunity with Troggg the blue monster and other puppets.
Cost: $550.
We can also offer a cheaper "1 puppeteer" option (just Brett) for $450. Less gender balance of characters, but still just as engaging and exciting as the "2 puppeteer" option.
Total duration: 45 minutes.
Cost Covers:
– 30 minute puppet show of songs, games, jokes and comical interaction with the audience, including six audience volunteers to perform with puppets in the show's finale.
– 5-10 minute Puppet meet-and-greet / Photo opportunity with Troggg and Flossy.
– Time allowance for travel to and from, set-up and pack-up of the puppet stage, props, puppets and sound equipment.
– Rehearsal time prior to the event.
– Quality characters.
– Quality puppetry.
Roving details –
Brett wanders around events with Troggg the blue monster and/or Moss the green monster. Elissa wanders around events with Flossy the pink monster. Guests can chat and mingle with Troggg/Moss/Flossy, and get their photo taken with them.
Additional inclusions for the cost:
– Time allowance for travel to and from the event, set-up and pack-up of the puppet stage, props, puppets and sound equipment.
– Rehearsal time prior to the event.
PLEASE NOTE: Events that require us to travel long distances (ie. flights from Brisbane or drives longer than three hours from Brisbane) will incur additional costs such as flights, excess baggage, fuel and accomodation for two. If your budget allows for this, please contact us to make arrangements.
Professional Development and Formal Training:
We've recently completed three months of professional development in the USA, which included advanced, formal training with puppeteers from The Muppets and Sesame Street.
Blue Card and Insurance:
We have current Blue Cards (Brett's number is 1161011/2, Elissa's is 690261/2) and are fully insured with Public Liability insurance through "Duck For Cover" entertainers insurance. These documents can be attached to an email, should you need them. Larrikin Puppets is also listed on the Brisbane City Council Creative Register.
Stage Set-Up:
It usually takes around 45 minutes to an hour to set up the puppet stage, props, puppets and sound equipment. It's a portable puppet stage with an overall height of 1.8 metres, and an overall length of 2.4 metres. The puppet stage is only a front-on facade. We require about a metre and a half to two metres behind it to lay out the puppets, props, and puppeteers for performing.
Music and Sound Effects:
For music and sound effects, we use our own PA speakers which we plug in an iPod and headset mics. Festivals and fetes usually provide us with their own headset mics, and plug us in via their main PA system to project to larger audiences, often using a D.I. box (direct input). We need to be able to access the iPod from behind the puppet stage, as we start and stop it throughout the performance.
If there are any other queries, please feel free to have a look at the FAQ page, outlining everything anybody could wish to know – http://www.larrikinpuppets.com.au/faqs/
And our Terms & Conditions, including a bit of information on adult supervision (or crowd control) during the performance – http://www.larrikinpuppets.com.au/terms-and-conditions/
On the day:
Puppeteers arrive about 1 hour before the puppet show's starting time to set up the stage, sound equipment, props and puppets. The show (as described above) is performed for 30 minutes, followed by a "How the puppets work" demo and a meet-and-greet/photo opportunity. The puppeteers then pack up the stage and other equipment.

You can find more information about Larrikin Puppets on Facebook, Twitter, LinkedIn, Instagram, Pinterest and Google Plus.