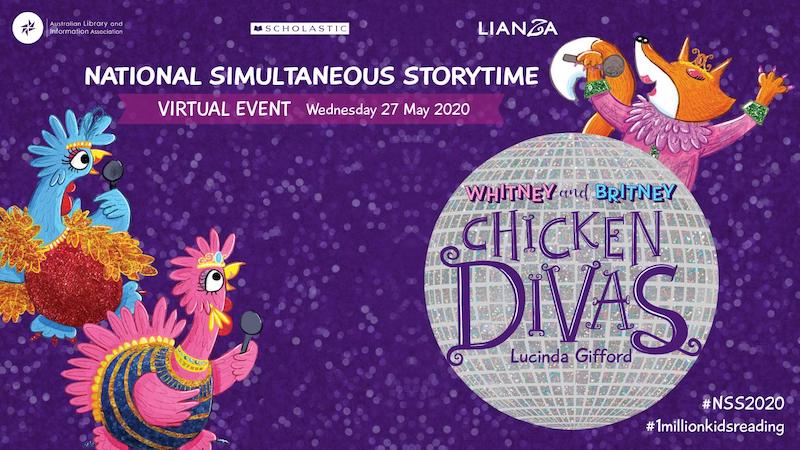 To help support the value of reading and literacy and support the value and fun of books, Larrikin Puppets will be doing a FREE Facebook Livestream Storytime Puppet Show at 11am on Wednesday 27 May as part of the National Simultaneous Storytime!
National Simultaneous Storytime (NSS) is held annually by the Australian Library and Information Association (ALIA). Every year a picture book, written and illustrated by an Australian author and illustrator, is read simultaneously in libraries, schools, pre-schools, childcare centres, family homes, bookshops and many other places around the country.
This year's book is Whitney and Britney Chicken Divas written and illustrated by Lucinda Gifford.
Elissa will read the book 'Whitney and Britney Chicken Divas' with the help of her book-loving monster friend Frazzamatazz. We'll also perform some songs and games – and may even invite you to do some dancing. Bonus!
Just visit the Larrikin Puppets Facebook page at 11am AEST on Wednesday 27 May and you'll be able to tune in for free! No registration is required for this event, so be sure to mark it in your calendars.
Get your kids excited about our new songs before the show! Find out how to listen at www.larrikinpuppets.com.au/music
About The Book:
Whitney and Britney are two gorgeous chooks who live alongside Dora von Dooze. But Dora is perplexed – why do her dear chickens seem to sleep all day long? Dora decides to snoop. She follows the chooks out at night to the local jazz club where she discovers, to her amazement, that they are Whitney and Britney: Chicken Divas!
Love the sound of this book? You can purchase it at ALIA's online shop.