Bribie Weekly – Friday, 6 October 2017. Article about the 2017 "Island Puppetry Workshop" which took place on 28th and 29th of October, 2017.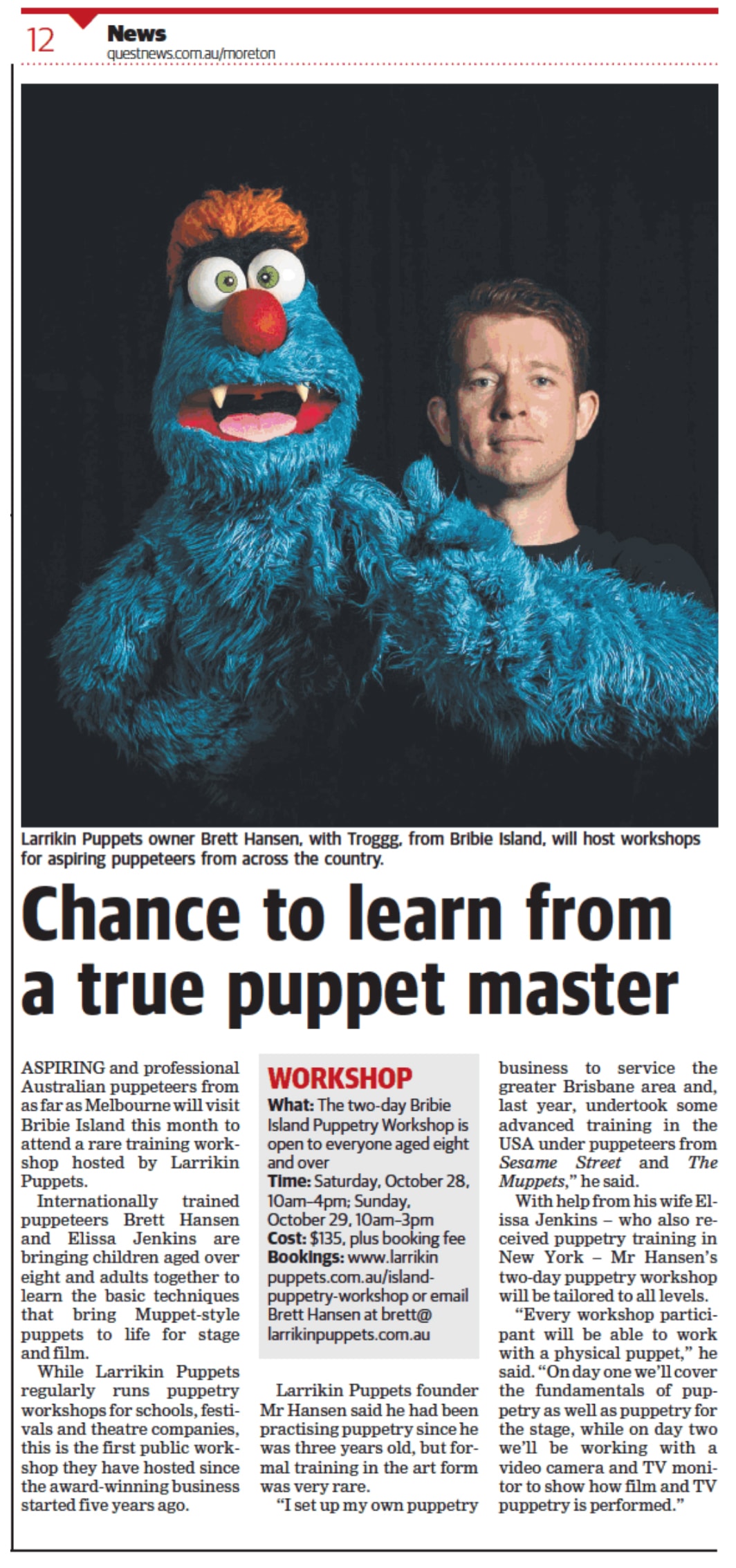 Chance to learn from a true puppet master
Aspiring and professional Australian puppeteers from as far as Melbourne will visit Bribie Island this month to attend a rare training workshop hosted by Larrikin Puppets.
Internationally trained puppeteers Brett Hansen and Elissa Jenkins are bringing children aged over eight and adults together to learn the basic techniques that bring Muppet-style puppets to life for stage and film.
While Larrikin Puppets regularly runs puppetry workshops for schools, festivals and theatre companies, this is the first public workshop they have hosted since the award-winning business started five years ago.
Larrikin Puppets founder Mr. Hansen said he had been practicing puppetry since he was three years old, but formal training in the art form was very rare.
"I set up my own puppetry business to service the greater Brisbane area and, last year, undertook some advanced training in the USA under puppeteers from Sesame Street and The Muppets," he said.
With help from his wife Elissa Jenkins – who also received puppetry training in New York – Mr. Hansen's two-day puppetry workshop will be tailored to all levels.
"Every workshop participant will be able to work with a physical puppet," he said. "On day one we'll cover the fundamentals of puppetry as well as puppetry for the stage, while on day two we'll be working with a video camera and TV monitor to show how film and TV puppetry is performed."
Here are some more details about the Island Puppetry Workshop – http://www.larrikinpuppets.com.au/island-puppetry-workshop/
And below is a video showing highlights from all the fun we had over that weekend: