Some of the the most popular events in the world to see puppet shows are private parties. Whether held in the back yard or in the lounge room, puppet shows are classic entertainment for parties. Some of Larrikin Puppets' first bookings were for kids' birthday parties around Brisbane, the Moreton Bay Region, the Sunshine Coast, Gold Coast, Ipswich and the Redlands. The popularity of these puppet shows has grown a lot since. From 1st birthday parties to 60th birthday parties! Our puppets have been there!
We've performed at parties on rooftops, in parks, Indian, Greek and Italian restaurants, function halls, pubs and clubs. Once we were booked to perform on a small stage that was set up in a back yard! At that same party they even had a birthday cake of our very own Troggg's face! Pictured below.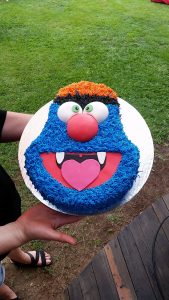 You can learn more about our exciting puppet shows for kids' parties here.
We also perform puppet shows for grown up parties! Who says kids should have all the fun? You can find out more about these here as well!
We have also performed at combined parties where several people of all ages are celebrating birthdays, engagements and marriages at the same event.
Have a look at all the options and prices, and book Troggg and his friends from Larrikin Puppets for your party today!