Larrikin Puppets perform an exciting and colourful puppet show at play centres that keep the whole family entertained!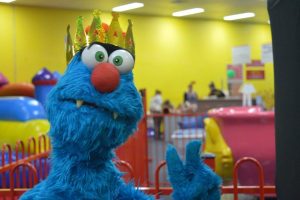 Brett Hansen, Elissa Jenkins and their furry, funny puppet characters provide top quality entertainment at play centres in and around Brisbane, Ipswich, the Gold Coast, Moreton Bay Region and Sunshine Coast.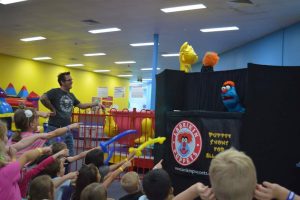 Larrikin Puppets have performed at Tabatinga Play Centre at Seagulls Club in Tweed Heads, Rainbow City Children's Play Centre And Cafe in Underwood, Paradise Resort on the Gold Coast, and Lollipop's Playland in Cannon Hill.
See below for full details on how you can include a puppet show at your favourite play centre!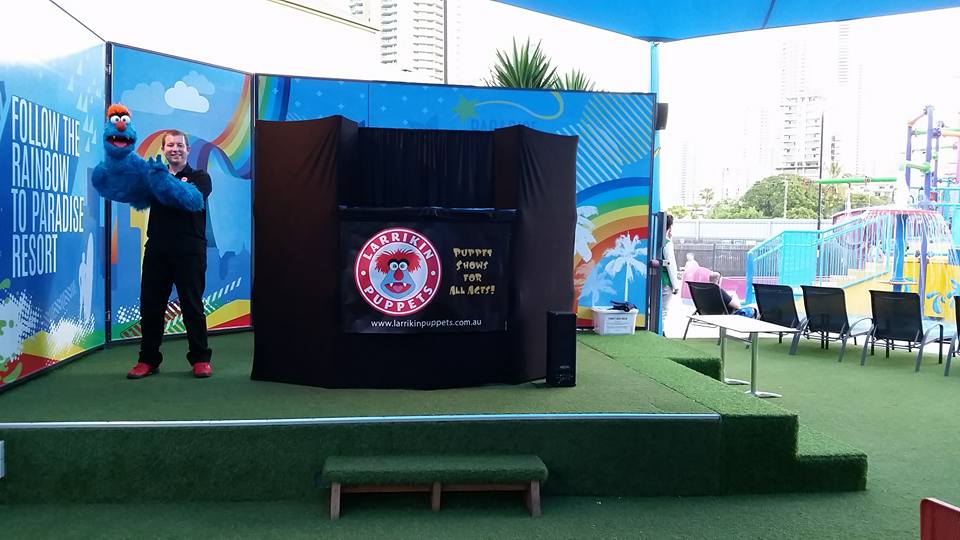 We have two options for play centre visits:
1. PUPPET SHOW
 – 30 minute puppet show of songs, games, jokes, skits and comical interaction with the audience. The style of puppetry is a bit like 
The Muppets
 and 
Sesame
Street
. The show is followed by an additional presentation (lasting about 5 minutes) where we demonstrate to the audience how all the puppets work. Then a 5-10 minute meet-and-greet were the kids can get their photo taken with "Troggg" the blue monster (pictures attached). All up it's about a 45 minute performance. We have found that the puppet shows are enjoyed most by the youngest children aged 1-6. 
Cost: 
$
450.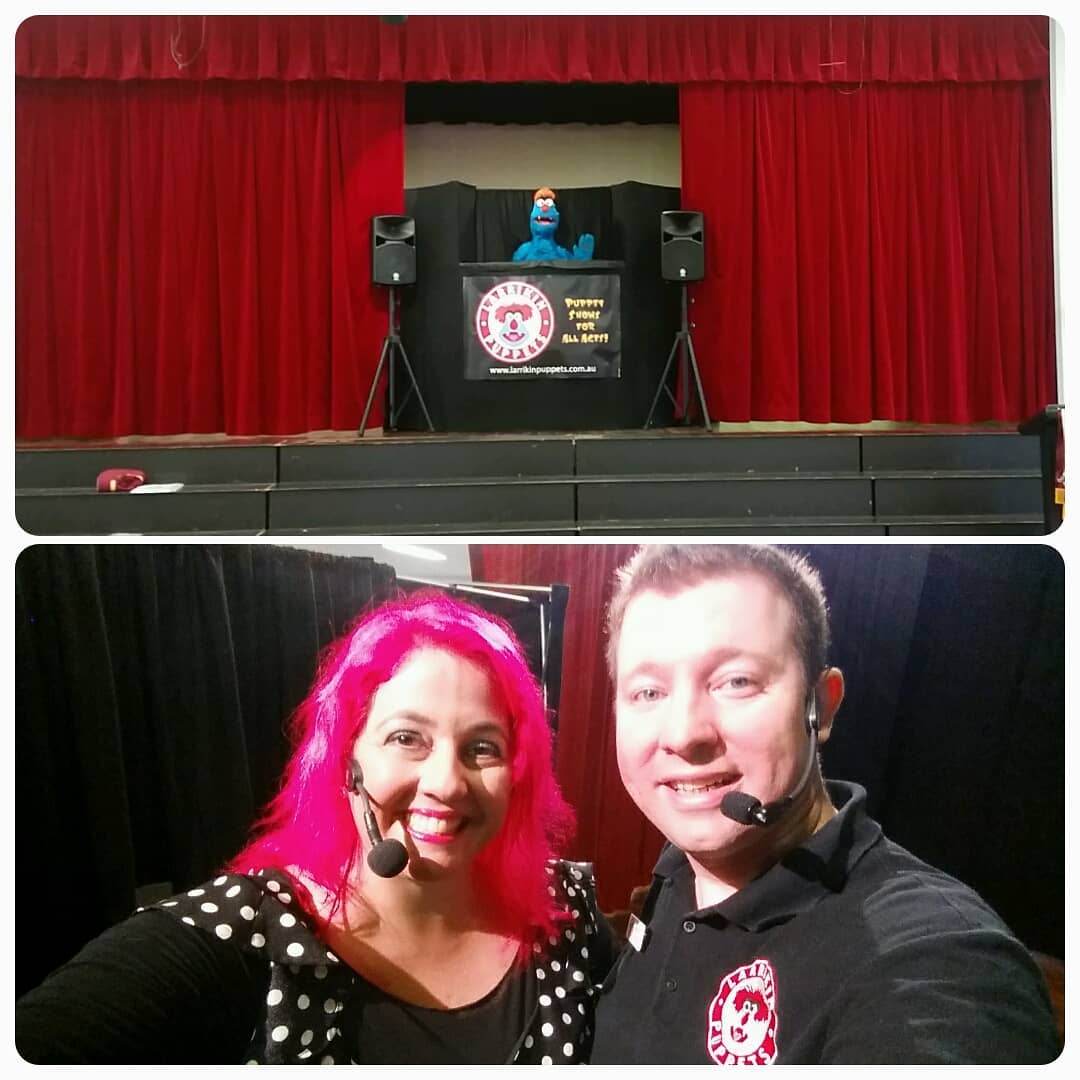 Sometimes, parents hold their children's birthday parties at a play centre, and invite us to perform there as part of the festivities. Birthday party puppet shows booked by parents are $250, whether held in the back yard, living room, the park, a restaurant or at a play centre.
Contact us here
to discuss details, dates, terms and conditions.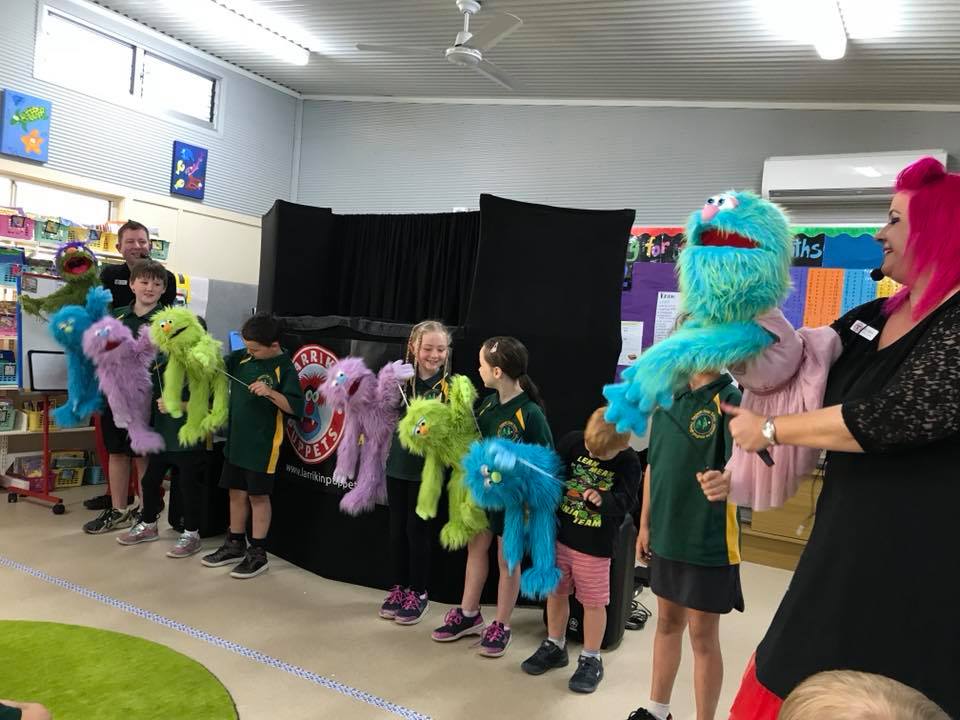 2. PUPPETRY WORKSHOP – 1 hour workshop where Elissa and Brett teach puppetry performance for beginners. We don't teach the building/craft side. Just the performance side. We bring along 40 workshop puppets for students to practice with in the class. We teach lip sync, eye focus, walking, arm movement, voices, etc. Puppetry is great for building confidence, improving communication and making people laugh. It's amazing to see how puppets can help shy, reserved people come out of their shell. Students get an opportunity to come up on stage and demonstrate what they've learnt in the class. We have found that the puppetry workshops are enjoyed most by the older children aged 7 and over. The workshops begin with a short puppet show to demonstrate how the puppets look when performed properly. Cost: $500.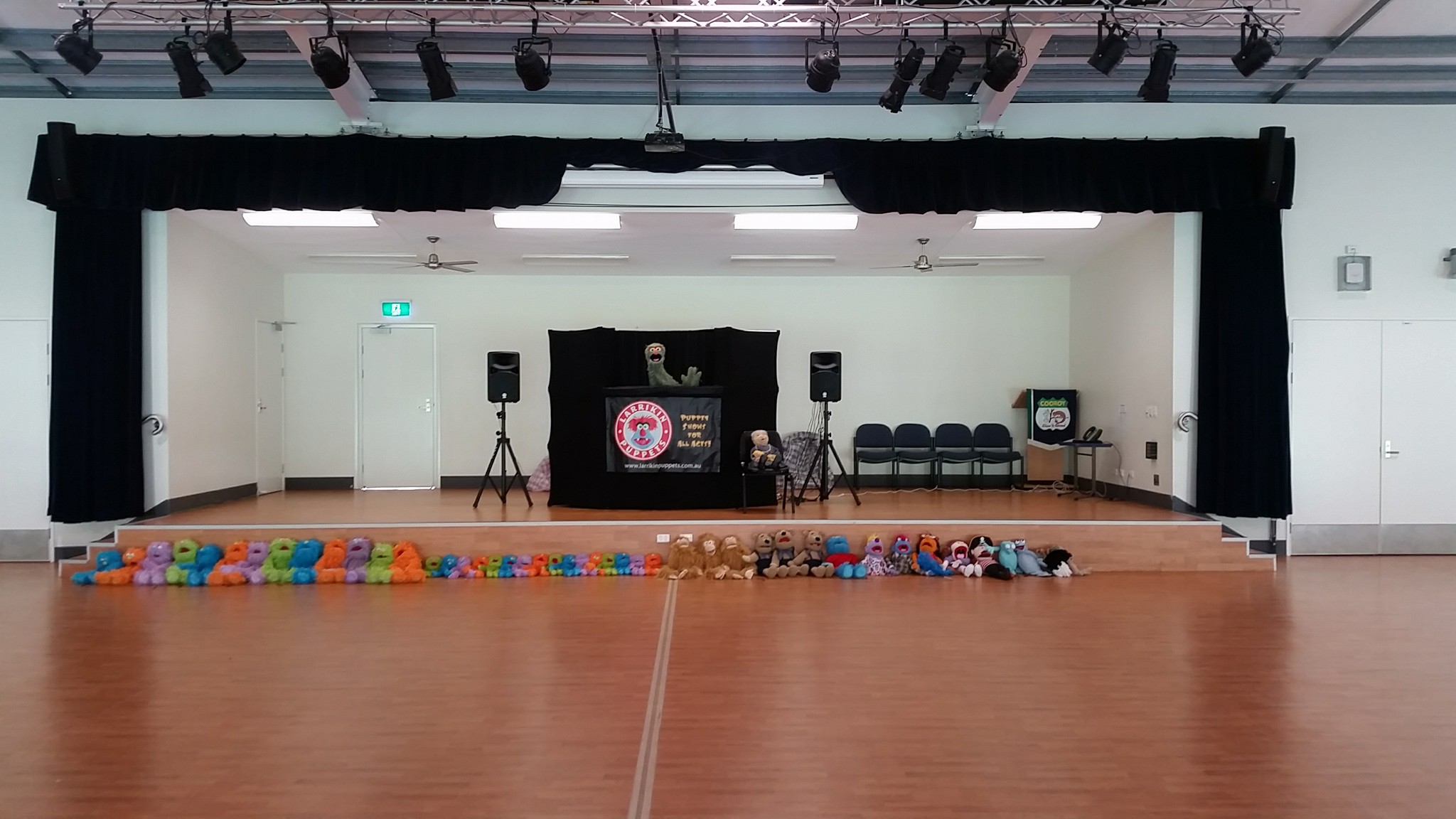 We charge an initial 50% deposit to confirm the booking ($225 if it's for a puppet show; $250 if it's for a workshop). This ensures that the chosen booking time is yours, and we'll refuse other people wanting the same date and time. And then the remaining balance can be paid in cash on the day of the event, or via direct deposit afterwards. More on Payment Methods here: 
http://www.larrikinpuppets.com.au/faqs/what-are-your-payment-methods/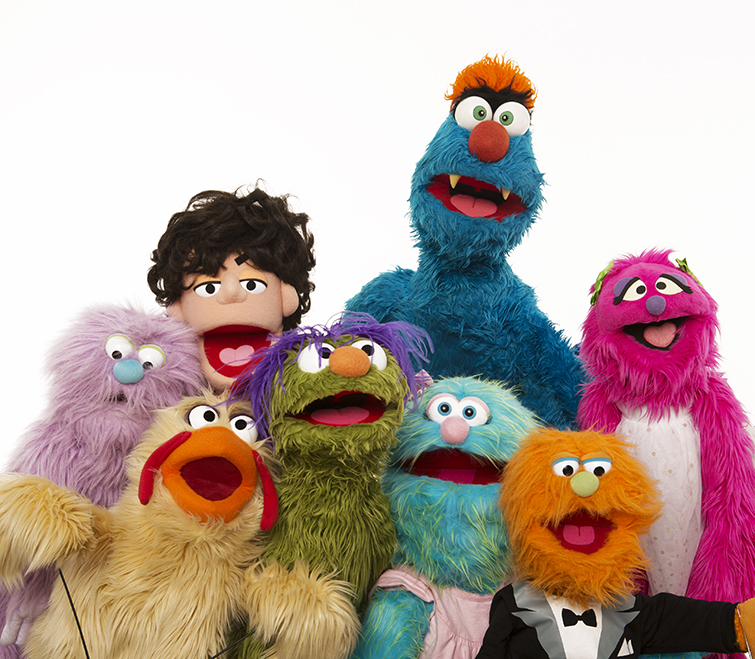 Inclusions for the Cost:
– As above; Puppet Show/How the Puppets Work demo or Puppetry Performance Workshop.
– Photo opportunity with Troggg the blue monster.
– Time allowance for travel to and from venue.
– Load in, Set-up and pack-down of the puppet stage, props, puppets and sound equipment. We arrive around 1 hour prior to starting time for load in and set up.
– Rehearsal time prior to the event.
– Quality characters.
– Quality puppetry.
PLEASE NOTE: Events that require us to travel long distances (ie. flights from Brisbane or drives longer than three hours from Brisbane) will incur additional costs such as flights, excess baggage, fuel and accomodation for two. If your budget allows for this, please contact us to make arrangements.
Professional Development and Formal Training:
We have completed three months of professional development in the USA, which included performances and advanced training with Jim Henson puppeteers from The Muppets and Sesame Street.
Blue Card and Insurance:
We have current Blue Cards (Brett's number is 1161011/3, Elissa's is 690261/3) and are fully insured with Public Liability insurance through "Duck For Cover" entertainers insurance. These documents can be attached to an email, should you need them.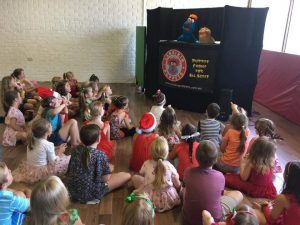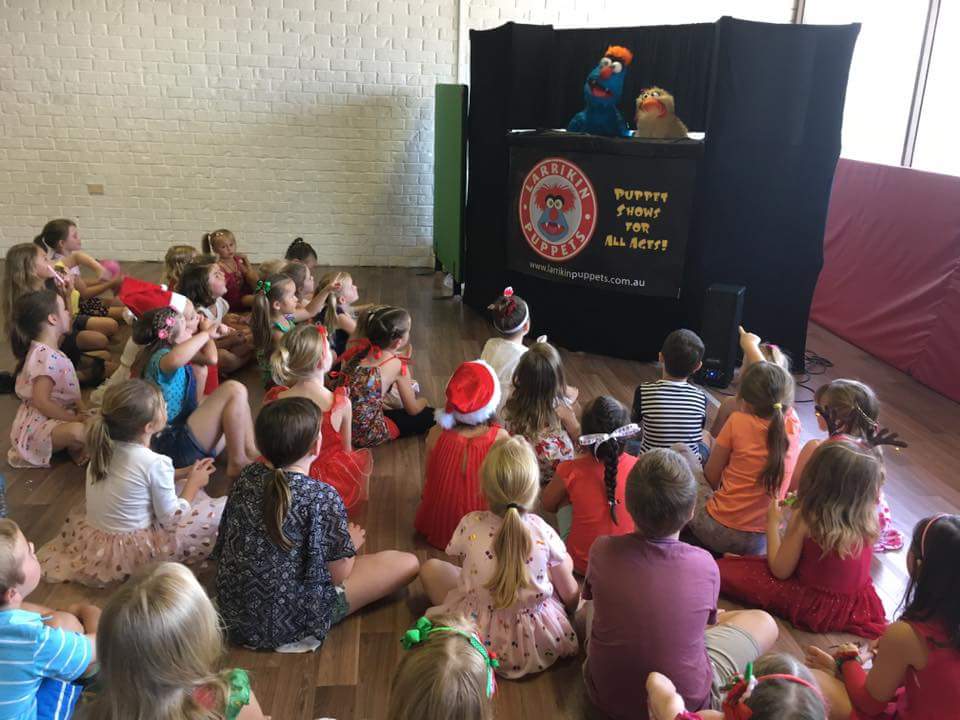 Stage Set-Up:
It usually takes around 45-60 minutes to set up the puppet stage, props, puppets and sound equipment. It's a portable puppet stage with an overall height of 1.8 metres, and an overall length of 2.4 metres. The puppet stage is only a front-on facade. We require about a metre and a half to two metres behind it to lay out the puppets, props, and puppeteers for performing.
Music and Sound Effects:
For music and sound effects, we use an amp which we plug in an iPod and headset mics.
If there are any other queries, please feel free to have a look at the FAQ page, outlining everything anybody could wish to know – http://www.larrikinpuppets.com.au/faqs/
And our Terms & Conditions, including a bit of information on adult supervision (or crowd control) during the performance – http://www.larrikinpuppets.com.au/terms-and-conditions/
On the day:
Puppeteers arrive about 1 hour before the puppet show's starting time to set up the stage, sound equipment, props and puppets. The show (as described above) is performed for 30 minutes, followed by a "How the puppets work" demo and a meet-and-greet/photo opportunity. The puppeteers then pack up the stage and other equipment.

Larrikin Puppets can be found on such social media platforms as Facebook, Twitter, LinkedIn, Instagram, Pinterest and Google Plus.