Larrikin Puppets perform a puppet show for schools that can be both educational and very entertaining for students and teachers alike!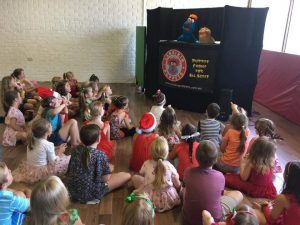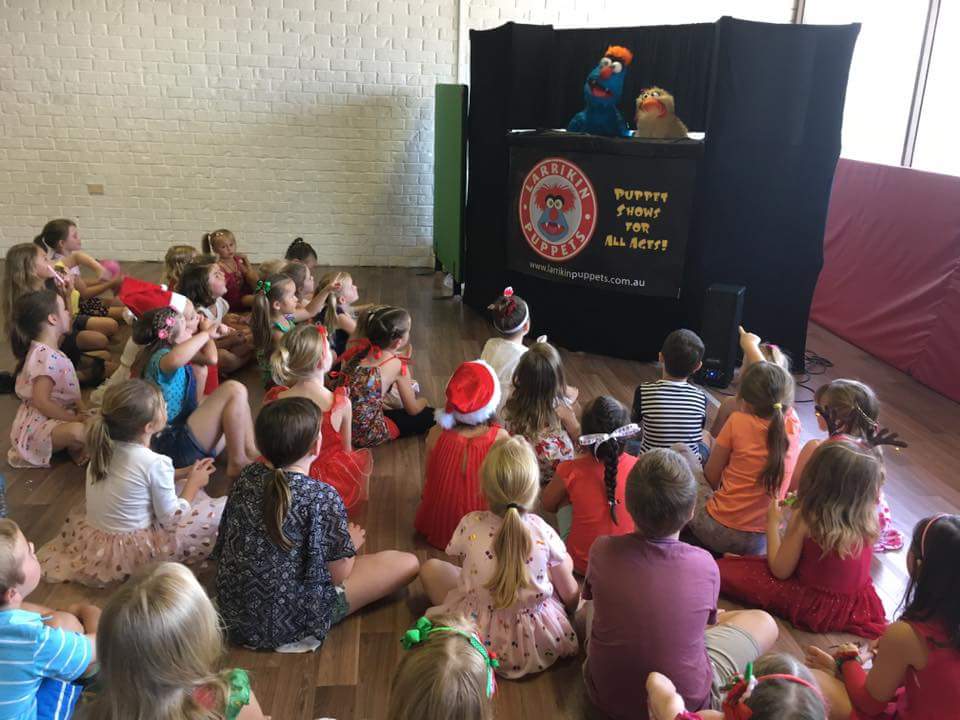 Puppeteer Brett Hansen and his funny characters provide top quality educational entertainment and fun for schools in and around Brisbane, the Gold Coast and Sunshine Coast. See below for full details on how you can treat the students to a special puppet show at school!
Cost Options: 
$450 (two puppeteers – Elissa and Brett).
$350 (one puppeteer – Just Brett).
Having the two puppeteers (Elissa and Brett) means more gender balance with some female puppet characters and more audience interaction. If that doesn't suit your budget, the solo shows (just Brett) with "Troggg" and the gang are just as dynamic and exciting.
There is an initial 50% deposit to lock in the booking.
This ensures that the chosen booking time is yours, and we'll knock back others wanting the same date and time. And then the remaining balance can be paid in cash on the day of the event, or via direct deposit afterwards. Details of Payment Methods here.

Description:
Suitable for early childhood to primary school level (with plenty of humour for the teachers to enjoy too), this is a 30 minute puppet show of songs, games, jokes, skits and comical interaction with the audience. The style of puppetry is a bit like The Muppets and Sesame Street.
Educational content – such as friendship, sharing, anti-bullying, caring for the environment and healthy eating – can also be requested in your booking enquiry. There are all sorts of other messages and lessons that schools might like to incorporate into the puppet show. We're happy to discuss any ideas you have, which we can write into a show for you.
The show is followed by an additional presentation (lasting about 5 minutes) where Brett demonstrates to the audience how all the puppets work. Then a 5-10 minute meet-and-greet were the kids can get their photo taken with Troggg, our friendly blue monster star. Sometimes at schools, they have all the students line up at the door and give Troggg a high five as they file out.
All up it's about a 45 minute performance.
On the day:
Puppeteers arrive about 1 hour before the puppet show's starting time to set up the stage, sound equipment, props and puppets. The show (as described above) is performed for 30 minutes, followed by the 5 minute "how the puppets work" demonstration and the 5-10 minute meet-and-greet and photo opportunity with Troggg. The puppeteer then packs up the stage and other equipment.
Cost Covers:
– 30 minute puppet show of songs, games, jokes and comical interaction with the audience.
– 5 minute "How the puppets work" demonstration.
– 10 minute puppet meet-and-greet / Photo opportunity.
– Time allowance for travel to and from, set-up and pack-up of the puppet stage, props, puppets and sound equipment.
– Rehearsal time prior to the event.
– Quality characters.
– Quality puppetry.
Brett and Elissa have current blue cards, are fully insured, professional, and punctual.


Content on healthy eating and food allergies has been sourced from consultations with expert naturopath and nutritionist Lauren Stark BHSc from Naturally For You Health & Wellness.

You can find more information about Larrikin Puppets on Facebook, Twitter, LinkedIn, Instagram, Pinterest and Google Plus.
See the article that 612 ABC Brisbane's Spencer Howson wrote for Bmag about Brett Hansen and Larrikin Puppets here.