Had a good experience? We'd love to hear from you! Add your testimonial here!
Book Week | Wesley Mission Queensland Child Care Services
We had an absolute blast! The children laughed the whole way through the show and loved the opportunity to meet the puppets and puppeteers afterwards! What a great way to celebrate book week!
- Kate Redward.
Such a good show. My kindergartners have not stoped talking about it since yesterday. Thank you.
- Parin Irani.
Thank you Larrikin Puppets for the fantastic story time puppet show at our Jahjumbeen Kindergarten and Child Care Centre! #bookweek
Jahjumbeen Kindergarten and Child Care Centre
Wesley Mission Queensland Child Care Services
JUST DIVINE
Wow what a wonderful show that Brett and Elissa performed at our childcare centre last week. Actually I think the word "divine" was mentioned by our Kindergarten Teacher. We are always looking for new incursions for our children and luckily we stumbled across Larrikin Puppets (don't know why we hadn't found them earlier). They were fun, professional and great value. The children were in hysterics the whole show and loved meeting the puppets afterwards. I highly recommend them and will be having them back each year.
Jenny Somerville
Miami Community Children's Centre
The next big thing coming out of Queensland
Larrikin Puppets are supremely talented. We hired them for my daughter's 5th birthday recently (July 2019) and it was every bit of the fun and mischief we were hoping for.
It's a pretty unique opportunity to have had the experience and the kids and parents all raved about my daughter's special day. Brett and Elissa are kind, personable and very knowledgeable - I feel certain that they are on a trajectory for success and fame (TV pilots and other exciting projects in the wings!) and feel grateful to have been able to have such an intimate performance by them for our friends and family.
All the best guys. Good luck with everything the future holds.
Engaging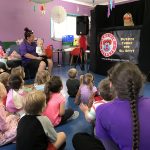 It was amazing to watch many toddlers engaged the entire time. We had a broad age group of children from 12 months to 5years. Even the most reluctant audience members were totally engaged and participating towards the end of the show. It was loved by all including the grandmother that came to watch with her granddaughter. We are hoping we can coordinate it again for next year.
Jindalee State School - Great show | Value for money | Aligns with Year 1 curriculum
We incorporated The Larrikin Puppet Show into our Design Technology and Drama units. The Year 1 students absolutely loved the show and were completely engaged throughout it. The opportunity to meet the puppets and learn how they work was fabulous. We will definitely book Larrikin Puppets to perform at our school as a part of these units for many years to come. # great show # value for money # aligns with Year 1 curriculum
Melissa Franklin
Jindalee State School
Perfect birthday party entertainment
Perfect birthday party entertainment
"We highly recommend Larrikin puppets for kids birthday party. We had the most wonderful time at my son's 3rd birthday party. All the kids from the age 2-10 enjoyed the show. Even the adults couldn't keep their eyes off the show. I couldn't have better entertainment for the party, worth every cent. Brett was amazing. Kids loved the theme of the show which was appropriate to cater for the age range. "
Amee and Dharmesh
Ruby's 3rd Birthday Party
Thank you so much Brett! What an awesome addition to the party you are. Everyone was raving about you and the puppets and it really made Ruby's night. We had to sit and watch the little video I took over and over and over and over again.
Thank you for your professionalism and talent. Just awesome x x
Island Puppetry Workshop 2018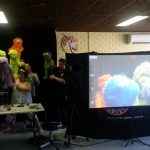 I just completed the Island Puppetry Workshop and thought it was fantastic. So much fun and Brett and Elissa pass on so much information and are both just really lovely people too. Highly recommend this workshop!
Island Puppetry Workshop 2018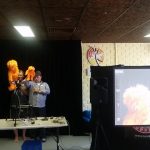 Thank you so much for your hard work organising such an incredible weekend. To learn from so many wonderfully talented people is such a pleasure. We're all on our own individual journeys, but somehow we're all on it together. Thank you everyone. 😊
Danny O'Brien
Mr. Toot Entertainment
Island Puppetry Workshop 2018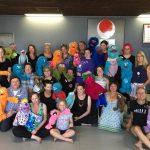 What a wonderful bunch of people and puppets! Thanks Brett and Elissa for the work, time and dreams that went into this weekend, I had a blast!
Island Puppetry Workshop 2018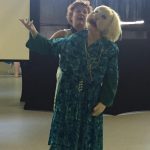 Thanks for the great weekend all you wonderful fur and fleece babies. Lovely to meet you all. Have fun and keep making the world better with puppets.
Rebecca Dostal
The Puppetarians
Island Puppetry Workshop 2018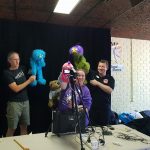 For various reasons I've actually had a really crap month... until this weekend. Thanks everyone for making it such a memorable one. I have been wanting to dip my toe into this dark art for a long time and it was as much fun as I always thought it would be. You all rock. And Elissa and Brett... I know how hard you work. Thank you! 🙂
Alfie's 5th Birthday Party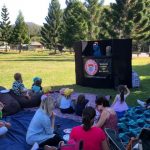 Hi Brett
Thank you so much for such a great puppet show at Alfie's birthday. It was a real hit - lots of fun for young and old. I also liked the way you explained the puppets after the show and gave the children a chance to interact with the puppets.
Cooroy and Noosa Library Puppetry Workshops
We had heard about Larrikin Puppets, and of course the name appealed immediately. However, when we met Elissa and Brett and saw their fabulous show and workshop we were blown away. The show appeals to children of all ages, including toddlers up to young teens, and gives a lively introduction to puppetry and how it works. They bring all their own Muppet-style puppets – and there are lots of them, big and small – so that all the children can learn to handle their own puppet character. The workshop leads participants through a range of puppetry devices: movement, voice, creating character, and culminates in a mini-performance. Audience participation is high, and both Elissa and Brett are very attentive to individual children. Parents, grandparents and the children all had a great time. Warning: There may be a chance of higher than usual noise levels and wildly exciting fun!
Maureen O'Shea
Young People's Librarian
Noosa Library Service
Maureen O'Shea
Noosa Library Service
6th Birthday Puppet Spectaular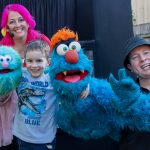 We booked Larrikin Puppets for my sons 6th birthday party. There were about 24 children and the same number of adults in attendance. Every single person in our backyard was entertained. The show was funny, fast paced (important to keep those little attention spans watching) and constantly changing with at least 6 different puppets making an appearance, the audience interaction was brilliant. My son couldn't believe the puppets knew his favourite food, how much he liked dinosaurs and his face lit up every time they said his name. I had so many parents come up after and tell me how much they had enjoyed the entertainment. Brett and Elissa were also professional in their set up, pack up and interaction with me. I could not recommend Larrikin Puppets more highly and thank them so much for making my son's birthday so much fun!!!
Flynn's Birthday Party
Thanks so much again for the fabulous show on Sunday. I have never seen so many kids so excited and joyful before. Everyone loved it so much, especially our birthday boy.
Mansfield State School
Thank you so much for the wonderful Puppet Show you provided for the Year One Mansfield children. It was very entertaining and informative.
I hope your experience at our school was enjoyable for you both too. We hope that we can have your show back at our school another time.
Thanks again.
Rachel Baker - Senior Teacher
Mansfield State School
Kilcoy State School
Hi Brett & Elissa,
Thank you so much for your visit to Kilcoy! By all accounts and excitement from the children, they had an awesome time. The children have been very keen to make their own puppets and perform with our finger and hand puppets. Thanks once again for your wonderful performance.
Sharon Goode
Kilcoy State School
4th Birthday Party
Dear Brett,
I cannot say thank you enough! The kids had such a fantastic time as did the grown ups. Thank you for making Kiera's birthday so memorable. We will certainly be recommending you to friends and family.
All our children sat through the entire presentation
It's not often a show is enjoyed by babies, however Larrikin Puppets captivated their attention for 30 minutes without a cry. Our older children are still talking about the show two weeks on!
Best Kids Party Ever!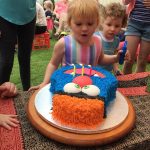 I would highly recommend Larrikin Puppets for a kids party. We had the most wonderful 3rd birthday party for our daughter. All of the children as well as the adults thoroughly loved it. It was so entertaining and for a mother that is not into amusing a backyard full of three year olds it was the best value for money ever! It truly was worth every cent. If you want something really unique that will bring a lot of joy book Larrikin Puppets. You won't be disappointed.
Sunshine Coast Teddy Bear Fair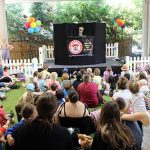 Please accept my sincere thanks for helping us make last weekend's Teddy Bear Fair such a huge success. Feedback received from the event, both on the day and via the online feedback forms we've received since, has been overwhelmingly positive and the day simply wouldn't have had the same energy without your generous support.
Your performance on stage was absolutely amazing and several people have commented specifically on how 'fantastic' the puppet show was.
Thanks again for helping us to raise the profile of our maternity services among the Sunshine Coast community.
National Aboriginal and Islander Children's Day
Brett and his awesome crew of puppets entertained kids aged 2 to 72 at The Family Place for Aboriginal and Islander Children's Day last week. It was hilarious and a treat that will be talked about for years to come. I still have the talking cheesecake song stuck in my head.
VIBE Markets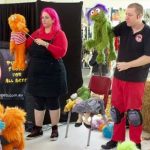 Hi Brett and Elissa, thank you so very much for today...we are still receiving enthusiastic and positive feedback from the many happy people who watched and took part in your show. A number of Mums and Dads have even told us that their little puppeteers have been putting on shows for the family ever since this morning's workshop. A big thank you again for putting smiles on our market goers' faces. Regards, Vanessa
Commendation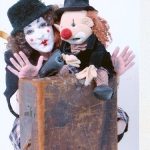 I really want to commend and honour you both for your work. I met Elissa today and am so exited!!!!
INSERT GLEE HERE !!!
You could fulfil no greater role than deliver into the space of developing children and keep the magic alive in their evolving minds. You are contributing to their emotional intelligence ( among other things ), at a time when society is calling out for more joy and happiness.
Like you to meet my alter ego....Thomas....Doubting Thomas!! I will see your show sometime soon i hope!!
Pat
Pat Armitstead
Keynote Speaker -Facilitator - Coach - Author
Producer and Host of "The Laughter Channel TV - Where human interest meets humour interest""
Authentic Leadership- Engagement - Wellbeing
H. 61 7 3325 2216 M. 0487105785 Skype joyologist www.joyology.co.nz
My Fair Lady - QPAC
GREAT job today. It was just what the doctor ordered and the company can't stop laughing... particularly about the chicken, for no reason I can point to. Thanks for doing a bang up job!
- DON WINSOR
Touring cast and company of My Fair Lady.
Taigum Child Care Centre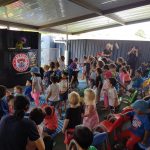 This week at Taigum Child Care Centre we were very fortunate to have Mr Brett and his wonderful puppets from Larrikin Puppets perform for all the children.
Children, Staff, Parents and Grandparents were captivated by the performances and enjoyed dancing and singing along with the puppets.
Mr Brett even showed the children how the puppets worked. Creative play is an integral part of each child's development and at Taigum Child Care Centre we offer children a variety of exciting learning experiences.
Belmont Literature Carnivale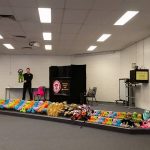 Thank you for demonstrating and engaging the children in the amazing world of puppetry. The kids had a ball and found out just how real puppets can be. Thank you for your wonderful demeanour with the kids as they found you highly entertaining. All the best for the future.
Walter Vecchio
Belmont State School
Fun, energetic and entertaining!
An absolutely fantastic puppet show! The children loved it, lots of laughter and excitement! Brett was very professional in his manner, extremely well organized and engaging with the children. Informative and educational show, the children were delighted to be able to touch the puppets and see how they are manipulated. I recommend Larrikin Puppets, incredible children's entertainers!
Childcare Centre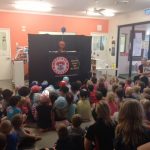 We had Larrikin Puppets attend our childcare centre last week and absolutely loved it! Brett kept all 106 children in the centre amused and laughing their heads off the entire time! They are still talking about the "cute" and "crazy" puppets! What an amazing show! Thanks Brett can't wait to have you back!!
Ashleigh Jackson
Sunkids Burleigh
Combined Wedding Anniversary and Birthday Party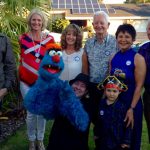 Seven of us, six adults and a 5 year old, had a wonderful afternoon multi-person birthday and anniversary party with Larrikin Puppets. I briefed Brett with snippets on each person and he incorporated them into the puppet performance with good humour and great sensitivity! There is no doubt the adults enjoyed the show even more than the children! Larrikin Puppets made our party a big success.
1st Birthday Puppet Show
My baby loves puppets so I decided to hire a puppeteer for his first birthday. I found Larrikin Puppets show on the Brisbane Kids website and contacted Brett. He was so approachable and professional from the beginning. The show exceeded my expectations. It was amazing. My son, his friends and everybody had lots of fun. Brett tailored it with my baby's favourite songs. He even created a new one using my son's name. Brett is flexible with requests. His show finished with a storytelling of our favourite book. If you want to give a special surprise to your loved ones, you have to contact Brett. This is a smashing show!!!
Public School
What an amazing, fun, funny, enjoyable show. The children from Prep to year 2 had a blast. Laughing, clapping, cheering (very loudly), the puppets even had the children, teachers and parents dancing:) Everyone had a complete ball while learning all about bullying and healthy eating. Brett and his puppets made our day....
Jenny Curry
Tullawong State School
Entertaining, engaging and a lot of Fun!!!
Our Children, Parents and Staff had an absolute blast with Brett and his myriad of entertaining puppets! The excitement and joy the show created was amazing! We cannot thank Brett enough for providing Little Willow Early Learning Centre with such a memorable and fun event!
Little Willow Early Learning Centre
www.littlewillowelc.com.au
Great entertainment for an event.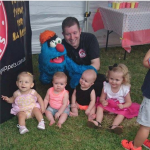 I recently had Larrikin Puppets perform at my daughters 3rd Birthday. This show was fantastic! All of the children had so much fun interacting with the puppets and singing along. With lots of smiles and laughter this made for an extra special celebration for all, including Mums and Dads. I would highly recommend this service to anyone.
Goodna Jacaranda Festival
The Committee of the Goodna Community Association Inc would like to express our thanks for your wonderful work on the Puppet Show undertaken at the 2015 Goodna Jacaranda Festival.
The Committee is most appreciative of the professional manner you exhibited in running the event. Your artistry is very much appreciated.
Probus Club of Indooroopilly
Our Probus club has been blessed by a special performance by Brett which was clever, warm & utterly delightful. His story was also most inspirational & impressive & we felt that Brett is a dedicated & talented person, thoroughly in tune with his audience, even 80 over 60's. What a great birthday gift Larrikin Puppets would make for any child! Good luck for the future, Brett.
Suzanne Quintner
Probus Club of Indooroopilly
Mitchell 5th Kindy Party
Dear Brett,
Thank you so much for such a wonderful puppet show on the 12th of Nov. Mitchell, his kindy friends and the teachers absolutely loved it. Lots of interaction with the kids throughout the whole show. Amazingly entertaining and very educational. My hubby and I enjoyed the show very much as well.
If anyone wants a puppet show .. Definitely call Brett. He is the BEST!
Sue
.. And thanks again
Yeronga State School Fete 2015
Thank you Brett for providing entertainment for our 2015 school fete. The kids loved Trogg and the crew and you were very flexible with our changing needs as the fete day drew closer. Loved having you there and seeing the kids enjoy the puppet show. We look forward to next time!
Sarah van den Berg
Yeronga State School P&C Association
1st Birthday
Larrikin Puppets performed at our daughter's 1st Birthday party.
It was an excellent show, age appropriate from 1 to 9yrs (kids) but also had the adults entertained!
Brett arrived on time, quietly set up and waited for the start time without being pushy "watching the clock".
He was very interactive with the kids even exchanging knock knock jokes! He also spent a lot of time after the show with Troggg talking to the kids and having photos. They're still talking about it (and singing the songs)!
We loved it! I would definitely recommend Larrikin Puppets and will be using them again in the years to come!
Sue's 60th
Hi Brett, just want to thank you for a great puppet show at my 60th birthday lunch last Sunday, heaps of fun, big surprise for my friends, they are still laughing and talking about it, we got some great pics of Troggg and Frisbee. Regards Sue
Christmas Party
It was a great show....all the children had a wonderful time! Thank you.
Albany Creek Kids Early Learning Centre
http://www.albanykids.com.au
Brett is fantastic with the kids... and the adults are just as entertained.
They loved it!
Thank you so much for coming! They loved it! All afternoon they made puppet shows and were talking about Troggg. Haha! So cute!
Becky Moore
After School Care at The Lakes College
Having a puppet MC made our already unique festival even uniquer!
How good was Troggg! Big thanks to Brett Hansen from Larrikin Puppets for being our very entertaining MC for the night.
She can't stop talking about Troggg and the puppet show.
Hi Brett. It's Kaitlyn's dad. You have created a monster. She can't stop talking about Troggg and the puppet show. She woke up this morning screaming, "Troggg!" Katie wants to know what the orange one's name is again.
Tyson's favourite part of his party was your show!
Thanks for a great show today Brett! The kids loved it. Tyson was especially excited that you played his fave song!! Great to get photos with Troggg too!
The children loved it.
Thank you for a great show. The children loved it. Have a blessed day. From Pastor Kathy.
Pastor Kathy Clark
Grace Life Christian Centre
As a fellow fan of Jim Henson's Muppets, I can see that Brett has an incredible
passion and talent for puppetry. This has been demonstrated through his role
as puppetry consultant (and stage puppeteer) in the recent Brisbane Arts
Theatre production of Broadway musical "Avenue Q".
He has also demonstrated his skills in more informal settings, and even
produced short promotional videos for 612 ABC Brisbane as part of our
involvement with the Brisbane International Film Festival.
Whilst there are plenty of clowns, magicians, animal farms and other children's
entertainment options available for parents today, there don't seem to be
many (if any) puppeteers still performing around Brisbane.
With his highly amusing and original ideas, and lifelong passion for performing,
I would have no hesitation recommending Brett's puppet show
business for any function, not only for children, but also for the young at heart.
Spencer Howson
612 ABC Brisbane
Brett's passion for puppets and entertainment is evident in every conversation he has...As a provider of children's entertainment ourselves, I have had requests from numerous parents regarding where to source puppet shows...Brett has been a valuable asset at our theatre, and I wish him all the very best in this endeavour – I hope to refer many clients to him!
Kym Brown, Theatre Manager
Brisbane Arts Theatre
During the time I have known Brett Hansen, I have witnessed his remarkable passion and talent for puppetry on numerous occasions.
I have known Brett Hansen for over 15 years and I have never known anyone as passionate and committed to entertaining people as Brett. The entire time I have known him, Brett has continually strived to be the best entertainer that he could become.
His passion for puppetry has shown itself over and over again, especially in his role as puppetry consultant for Avenue Q. Brett has worked for years to perfect his puppetry skill and his selection as puppetry consultant as well as on stage performer is testament to this skill.
I wish to express my support and encouragement of Brett Hansen in his endeavors in the world of puppetry...His commitment and passion to his craft has been evident from the very beginning. I have found Brett to be a highly driven individual, who will utilise any opportunity to improve his skills, talent and exposure.
Brett's skills were recently highlighted during his time as puppetry consultant and puppeteer for the Brisbane production of Avenue Q. Through sharing his knowledge of puppetry and training the other puppeteers Brett's skills was evident. My husband and I were amazed by the outstanding production and Brett's dedication to his craft.
I have also witnessed Brett's puppetry skills on a smaller scale and I would be pleased to recommend Brett as a private party entertainer. As a mother of two young girls (aged 6 & 4 years old) I am always on the look out for affordable, entertaining, engaging party entertainers. I know Brett is this entertainer. My daughters, who are delighted by The Muppets & Sesame Street, would be thrilled to have Brett and his puppets perform at any of their birthday parties. In an industry overrun with magicians and clowns for hire, I believe puppetry to be an unrepresented field.
I would be happy to recommend Brett Hansen and his puppetry talents to anyone.
As the program and performance manager at the Abbey Medieval Festival, and other events, I would be very keen to take Brett and his puppets on as part of the program...
I wish him all the very best with his endeavours.
Karis Bouher
Abbey Medieval Festival