I Am Big Bird Comes to Brisbane for One Night Only to help with Ovarian Cancer Research and Awareness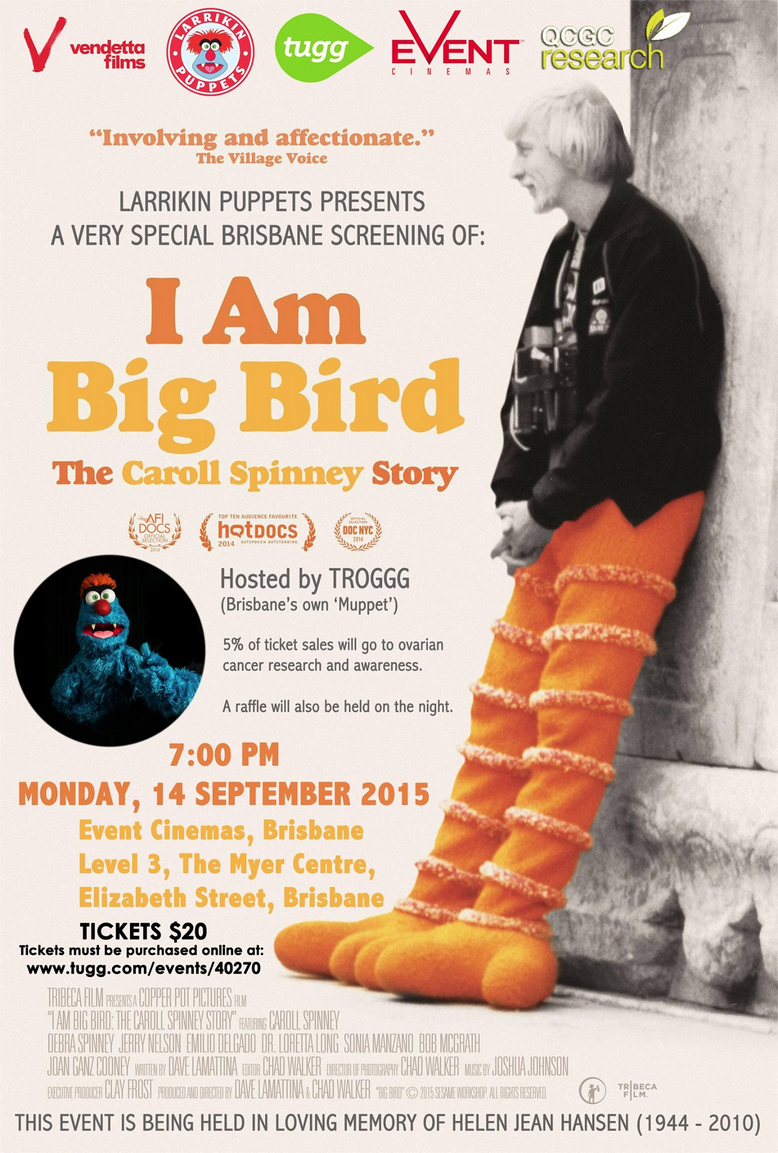 Larrikin Puppets
presents Brisbane's only screening of the award winning, "I Am Big Bird: The Caroll Spinney Story". This heartwarming film chronicles the life of Caroll Spinney, the puppeteer who has performed Sesame Street's Big Bird and Oscar the Grouch since 1969.Where:
Event Cinemas Myer Centre
– Level 3 Myer Centre, 91 Elizabeth St, Brisbane.
When:
7pm
,
Monday 14 September 2015
.
Tickets: $20. Only online at
https://www.tugg.com/events/40270
. There are currently 71 tickets remaining, and less than two weeks to secure those seats!
Funds being raised for ovarian cancer research and awareness through a raffle prize and 5% of ticket sales. The event is held in loving memory of Helen Jean Hansen (Brett's Mum), who lost her very short battle with ovarian cancer in 2010. Chosen charity:
QLD Centre for Gynaecological Cancer Research
.
MC:
Troggg
(Brisbane's own 'Muppet'). He's honoured to introduce this film about his heroes Big Bird and Oscar. Troggg's handler (puppeteer Brett Hansen) is the eldest son of Helen.
For over 4 decades, Caroll's characters have been cherished by generations of children. At 81 years old, the tenacious and enthusiastic performer has no intention of slowing down. I AM BIG BIRD features incredible footage of Spinney's earliest collaborations with Jim Henson as it traces Caroll's journey from bullied child to celebrated performer. This loving portrait peels away the instances that inspired his creation of Big Bird and as the yellow feathers give way to grey hair, it is the man, not the puppet, who will steal your heart.