Larrikin Puppets are visiting the Banana Shire as part of the First 5 Forever program, a State Government initiative. They are performing in Biloela at the "Family Fun in the Park" event (14 Sep), and in Baralaba (11 Sep), Moura (12 Sep) and Taroom (13 Sep).
The First 5 Forever program aims at developing literacy in the under 5s, the program motto is "Talk Play Sing Read".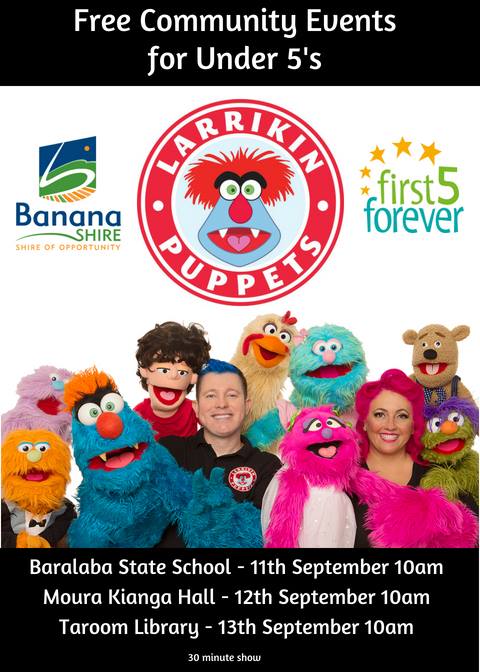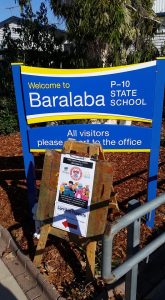 Our first show in the Banana Shire was at Baralaba State School on Tuesday, 11 September 2018. Students from Prep to Grade 2 at the school, plus visiting kids from playgroup and kindy and their parents came along to see the puppet show and had a great time!
Looks like Troggg had a great time in Baralaba too! Here he is talking about it: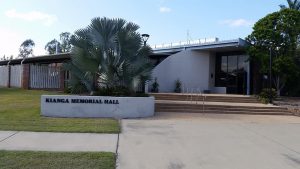 Our second show in the Banana Shire was at Kianga Memorial Hall in Moura, where we had 63 kids from local playgroups and kindys come along with their parents! Everybody had a fantastic time watching the puppet show and we had lots of positive feedback from parents during the meet-and-greet.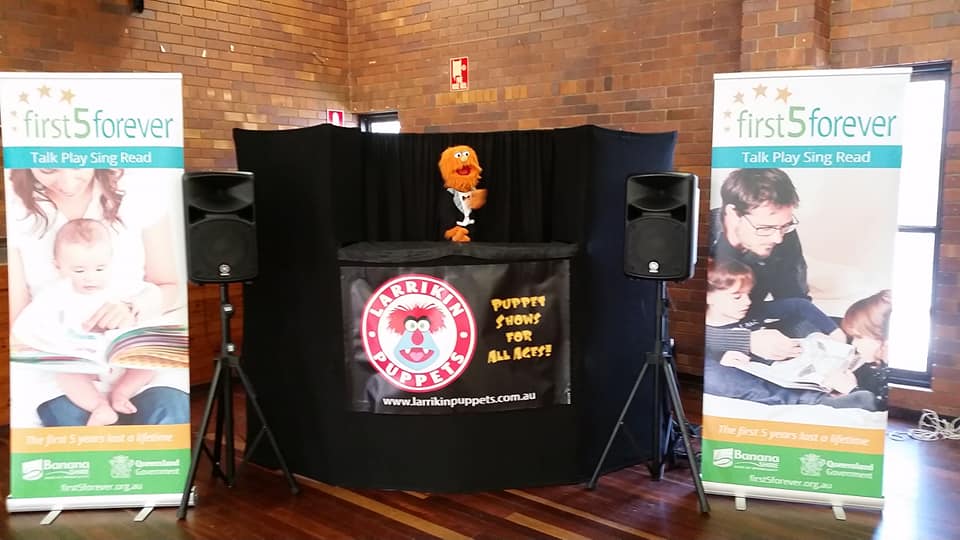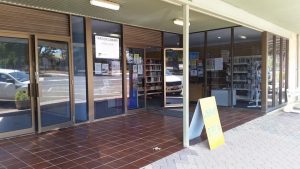 Our third show in the Banana Shire was at Taroom Library where we performed our Story Time With Larrikin Puppets show for all the families and kids under 5 in the community. So many happy little faces and lots of laughs from parents and kids alike.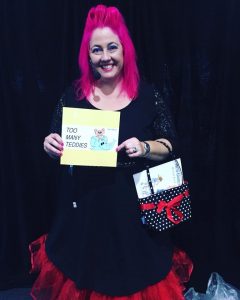 Our story of the day was 'Too Many Teddies' by Australian author Glenn Martin.
The audiences absolutely loved Troggg's little sister Marina at this show! They were all very delighted to meet her and Troggg after the show for high fives, chats and photos.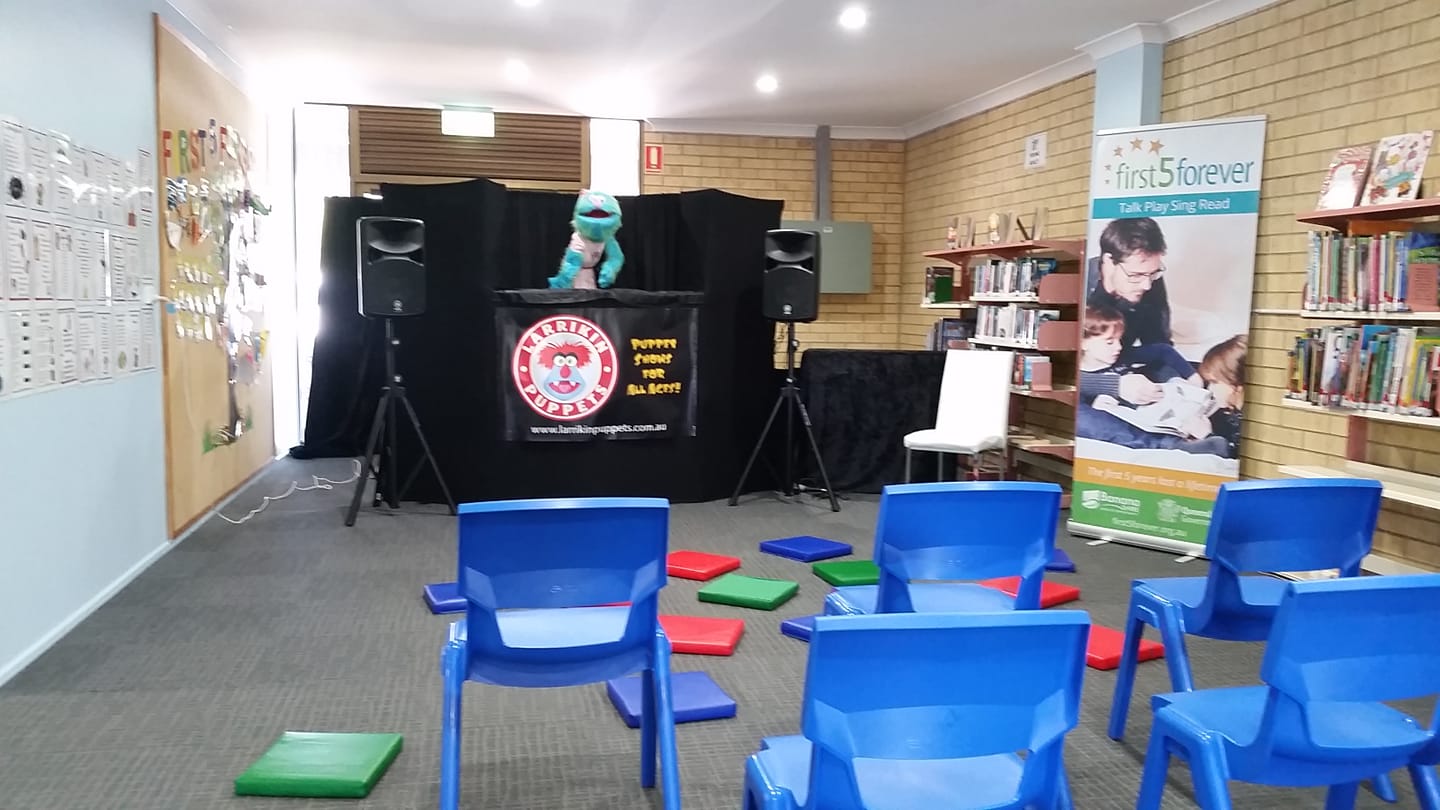 Here's Troggg on a lonely stretch of road between Taroom and Banana to tell us his side of the story:

One of our adult volunteers during the 'How the puppets work' demonstration at Taroom Library invited us up the road to visit the Paddock to Pool Swim School for chats, hot chips and a few photos of the puppets. Here's a little video they posted on their Facebook page of Troggg and Flossy behind the counter: https://www.facebook.com/767603440078163/videos/1959326007693127/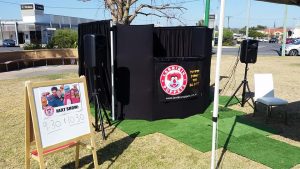 Our final day in the Banana Shire was the performance of two puppet shows at a special First 5 Forever family fun day at Melton Park in Biloela. We performed our story time puppet show first at 9:30, followed by a combination of our festival show and childcare show at 10:30. Lots of parents with their little ones, as well as playgroups and childcare classes came along to enjoy the puppet shows, petting zoo, face painting, arts and crafts and a jumping castle. We had lots of positive feedback from parents and teachers afterwards.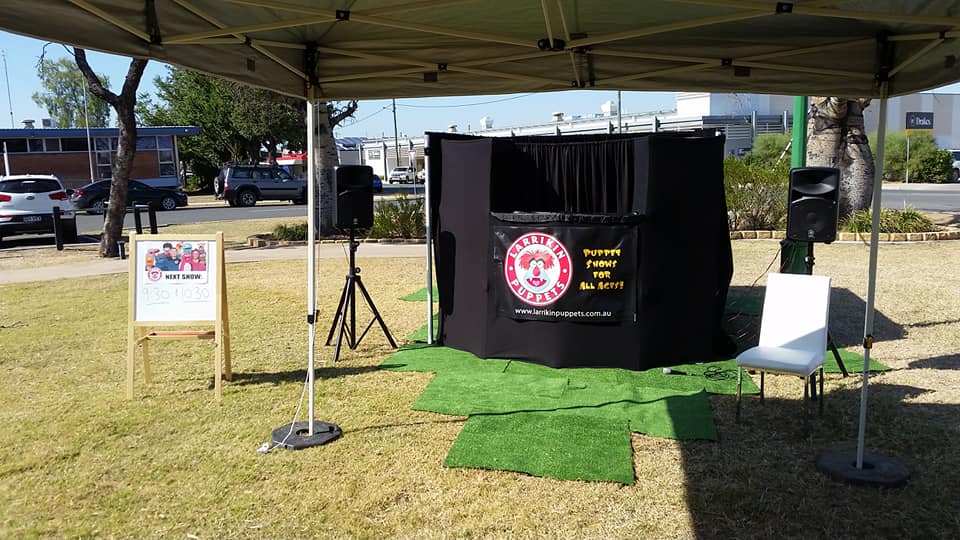 Such an epic and time consuming set up and pack down on a very hot day, but worth it for all the smiles and laughs during the puppet shows. That's why we do this!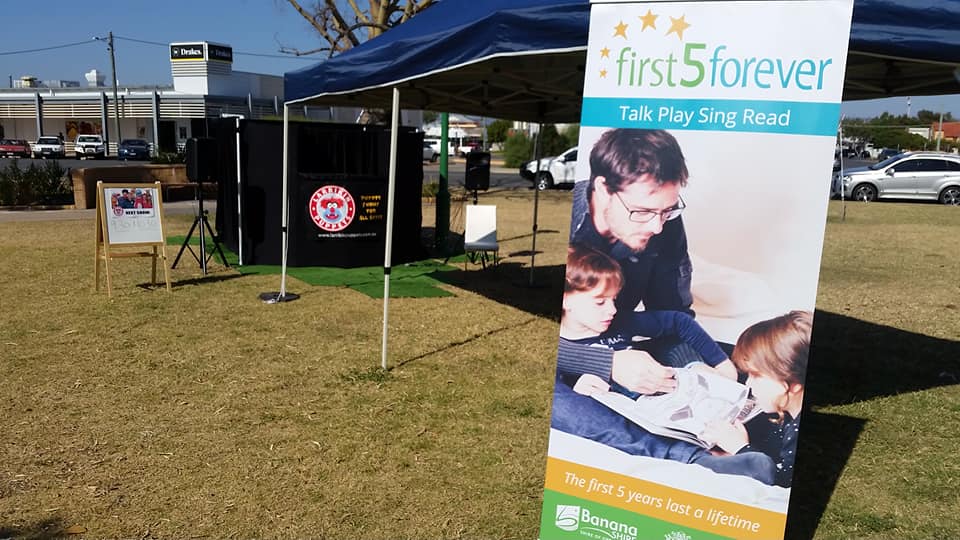 And so we said our goodbyes to the Banana Shire and headed off on the long drive to our next overnight stay, which was in Jandowae. Here's Troggg reporting from our accommodation there just before we headed off to our next destination – Toowoomba – to run two puppetry performance workshops for Shoebox Theatre Company.

YouTube sadly cuts Troggg off at the end of this video – but he's about to tell us about "The Bureau of Magical Things" – Episode Eleven. I (Brett Hansen) worked as a puppeteer on that episode of the show. Full video Troggg's Jandowae report can be found at this Facebook link: https://www.facebook.com/LarrikinPuppets/videos/327369644497049/
Thank you for having us, Banana Shire! We hope to visit again! 🙂