During one weekend in October 2015, Brett and Troggg got to rub shoulders with legends of children's entertainment!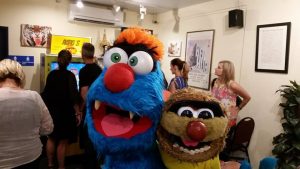 Remember Australian puppet character Agro? Puppeteered by Jamie Dunn, Agro was on TV all throughout the 1980s and 1990s on shows like The Hi Hello Show, Seven's Super Saturday Show, Wombat, The Super Sunday Show, Boris' Breakfast Club, Agro's Cartoon Connection, The Main Event, Family Feud, Tonight Live with Steve Vizard, etc.

On Friday, 23 October 2015, Elissa, Brett and Troggg went along to the Studio Theatre and Cafe to catch a performance of "Agro Up Late", starring Jamie Dunn, Jill Ray (one of Agro's co-hosts in the 1980s) and Agro himself.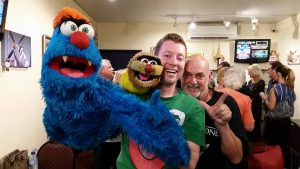 There was a meet-and-greet in the foyer after the show, and that's when Troggg got to meet his hero Agro.
The next day, Larrikin Puppets performed a puppet show at the Goodna Jacaranda Festival. Performing just before and after the puppet show was the legendary Beppo the Clown (aka Barry Cannon).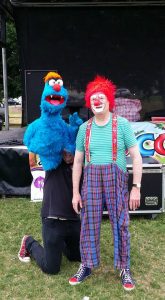 Barry has been performing as Beppo the Clown since 1960. He's now in his 80s and still going strong! Brett chatted at length with Barry (who also used to appear on Agro's show in the early days) and learnt a lot about the children's entertainment industry over the last 50 years.
A quote from Brett: "You know you're doing something right as a children's entertainer when 'Beppo the Clown' tells you that your puppet show is engaging, entertaining and contains appropriate and catchy songs for the litte ones. I should've asked him to give that to me in writing!"


It was a very special couple of days, being able to rub shoulders with childhood heroes Agro and Beppo the Clown, who helped inspire us to bring happiness to kids in the same way that they did for many years before Troggg came into the picture.