Spending time with other puppeteers is one of our favourite things to do! We've met several puppeteers from around Australia, but we've also met lots and lots of puppeteers from the USA – including many Jim Henson puppeteers from The Muppets and Sesame Street!
May 2019 has been a great month for catching up with some of our Australian puppeteer friends.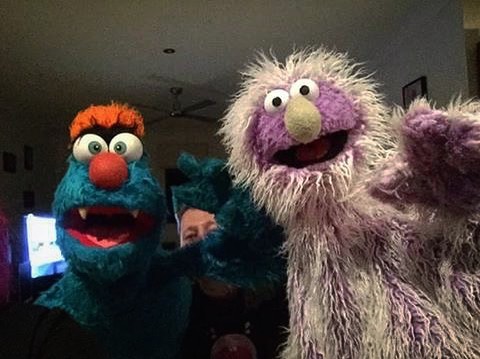 Last weekend we had Toby Cheffins and Pamela Cheffins from Ghostpuppet GB come to stay with us on Bribie Island (QLD) – all the way from Perth (WA)! So of course we spent lots of time playing with puppets and mucking around with the monitor. Here's a video compilation of crazy shenanigans.

And today we spent the day at The Puppetarium in Maleny, QLD designing, planning and being measured up for a big octopus puppet, which will be built by Rebecca Dostal. Troggg and Ruby chat about it here.

At any given opportunity we love to spend time meeting with other puppeteers and puppet builders – sharing a coffee, jamming with the puppets, working on new puppet builds and simply swapping stories. Puppeteers and puppet builders are very fascinating people with amazing stories to tell!
Thank you very much again to Toby and Pamela from Ghostpuppet GB (Perth, WA) and Rebecca from The Puppetarium (Maleny, QLD) for two lovely weekends of puppet fun!