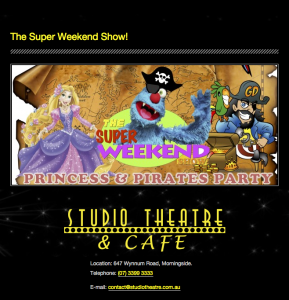 Since March, we've been involved in a little stage show at the Studio Theatre & Cafe (647 Wynnum Rd, Morningside) called "The Super Weekend Show". At 11am on specified Saturdays, the puppets are joined by costumed characters and a magician for a fun hour of singing, dancing, competitions, jokes, games and prizes. Old fashioned family entertainment!


This Saturday (May 2, 2015) will be a very special show – A fully scripted play about Princess Flossy's stolen treasure which has been lost by The Pirate King and his first mate Troggg. With the help of Carol the Kangaroo, they will all search for the treasure in various Brisbane locations like Algestarrrrr, Bulimbarrrr and Cannon Hill. At each location, a new game is revealed for the kids in the audience to participate in for prizes. Kids are also encouraged to turn up in fancy dress (Princess Pirate themed).
Heaps of fun and laughter for all! Tickets are still available by calling the theatre on 3399 3333 or book online at www.studiotheatre.com.au. Or you can turn up on the day and pay $15 at the box office.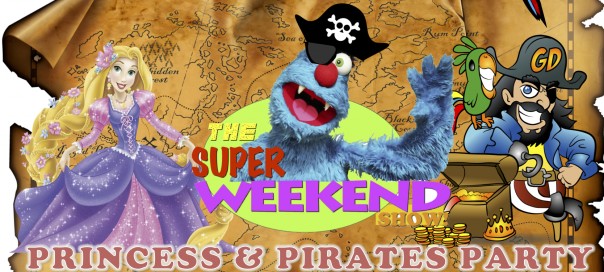 You can read more about The Super Weekend Show on our page about it: https://www.larrikinpuppets.com.au/the-super-weekend-show/
And at The Studio Theatre & Cafe's page about it: http://sa2.seatadvisor.com/sabo/servlets/TicketRequest?eventId=100787676&presenter=AUSTAGEDOOR&venue=&event=