Just when it felt like things couldn't get any bigger and better for Larrikin Puppets, along came 2019. In our seventh year we experienced more growth, clients further and wider and big deal experiences beyond our wildest dreams.
FESTIVALS AND PUBLIC EVENTS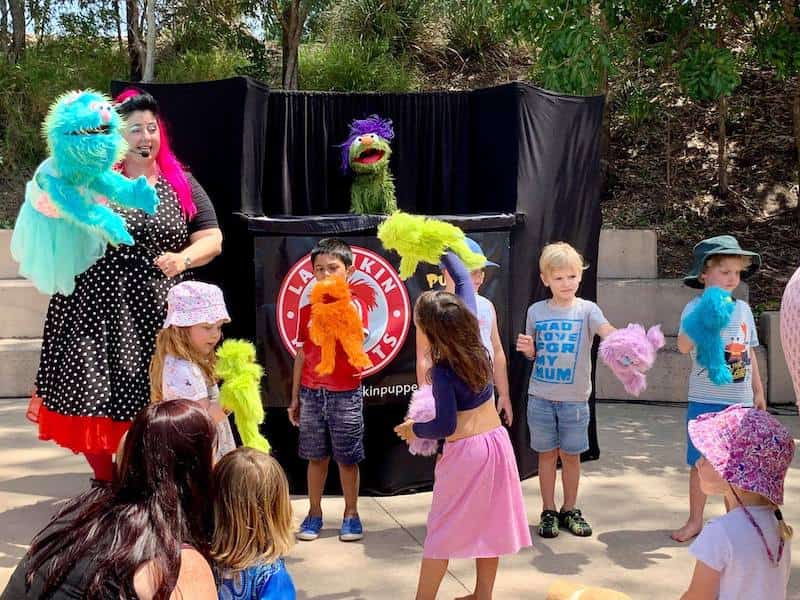 This year we traveled down to Kyogle in NSW for the Fairymount Festival, Coffs Harbour in NSW for the Special Children's Christmas Party and up to Rockhampton in Central QLD for the Festival of the Bazaar.
We performed a full day of shows at the Cooroy Fusion Festival, and three full days of performances at the Pine Rivers Show.
We travelled past Toowoomba for the Jacaranda Day Festival in Goombungee, and performed our first theme park shows at Aussie World as part of the Kids FUNderland Children's Festival.
It was great to be part of Kids Collective this year at South Bank and Roma Street Parklands, the 2019 South Indian Festival, and two days at the Laidley Heritage Weekend. We performed at two mid week festivals designed especially for toddlers this year – The Under 5's Day By the Sea at Deception Bay, and Redcliffe Teddy Bear's Picnic at Woody Point where we launched our ocean-themed puppet show, "Marina's Marine Adventure".
We also had a lot of fun this year performing for children and families at pubs, clubs and RSLs for various family fun days and school holiday events. We even performed a Christmas show this year at the Brisbane Entertainment Centre in Boondall!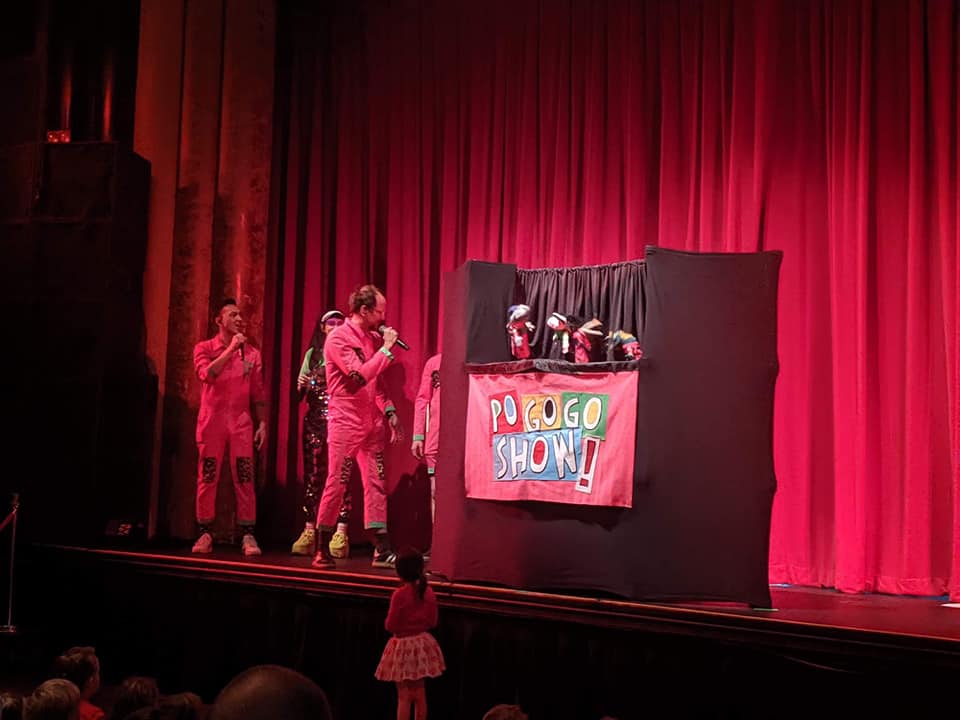 Our biggest festival experience this year was at the Brisbane Festival – performing puppetry on stage at The Tivoli with legendary rock/fusion band Regurgitator as part of their new children's act, "Regurgitator's Pogogo Show". Working with the members and management of Regurgitator was amazing for us. We also worked on one of their music videos. More on that below.
FILM & TV
In addition to performing on stage with Regurgitator's Pogogo Show, we also puppeteered the characters in their music video for "Best Friends Forever", which screens on ABC Kids. These same sock puppet characters were the ones we performed on stage with the band.
The other big television project we worked on was a TV pilot filmed in Sydney with a celebrity. The show is currently being pitched to networks in Australia and the USA.
And just this week we have been approached by a major production company for some potentially life changing TV work in the new year. We are contractually forbidden to disclose any more than this, but watch this space!
CHILDCARE CENTRES AND SCHOOLS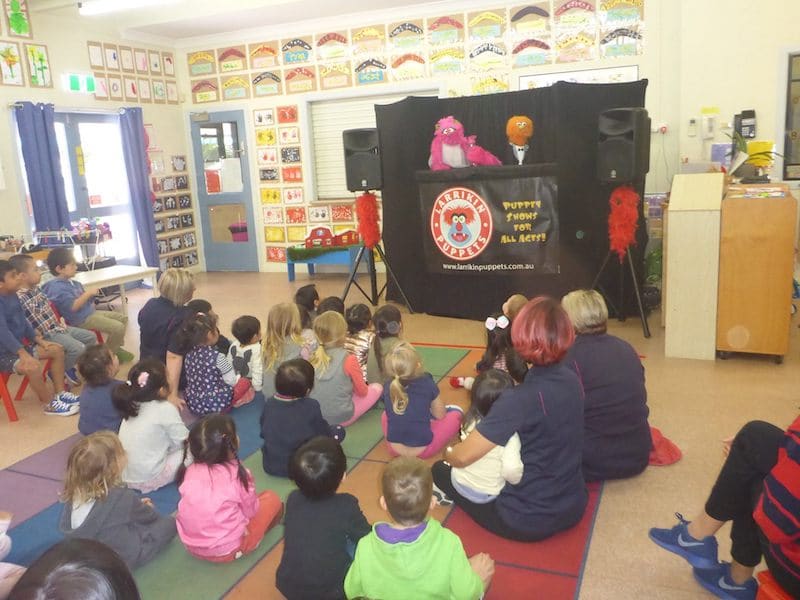 We performed a very large number of childcare centre puppet shows this year, with most centres opting to book our bigger and better childcare show with both performers. Elissa has also served as story teller during our "Story Time with Larrikin Puppets" performances.
The national Design and Technologies Curriculum, Drama, English and Book Week events kept us very busy visiting lots of primary schools all over Queensland for puppet shows, puppetry performance workshops and our newly launched sock puppet making craft workshop.
LIBRARIES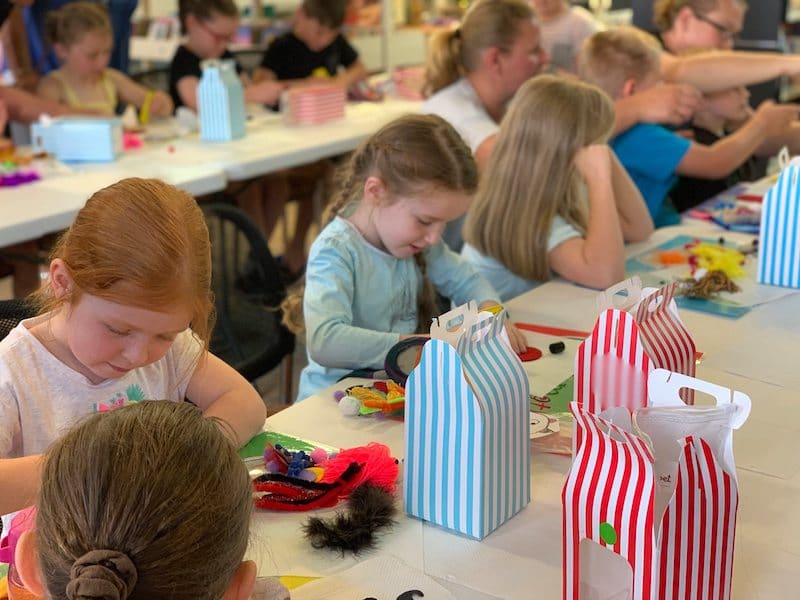 We were back in Rockhampton this year to visit all of the libraries in the region – this time to run our puppetry performance workshop. We also presented our Storytime with Larrikin Puppets show at the Fraser Coast Libraries and Logan Hyperdome Library. Our premium sock puppet making craft workshop (which includes a puppet show, a performance workshop and the construction of your very own detailed sock puppet) was presented at Lockyer Valley Libraries and was a big hit with all ages in the Gatton and Laidley communities.
HAMILTON ISLAND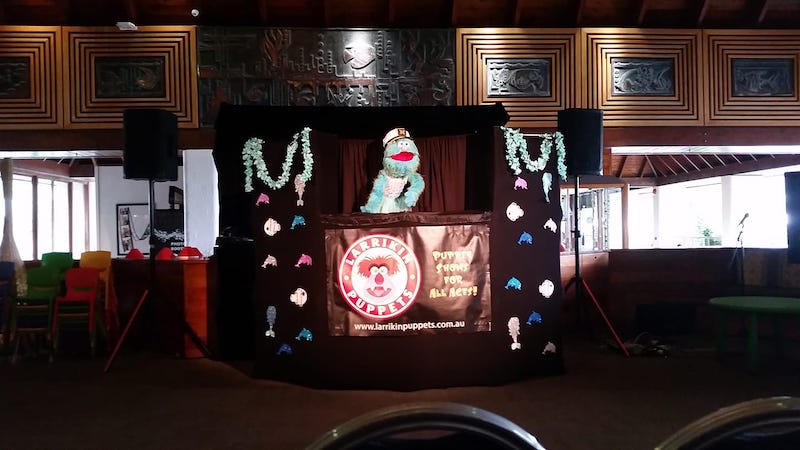 In the June/July school holidays we were flown to beautiful Hamilton Island for a series of puppet shows and puppetry performance workshops for tourists visiting the Whitsunday island. While most of 2019 has been dry and hot, most of the rain we saw this year occurred on the usually sunny Hamilton Island during that time – so our puppets made for great indoor entertainment for families unable to take part in water sports and other outdoor activities.
TROGGG THE WEDDING MC

When Larrikin Puppets began seven years ago, the option to book Troggg the blue monster as MC for your wedding reception was always there, but never booked. Over the years Troggg has emceed other events such as film screenings, festivals, annual general meetings and media launches. But in 2019, Troggg hosted the glamorous wedding reception of Thomas and Allison at Events On Oxlade – a lovely venue in New Farm on the banks of the Brisbane River.
HIJABI GIRL: A MUSICAL PUPPET SHOW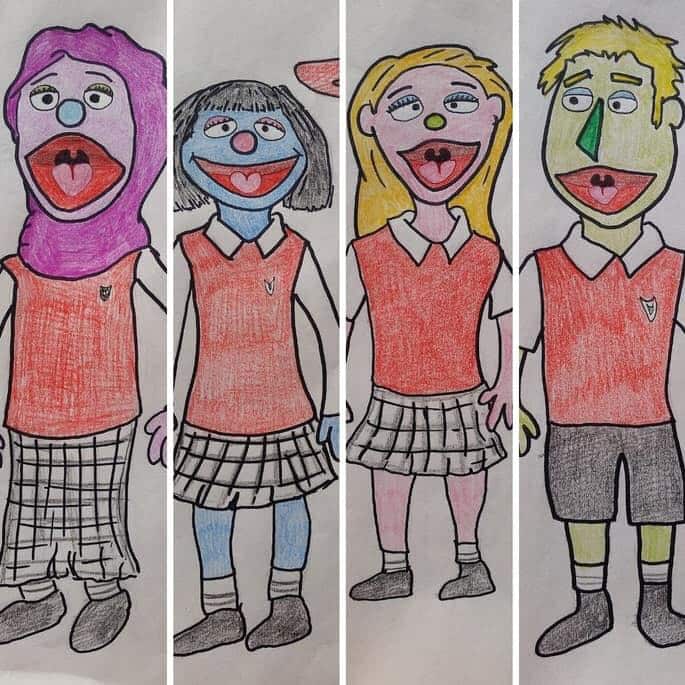 Hijabi Girl is a children's book for ages 7-9 that Larrikin Puppets began transforming into a musical theatre performance for schools featuring puppets. Co-authored by prolific Australian author Hazel Edwards OAM and children's librarian Ozge Alkan, this fun, musical puppet show will shine a spotlight on much-needed multicultural themes around diversity, identity, anti-bullying and creative problem solving for presentation at schools across Australia in 2020. We ran a successful crowd funding campaign, raising $8,321 to help fund new puppet and set builds and exceeded our crowdfunding goal. Thanks to everyone who contributed! Melbourne-based The Puppet Creation Lab have begun work on the main cast puppet builds, and we began work on scripting and song writing.
ISLAND PUPPETRY WORKSHOP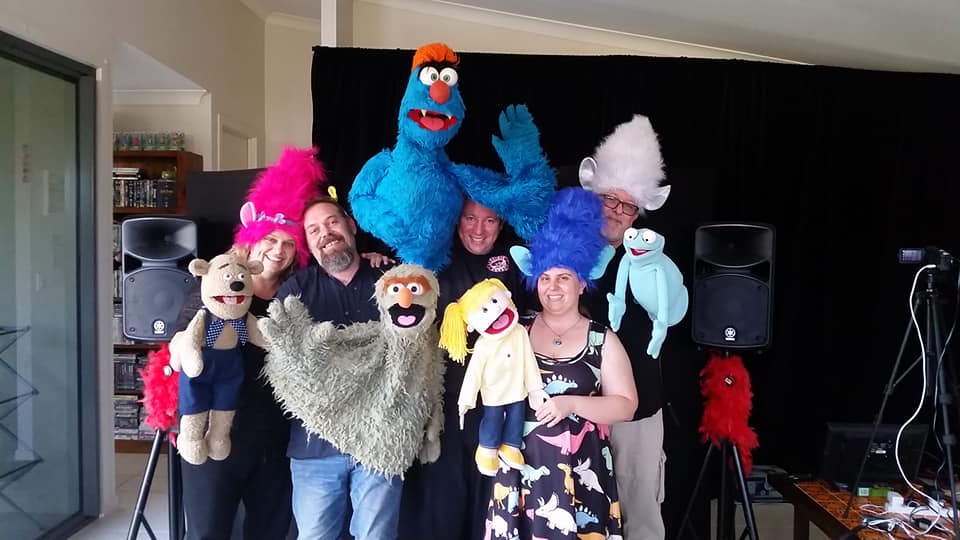 With so much else on our plate, we didn't feel up to running our intensive public puppetry performance workshop this year. We really enjoyed the successful 2017 and 2018 events in which participants joined us on Bribie Island from Sydney, Melbourne, Canberra, Mackay and Brisbane. After we received a request for some private puppetry tuition from professional New Caledonia entertainers Olivia Buna and Eric Chivot, we decided to open the day up to a small, low key gathering in our home so that Olivia and Eric could riff off more than just each other during the workshop. It was a fun and rewarding day for all.
All up it has been another fulfilling year for Larrikin Puppets which went by very fast! 2020 already looks like a bigger year for us again with several projects to be launched, including a children's album of songs, and more travel in store.
Have a very Merry Christmas and a Happy New Year!
From Brett and Elissa.